Laura's Naturally Sweet Blog
Psssst...............looking for naturally sweet, healthy, deliciously moreish cakes? You've come to the right place!
One Ingredient Mango Sorbet with Mango Coulis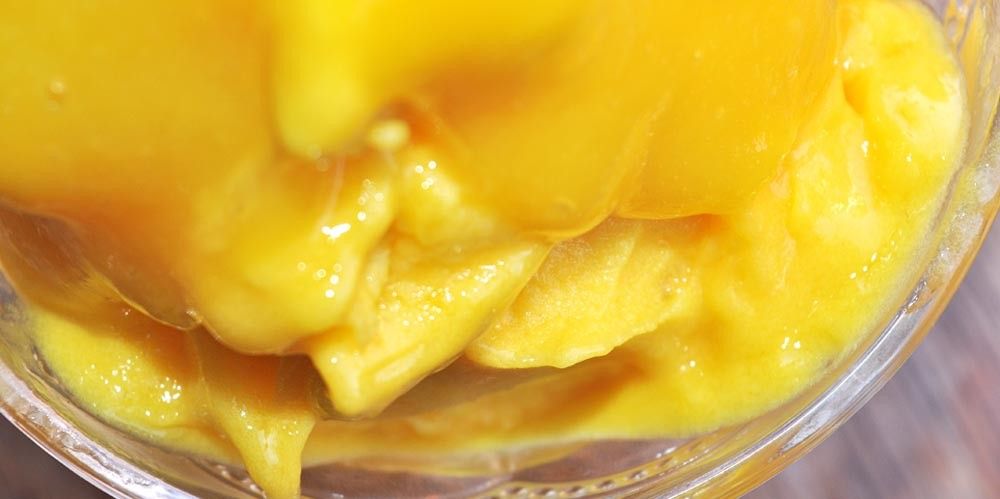 It is a truth universally acknowledged that the riper and juicer the mango sweeter and tastier the dessert!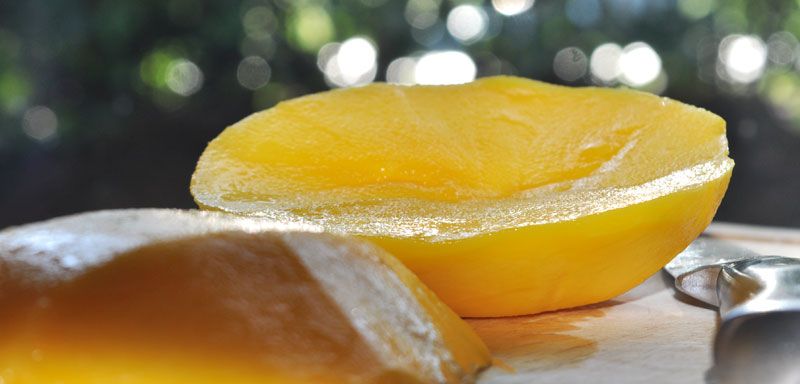 And this is particularly true of this particular dessert – it is after all made of nothing but mangos! For a long time I didn't think that I liked mangos. From the age of 11 I had known how to discern the perfect orange – my favourite dessert at secondary school – for a while but mangos were a rare fruit that didn't grace the shelves of our supermarkets that often at this that time and it certainly wasn't a regular in our home.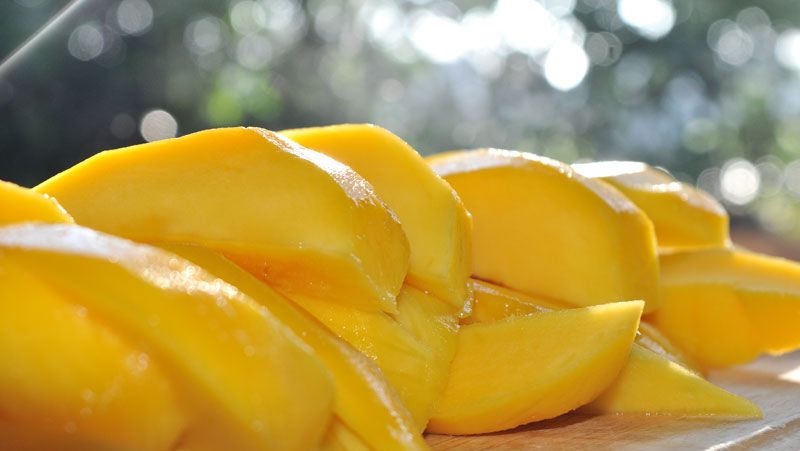 In fact I didn't have my first fresh mango until I was in my early twenties. I was so sure that I going to love mangos. I loved Soleros (and we all knew that that was practically the same thing!!! Plus I loved mango juice/smoothie) but I couldn't have been more disappointed. It was hard, flavourless and not juicy at all! Of course I tried again – same results.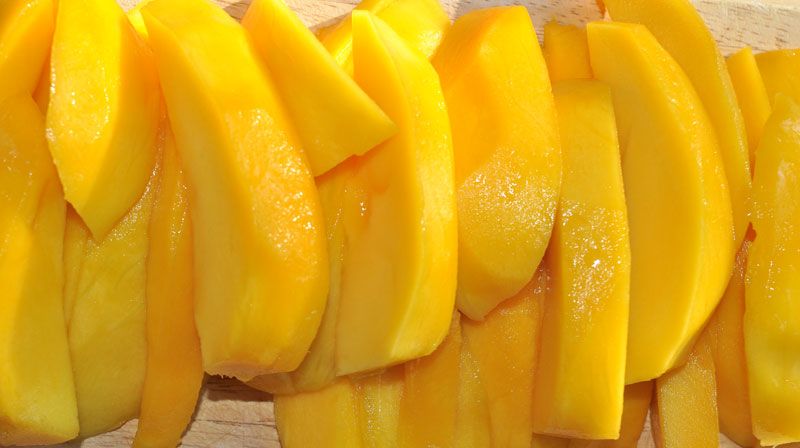 Little did I know at the time that this was simply because the mango wasn't ripe. A friend of mine from India told me to wait for the red to start to show and the skin will give slightly under a small amount of pressure before eating the fruit and it would be a completely different experience.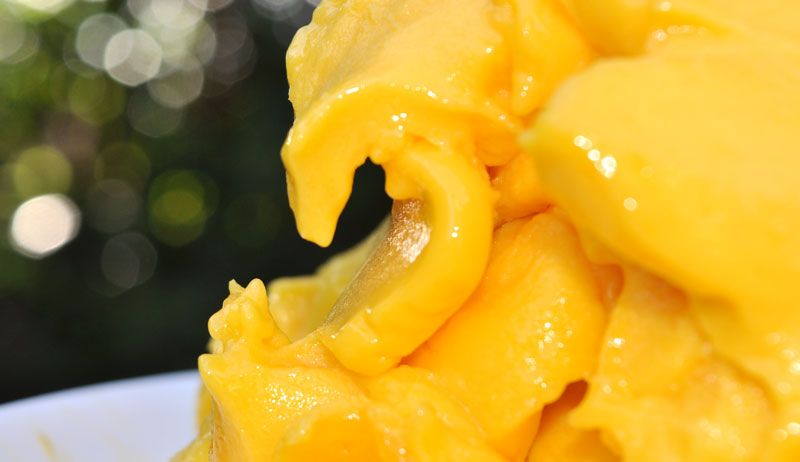 And she was right!!! Once I tried my first ripe mango I was in love! Now whenever I buy mangos I put them at the back of the kitchen with the bananas until they are ready!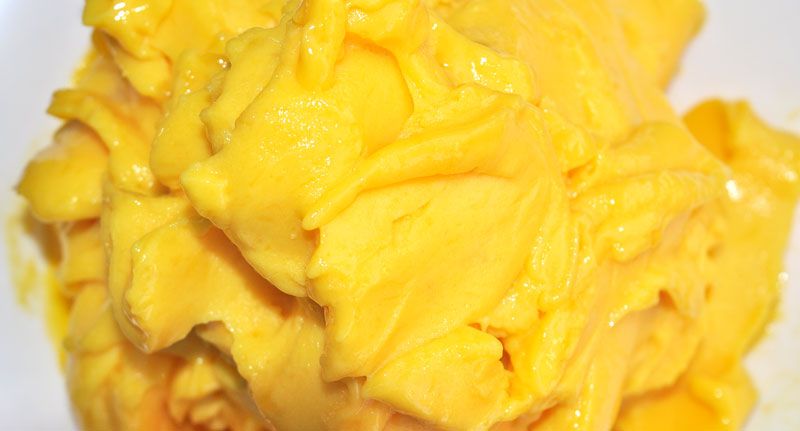 One of the best things about a ripe mango is it is so sweet and juicy that it really doesn't need anything added – there is no way to make a mango taste better – even once frozen it's still super sweet.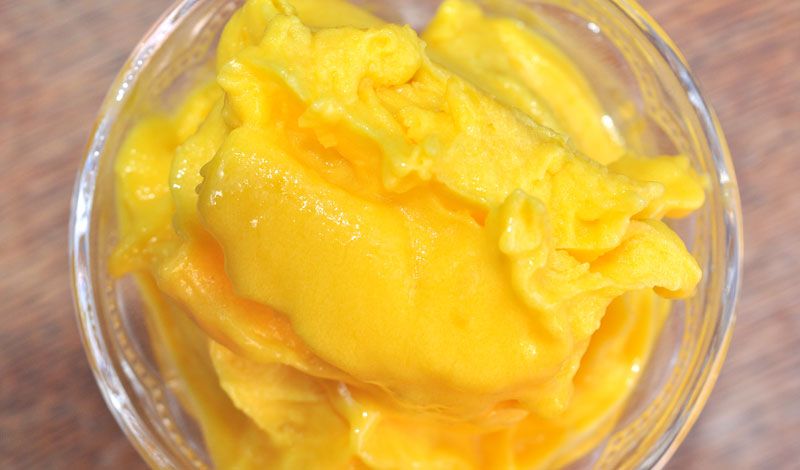 This is one of the main reasons that I love it so much for the Yonanas. It whips up beautifully with no hassle! If you don't have a Yonanas leave it to soften from the freezer for 15 mins and then whip it up in the blender.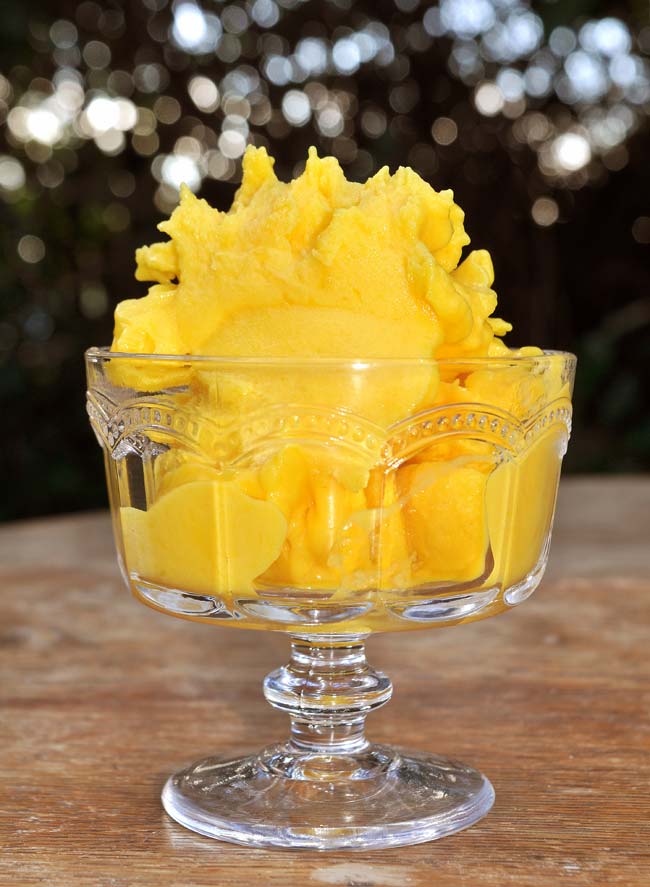 The puree is super simple as well and cooking the fruit caramelises it slightly so it is even sweeter making a truly delectable dessert – with just one ingredient!!!! :D
One Ingredient Mango Sorbet with Mango Coulis
Prep Time: 20 mins Mango Freeze Time: Overnight
Serves: 4 - 6
Ingredients:
Mango Coulis:
2 Mangos
¼ Cup Water
Mango Sorbet:
4 Mangos
Instructions:
Mango Coulis:
1) Skin, slice and dice the mangos and place in a saucepan on a medium high heat for about 15 mins – stir from time to time to stop the mango from sticking.
2) Remove from the heat and place in the blender. Blend until smooth.
Mango Sorbet:
1) Skin and slice the mango into strip about 1 inch wide. Lay flat on a sheet of baking parchment and place in the freezer overnight.
2) Remove from the freezer and set aside for 10 mins. Following the instructions for your Yonanas put the mango slices through one at a time. Serve immediately with Mango Coulis.
(if using a blender wait 15 – 20mins and then blend until smooth)