Laura's Naturally Sweet Blog
Psssst...............looking for naturally sweet, healthy, deliciously moreish cakes? You've come to the right place!
Simnel Cakes
When I was about seven my school sent a message home to my parents (I'm sure it was aimed at my Mum) to provide me with two empty and cleaned pineapple tins.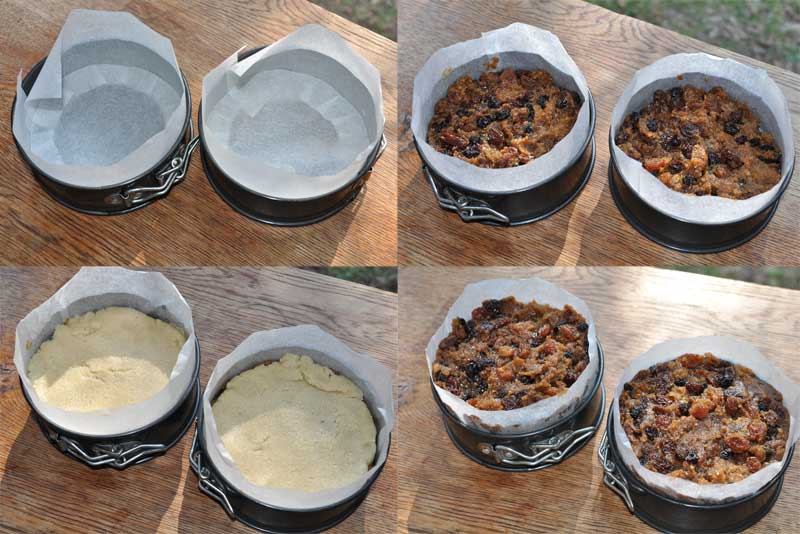 We didn't do much baking at school but it would seem that my art class was making miniature Simnel cakes.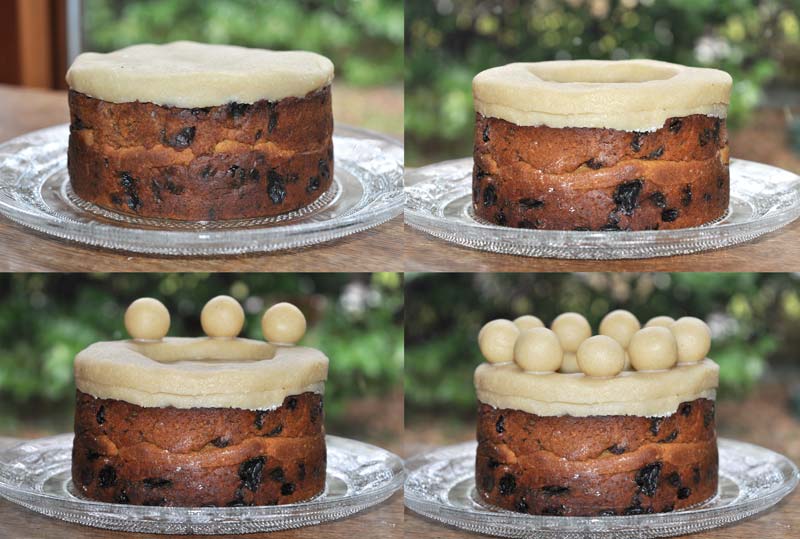 I was delighted at this – initially just because it meant that we had pineapple for dessert for two days in a row – I love pineapple - but once we started I knew that I was going to love Simnel cake too! Despite it being around since medieval times I had never heard of it before – shocking since I would have thought that my love of marzipan would have kept me up to date with all things sweet and almondy – I can't tell you how much I have come to love google!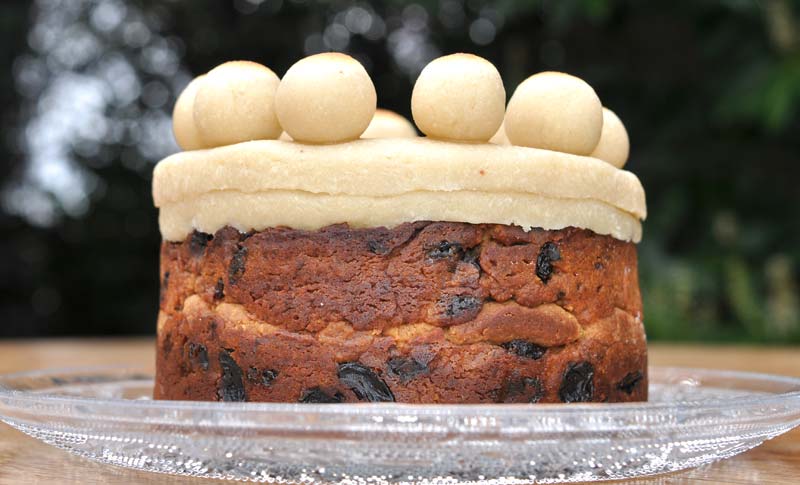 This awesome little cake doesn't just have marzipan on the top, oh no, there hidden in the middle is this amazing layer of baked marzipan – in case you have never had it before, but you love both fruit cake and marzipan, I promise there is nothing like it – it is just heaven!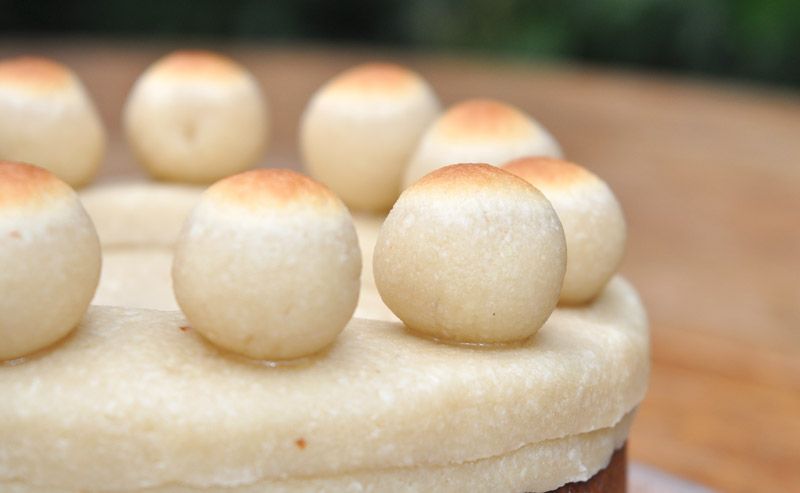 We made two miniature Simnel cakes. One to be sold at the school's Easter fair and the other to be taken home to our Mum's for Mother's Day. My school, all about the education, rolled art and cooking in with a little religious studies and explained how the eleven balls represented Jesus' disciple's – without Judas.
We didn't have an oven in the art room so my art teacher took them away to ensure they were safely baked without any little fingers getting burnt in the school oven – and once again for the toasting of the marzipan topping!!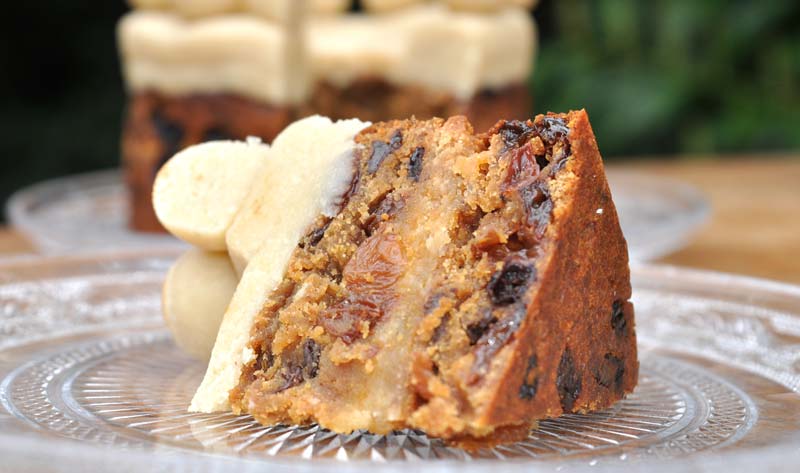 Baked, iced and decorated I remember proudly presenting my Mother with hers and the excitement as we all got to try a piece. I knew I would be making it again – I just hadn't realised it would be with such healthy ingredients! ;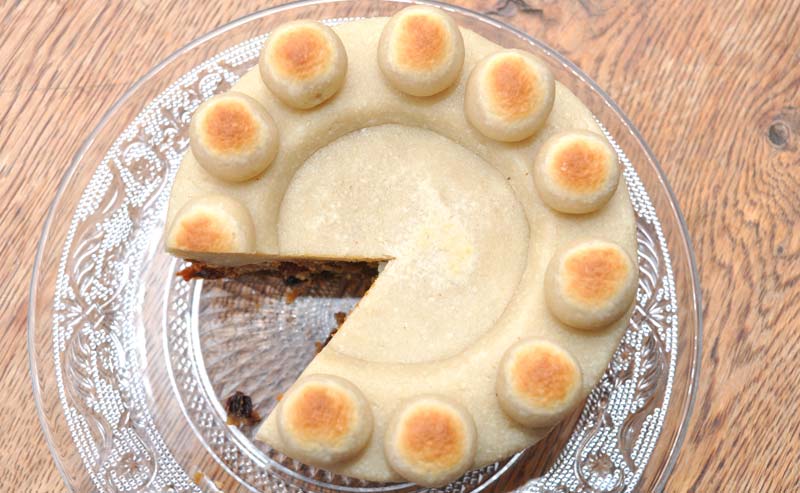 I made miniatures ones – partly because it reminded me of the originals and partly because they really do make lovely Mother's Day or Easter presents.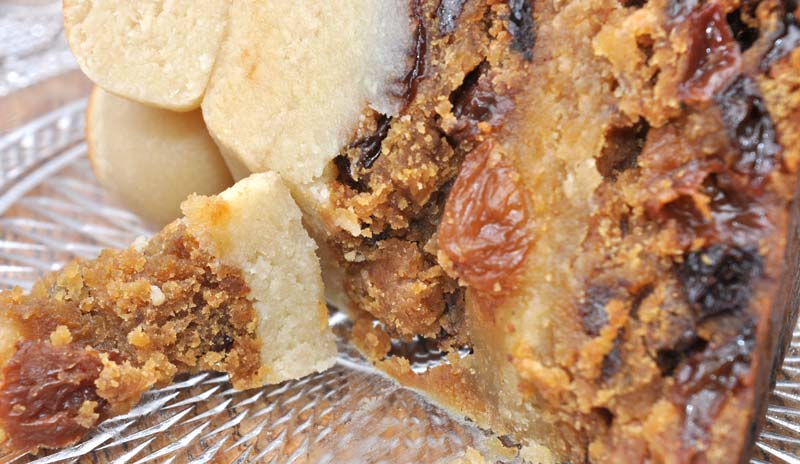 This batch makes three 5" cakes – each one as delicious as the next – so make sure you keep one for the family! :)
Simnel Cakes
Prep Time: 20 mins Bake Time: 1 hr
Makes 3 Five Inch Cakes (each cake cuts into about 8)
Ingredients:
Fruit Cake:
1 Cup Raisins

1 Cup Sultanas
¾ Cup Currants
2 Oranges – juice and zest
1 Lemon – juice and zest
½ Cup Coconut Oil - melted
¾ Cup Powdered Coconut Sugar
½ Cup Ground Almonds
2 tsps. Orange Oil
¾ Cup Non Dairy Yoghurt
1 Cup Almond Flour
2 tbsps. Ground Flaxseed
½ tsp. Mixed Spice
¼ tsp. Ground Nutmeg
1 tsp. Baking Powder
Marzipan:
3 Cups Ground Almonds
¼ Cup + 2 tbsps. Coconut Blossom Syrup or Maple Syrup
3 tsps. Almond Extract
Instructions:
1) Preheat the oven to 150˚C
2) Combine the oranges juice, oranges zest, lemon juice, lemon zest, raisins, sultanas and currents in a saucepan and place over a medium-high heat. Bring to the boil. Boil for about 10-15 mins stirring occasionally until all the juice has been absorbed.
3) Cream together the melted coconut oil, coconut sugar, ground almonds, orange oil and soya yoghurt.
4) Stir in the flaxseed, almonds flour, mixed spices, ground nutmeg and baking powder until thoroughly combined.
5) Add the boiled fruit and mix in thoroughly.
6) Blend together the almonds, coconut nectar/maple syrup and almond oil for a few seconds – make sure you don't blend it for too long. Place into a bowl and stir to make sure it's thoroughly combined.
7) Roll the marzipan out on a non-stick/ lightly floured board and cut three 5 inch circles. Wrap the remaining marzipan in cling film and place to one side.
8) Divide half the cake mix between three 5"cake tins. Place a marzipan circle over the top and divide the remaining cake mix - covering the marzipan.
9) Place in the oven, covered with brown paper, for 1 hr. Remove from the oven and cool for 10 mins before removing from the tin and placing on a wire rack.
10) Roll out and cut another six 5 inch circles from the marzipan. Cut an inner circle from three of them. Use the remaining marzipan to make 33 marzipan balls.
11) Once the cake has cooled place the marzipan on top (one full circle followed by the cut out circle and eleven balls on each) and grill in the oven until a light golden brown.
12) Slice and enjoy!