Laura's Naturally Sweet Blog
Psssst...............looking for naturally sweet, healthy, deliciously moreish cakes? You've come to the right place!
Hawaiian Macadamia Nut and Banana Pancakes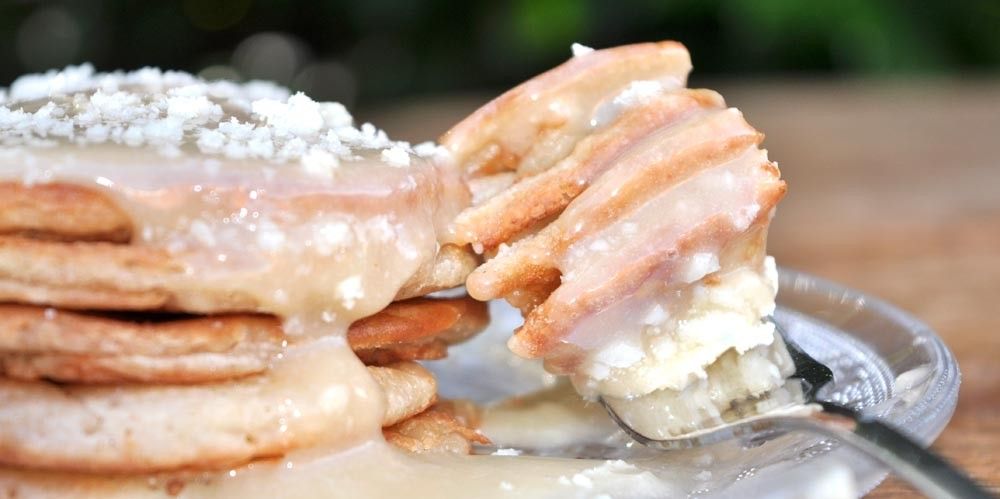 For anyone who read last week's post you will know how enamoured I was with the quality and quantity of the produce in Hawaii.
I could go on again but in an attempt not to bore you I won't. But still I have to mention that while I was there I saw, for the first time in my life, a real, fruit – or should I say nut? – bearing Macadamia nut tree. In point of fact I saw many!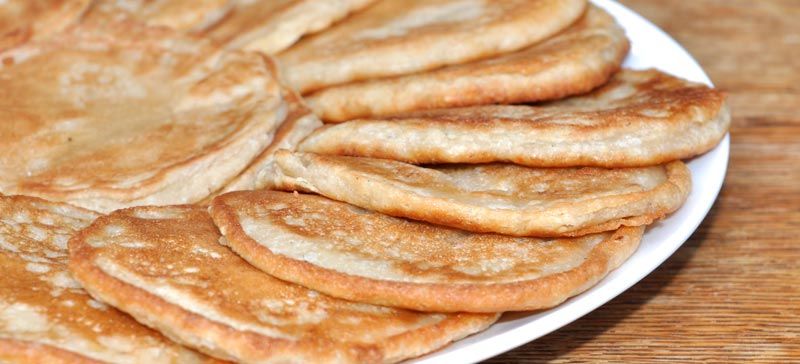 They even grow in people gardens!! Ooops I started again!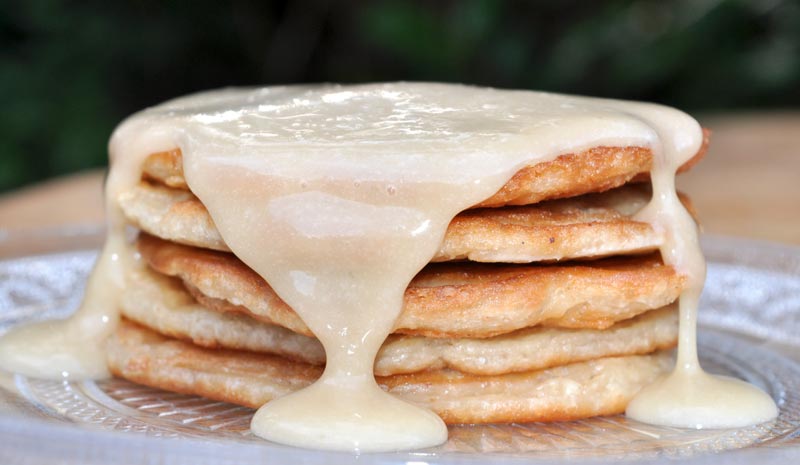 The interesting thing about Macadamia nut trees is that once planted in takes 10 years before they even start to bear macadamia nuts. If you're a farmer I guess that would need some patience to get going – especially in a land where you have bamboo – a plant that can grow 2 ft. a day!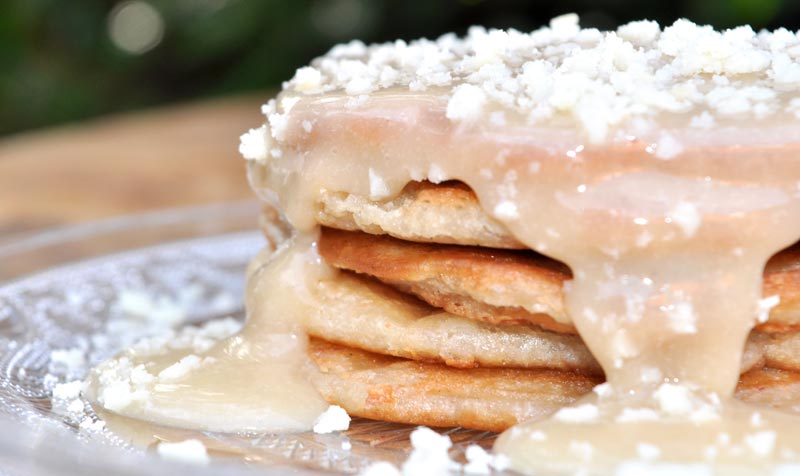 But bamboo doesn't give you macadamia nuts – in my opinion this awesome little nut is well worth the wait - as long as you can survive growing pineapples, mangos and apple banana in the meantime! (Oooooooo apple bananas – sooooooo good – but I diverse!)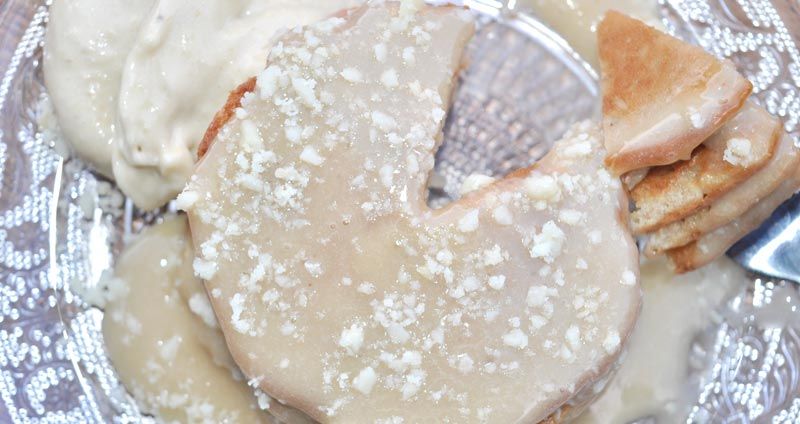 I just love the buttery flavour and quality of macadamia nuts – it makes them unique and the perfect replacement for butter in my crumble topping! Not to mention delectable on their own – plus being unquestionable the easiest to turn into a nut butter! So delish!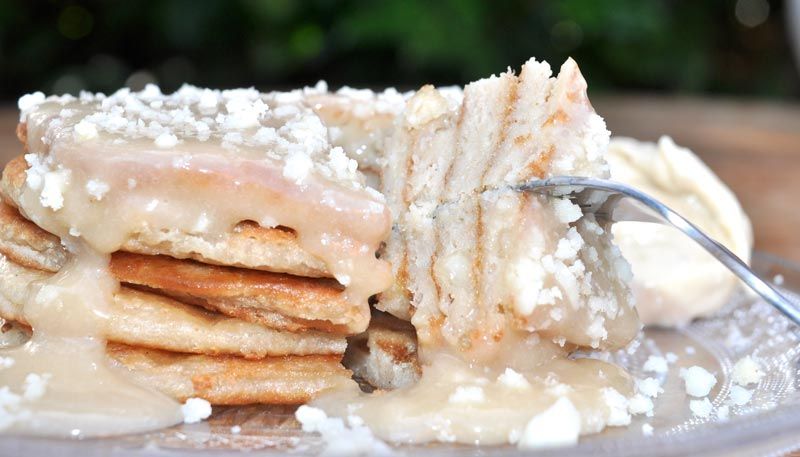 Here I have used them along with bananas as the base of these delicious pancakes. They are super easy to make and the taste is out of this world! I used last week's coconut syrup as the topping – couldn't have been more perfect – and make a little extra when blitzing the macadamia nuts to crumble on the top!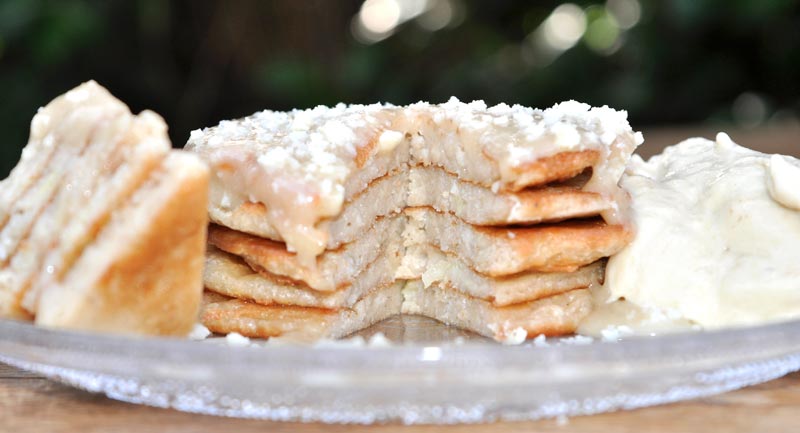 Served with a scoop of banana ice cream this breakfast/dessert is a treat that your taste buds won't forget in a hurry. So whip up a portion and enjoy another taste of Hawaii! :D
Hawaiian Macadamia Nut and Banana Pancakes
Prep Time: 20 mins Cook Time: 10 mins
Makes: 12 Small Pancakes
Ingredients:
Pancakes:
½ Overipe Banana
¼ Cup Macadamia Nuts
2 tbsps. Macadamia Nut Butter
¼ Cup Tapioca Flour
¼ Cup Rice Flour
½ Cup Non-Dairy Milk
1 tbsps. Maple Syrup
¼ tsp. Powdered Vanilla
1 tsp. Baking Powder
Coconut Oil for frying
Toppings:
Coconut Syrup:
½ Cup Coconut Milk
½ Cup Light Coconut Blossom Syrup
1 tbsps. Arrowroot Powder
Banana Ice cream
Blitzed Macadamia Nuts
Instructions:
Pancakes:
1) Mash the banana in a bowl. Blitz the macadamia nuts until ground into small pieces – add to the banana.
2) Blend together all the remaining ingredients for the pancakes until completely smooth. Stir in with the banana and macadamia nuts. Set on one side to rest for 15 mins. (Make coconut syrup and banana ice cream whilst resting – see below.)
3) Heat 1 tbsps. coconut oil in a frying pan. Spoon about 2tbsp. of the pancake mix for each pancake. They will start to bubble around the edge turn and fry each side until a light golden brown. I did mine is batches of four. Serve immediately or place in a low oven to keep warm.
4) Top with coconut syrup, banana ice cream and more blitzed macadamia nuts
Coconut Syrup:
5) Whisk to together all the ingredients for the coconut syrup and place on a medium heat for about 2 mins whisking continuously.
6) The mix will start to thicken – remove from the heat and allow to cool.
Banana Ice Cream:
7) Freeze bananas at least overnight. Remove 3 frozen bananas from the freezer and defrost on the counter for 5-10 mins. Whip in the blender until smooth.