Laura's Naturally Sweet Blog
Psssst...............looking for naturally sweet, healthy, deliciously moreish cakes? You've come to the right place!
Peach Melba Cheesecake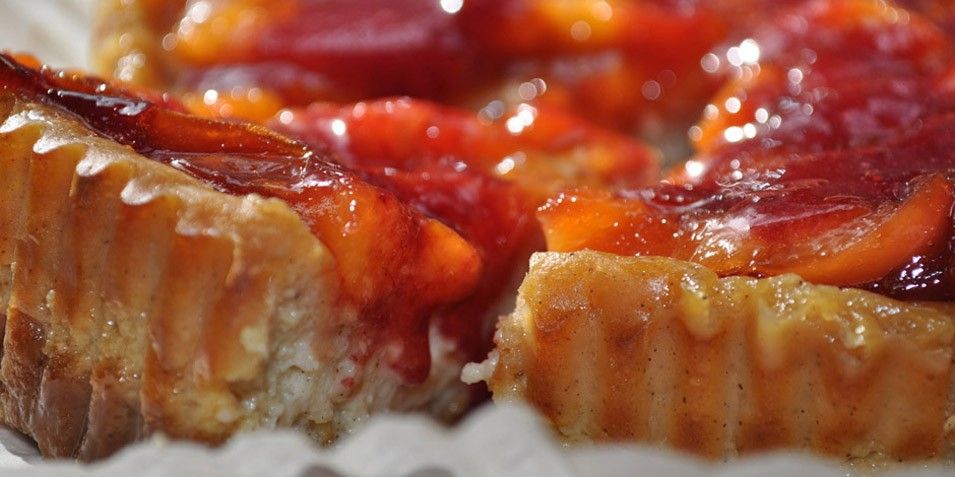 Grab a fork and come on over! Finally I've done it! I'll ignore for the moment that the kitchen is littered with my failed attempts and the washing up is stacked a mile high because here I have a high protein, low fat, cholesterol free absolutely scrumptious baked cheesecake. Yay!!!!!

It's out - I LOVE cheesecake. Many years ago I went to New York and shared a humongous slice of baked cheesecake with my friend in a deli off 54th street. Even between us we didn't managed to finish it!! We hadn't even had dinner that evening. We'd been to the deli a few days previously and had promised ourselves that we would come back to have a slice. Kudos to our friend who managed a whole slice of chocolate cheesecake by himself! (Ooooooo Chocolate Cheesecake just let me add that to the To Do List)



This (well I guess it was about a third of a) cheesecake did, however, fuel a whole nights salsa dancing. It is also pretty safe to say that this epic cheesecake, as my introduction to the heavenly world of baked cheesecake, is my inspiration for this creation and this memory is the main reason I was so determined to master the healthy baked cheesecake! Just in case you would like it I've also put my digestive biscuit recipe below! :)
Prep Time: 30 mins Bake Time: 40 mins
Serves 8-12
Ingredients:
Base:
2 Cups Digestive Biscuit Crumbs (Graham Crackers) (recipe below)
3 tbsps. Coconut Oil - melted
3 tbsps. Maple Syrup
Cream Cheese Filling:
1 pk. Silken Tofu

1 pk. Tofu Cream Cheese
½ Cup Arrowroot Powder
½ Cup Agave Nectar
2 tsps. Vanilla
1 Lemon – juice and zest
1 tsp. Baking Powder
Peach Melba Topping:
Peaches:
3 Peaches Sliced
¼ Cup Agave Nectar
Raspberry Sauce:
½ Cup Raspberries
2 tbsps. Agave Nectar
2 tbsps. Water
Instructions:
1) Preheat the oven at 160˚C
2) In a bowl combine thoroughly all the ingredients for the base. Press into an 8" round baking pan and place in the oven for 10 mins or until a light golden brown. Removed from the oven and allow the base to cool for 10 mins.
3) Whilst cooking the base beat together all the ingredients for the cream cheese filling (I like to use my Kenwood Chef for this)
4) Once the base has cooled spread the cream cheese filling over the top and place in the oven for 30 mins or until a light golden brown. Remove from the oven and allow to cool.
5) Place the peach slices in a saucepan together with the ¼ cup of agave nectar on a medium heat for about 10 mins. Stir regularly. Remove from heat and allow to cool.
6) In a separate saucepan on a medium heat cook the raspberries, 2 tbsps. Agave and 2 tbsps. of water together for about 10 mins – stir regularly.
Optional: Once removed from the heat I like to sieve this immediately to remove the seeds. Allow to cool.
7) Once the cheesecake has cooled spread the peaches over the top and then drizzle with the raspberry sauce before placing the fridge.
8) Allow to chill for at least 4-8hrs or overnight before serving.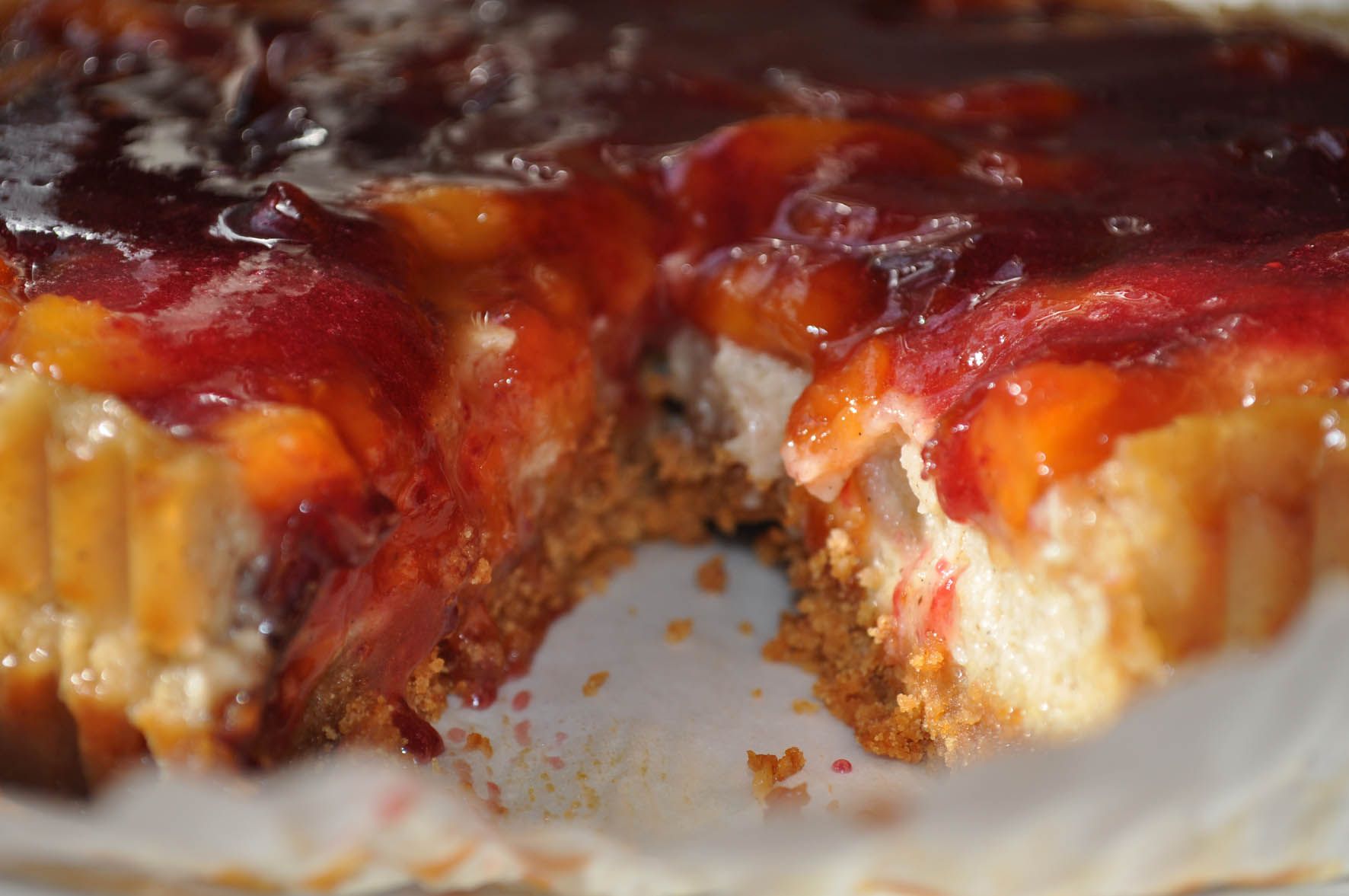 Digestive Biscuit (Graham Crackers) Recipe
Prep Time: 10 mins Bake Time: 15 mins
Makes 12 Biscuits or 2 Cups of Crumbs
Ingredients:
1 Cup Oat Flour
¾ Cup Ground Almonds
¼ Cup Coconut Oil
2 tbsps. Agave Nectar
3 tsps. Baking Powder
2-3 tbsps. Almond Milk
Instructions:
1) Preheat the oven at 170˚C
2) In a mixing bowl thoroughly combine all the ingredients except the milk.
3) Add the milk one tablespoon at a time until you form a dough.
4) Roll out the dough between two slices of baking parchment until about 3-4mm thick.
5) With a cookie cutter cut out the biscuits and place on a lined baking tray.
If you want these for biscuit crumbs you can always just place the rolled dough into the oven.
6) Bake in the oven for 15 mins until a light golden brown
7) Remove from the oven and allow to cool on the tray for at least 10 mins
These will be soft when you remove them from the oven but they will firm as they cool.