Laura's Naturally Sweet Blog
Psssst...............looking for naturally sweet, healthy, deliciously moreish cakes? You've come to the right place!
Raspberry Lemonade Summer Tart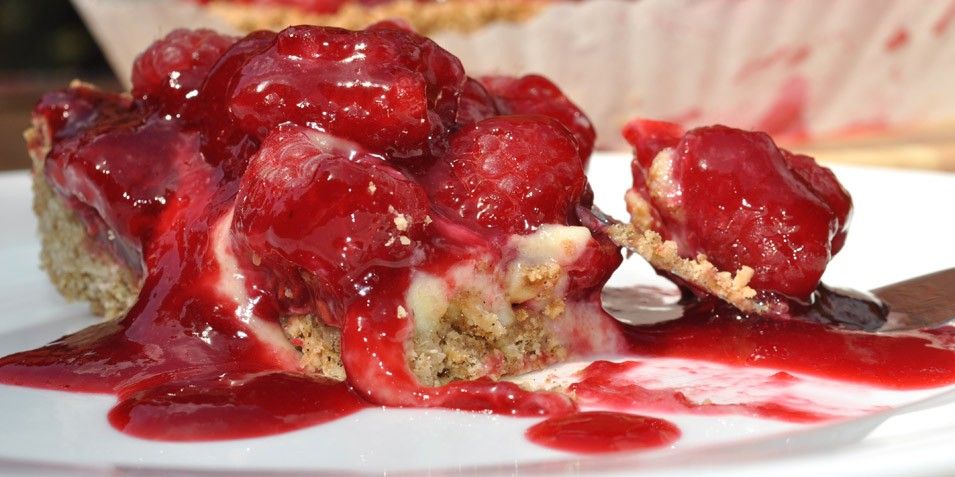 Plump juicy raspberry, tart but smooth lemon cream, crumbly coconut shortbread all topped with a sweet, tangy raspberry coulis. Sounds like summer to me!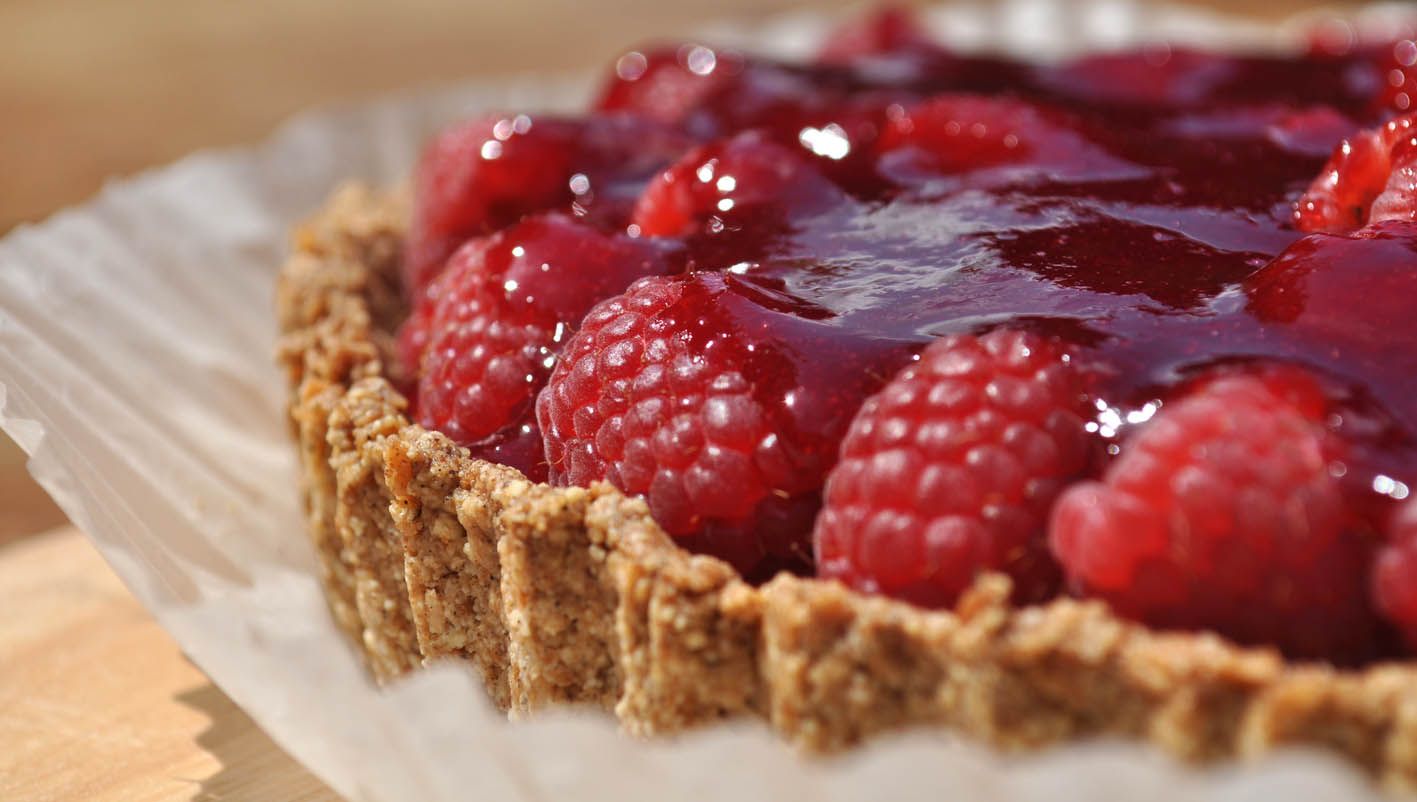 You will probably notice the theme of summer coming out in my recipes at the moment. Summer is, for me at least, the best season for baking. An abundance of sweet, beautiful fruits ripen during the season opening up so many possibilities.
I've been musing on the idea of a raspberry lemon tart ever since the first signs of summer this year, maybe because my Mother always tells the story of how she would eat the raspberries as they ripened from the bush outside my grandparent's home when she was a child, or maybe because recently I have been working on a recipe for lemon cupcakes (just working on a topping.)
Most likely it was the combination but either way I had shelved the idea until I could sort out a base. However, since last Sunday week's shortbread breakthrough, I have been considering making good use of my shortbread recipe as a base for this - raspberry lemonade summer tart.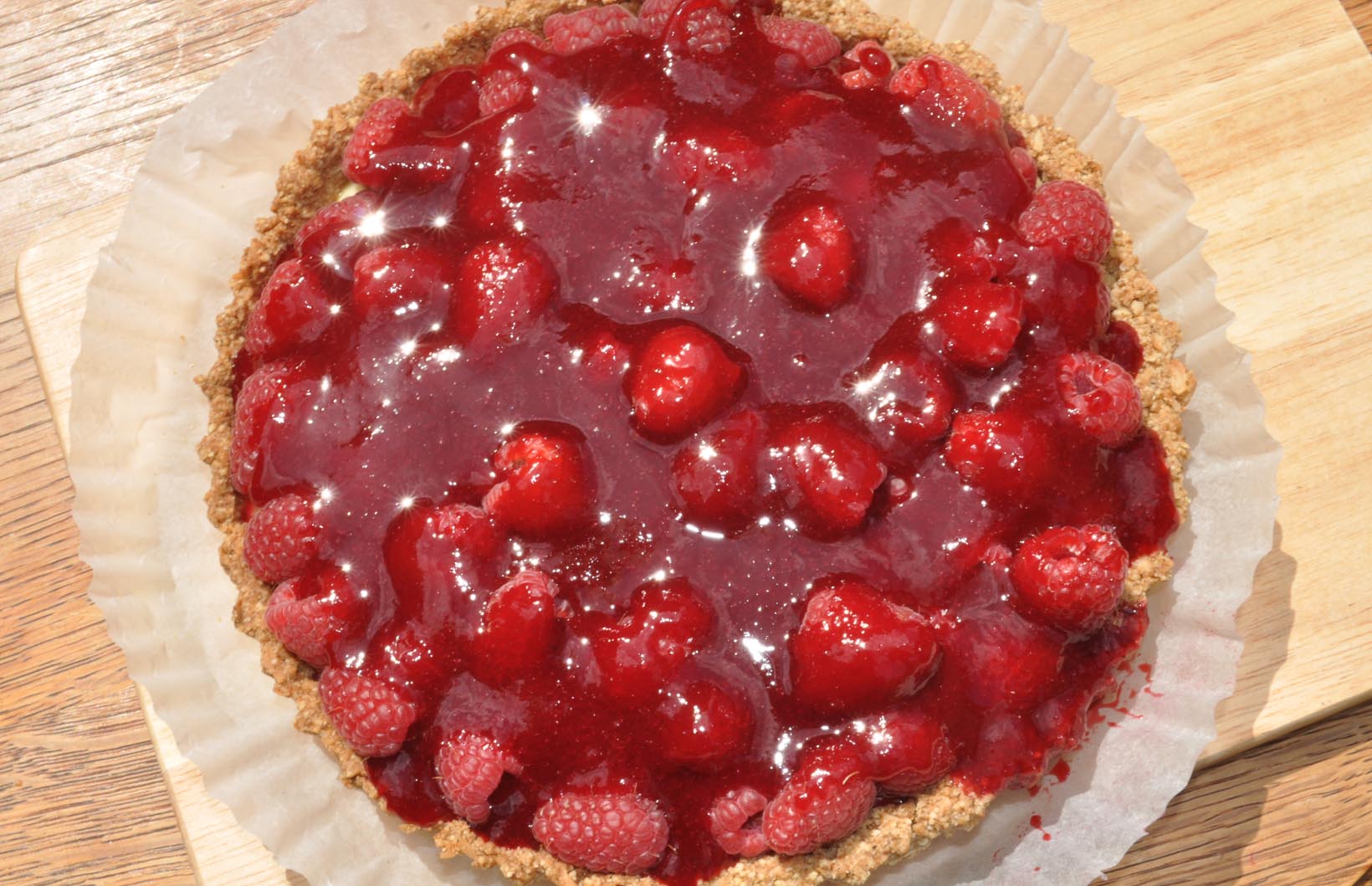 This time I've added a little coconut for that extra crunch (Oooooo thinking this would make awesome cookies too!!!) complimenting perfectly the sweet, refreshing raspberries and the velvety lemon cream.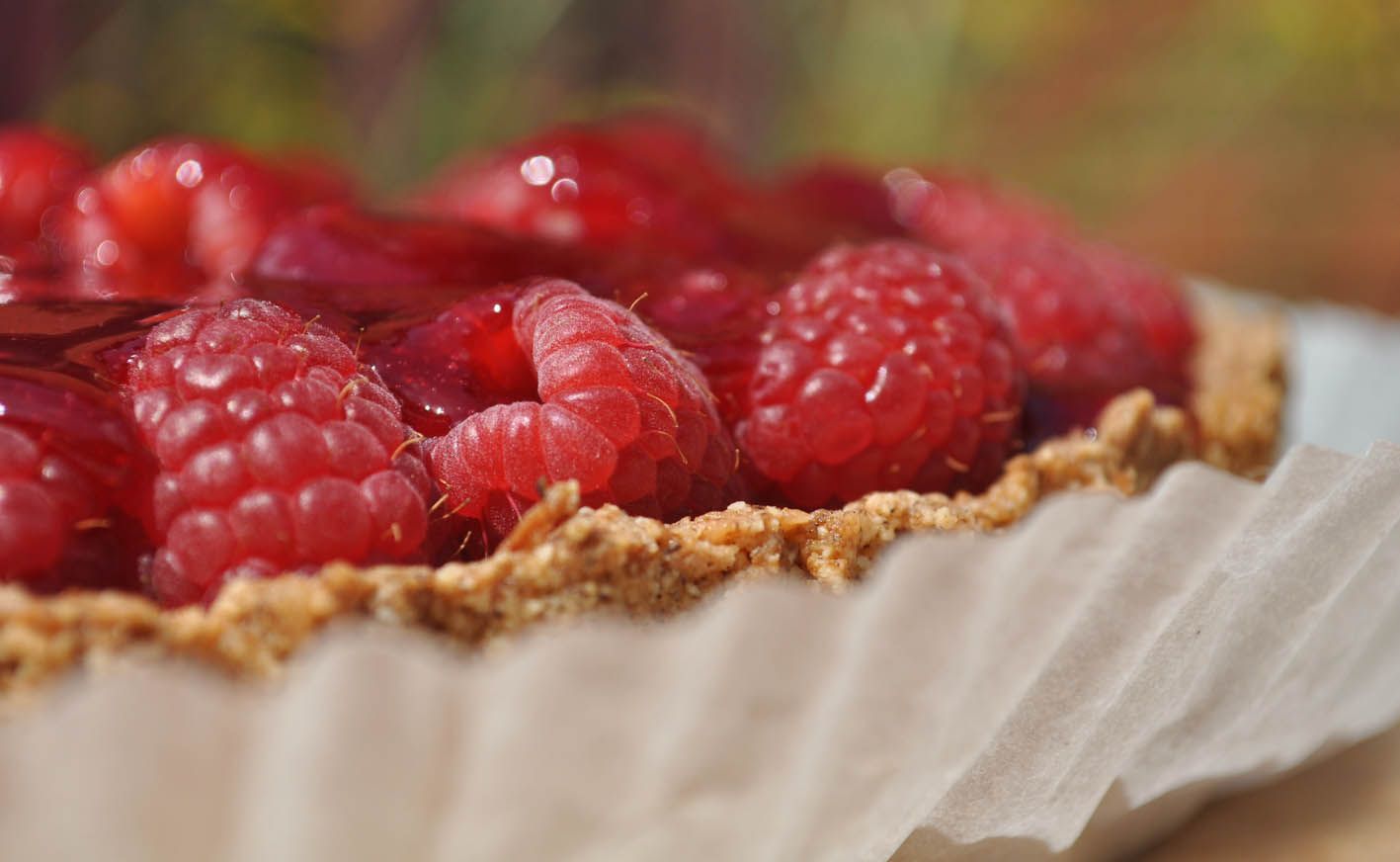 This tart just screams summer, offering a chance for me to ignore the rain beating against the window knowing that the odds are in my favour for a hot sunny day tomorrow - dreaming of long tall glasses of iced lemonade and sweet tangy raspberries.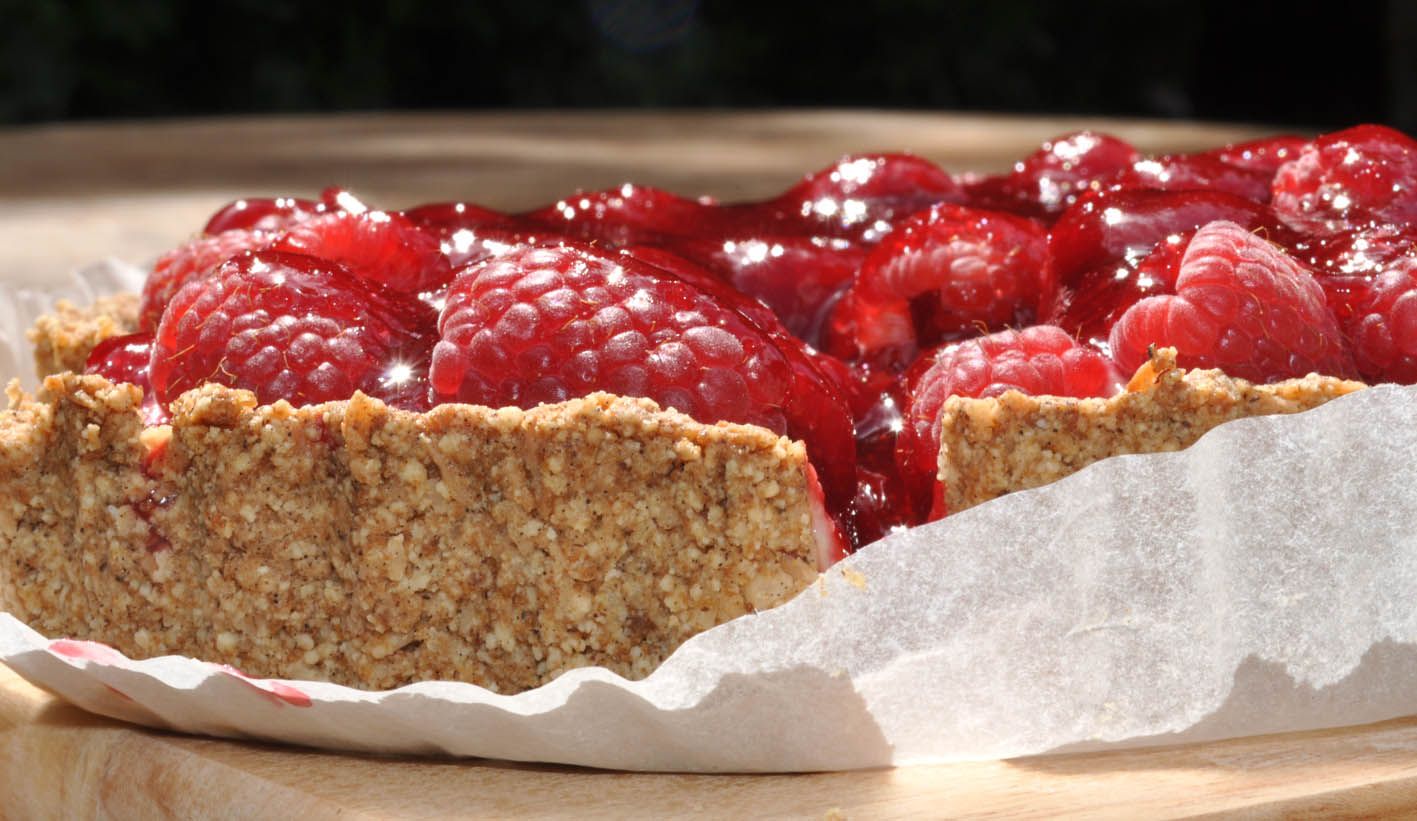 Ahhhh the taste of summer.
Raspberry Lemonade Summer Tart
Prep Time: 40 mins Bake Time: 10 mins
Serves 8-10
Ingredients:
Base:
¼ Cup Coconut Oil (melted)
3 tbsps. Powdered Coconut Sugar
¼ Cup Almond Flour
½ Cup Desiccated Coconut
2 tbsps. Tapioca Flour
1 tbsps. Arrowroot Powder
1 tsp. Powdered Vanilla
Pinch of Himalayan Salt
Lemon Cashew Cream Filling:
2/3 Cup Cashew Nuts (soaked for 4 hrs)
¼ Cup Agave Nectar
2 tbsps. Arrowroot Powder
1/3 Cup Lemon Juice
2 tbsp. Lemon Zest
1/8 tsp. Tumeric (optional for colour)
Topping:
Raspberries:
1½ Cups Raspberries
Raspberry Coulis:
2 Cups Frozen Raspberries
¼ Cup Agave Nectar
2 tbsps. Water
Instructions:
1) Cream together coconut sugar and coconut oil. (I use my bamix for this but a whisk would be fine.)
2) Gradually fold in the almond flour, desiccated coconut, tapioca flour, arrowroot powder, powdered vanilla and Himalayan salt.
3) Press the mix into the base of a 7 inch round tart tin coming up the sides about an inch or so.
4) Place in the fridge for 30 mins.
5) Whilst the base is cooling prepare the raspberry coulis and the lemon cashew cream filling (instructions below.)
6) Preheat the oven to 160˚C
7) Bake in the oven for 8 mins until a light golden brown.
8) Once the base has cooled completely pour in the lemon cashew cream.
9) Cover the whole of the lemon cream with raspberries and spoon the raspberry coulis over the top.
10) Allow to chill for 4 hrs before serving.
Raspberry Coulis :
1) Place the raspberries in a saucepan together with the ¼ cup of agave nectar on a medium heat for about 8 mins. Stir regularly. Remove from heat.
2) Once removed from the heat sieve immediately to remove the seeds and allow to cool.
Lemon Cashew Cream:
1) Blend all ingredients for the lemon cashew cream together until completely smooth.