Laura's Naturally Sweet Blog
Psssst...............looking for naturally sweet, healthy, deliciously moreish cakes? You've come to the right place!
Halloween Matcha Victoria Sponge Cake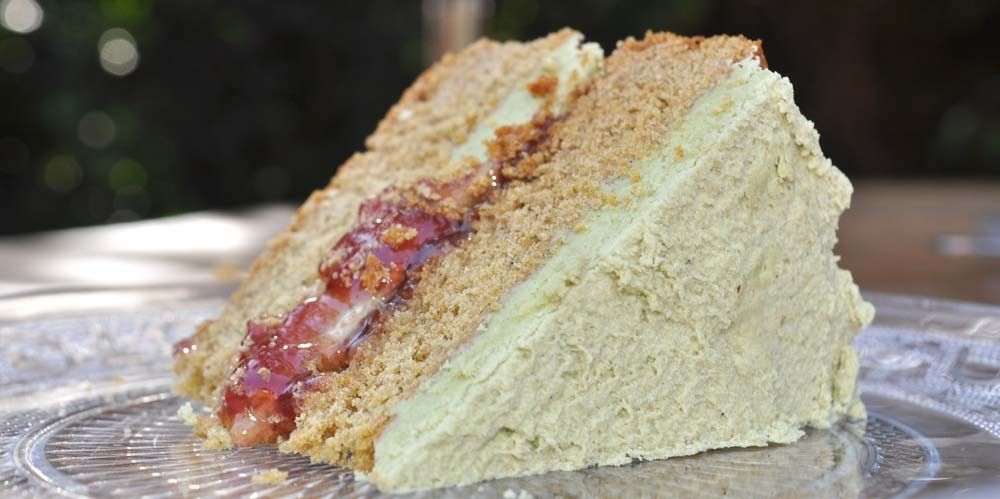 Light, fluffy, moist and so delicious – not to mention super exciting to look at - this has to be the perfect cake for Halloween!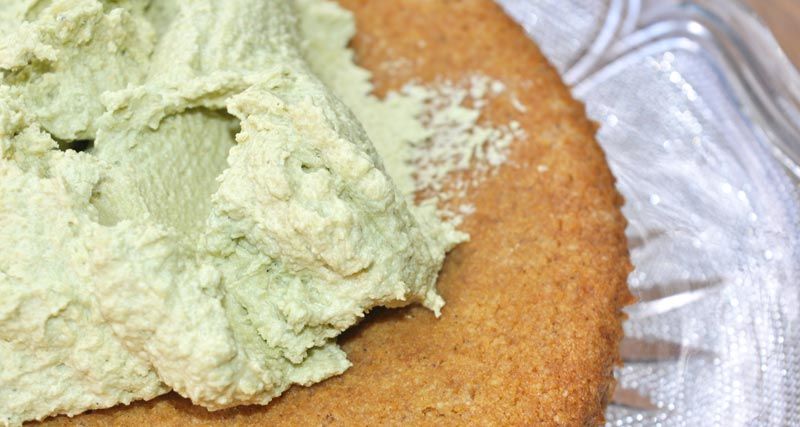 So there I am with my Mum sitting in the tearoom of a local garden shop enjoying our mixed berry tea when I look up and notice in the cake selection a bright green Victoria sponge.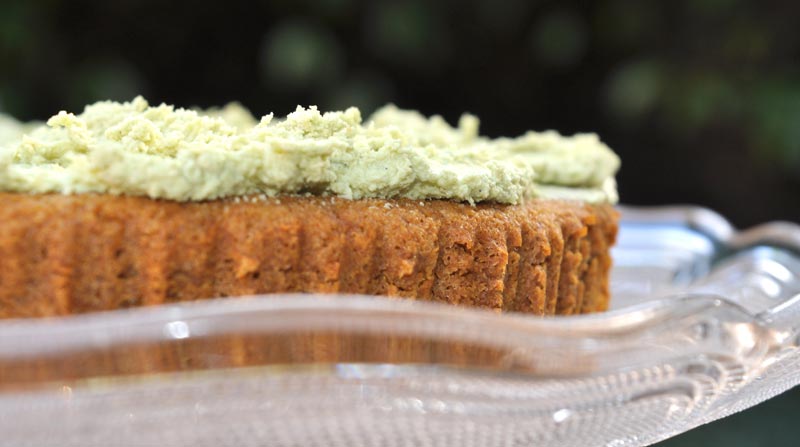 I knew at once that it had to be a Matcha Green Tea cake – it just looked awesome!
My Mum looked over and laughed at my excitement – 'that looks like a Halloween cake' she said. I knew at once she was right because they had made a matcha Victoria sponge cake and the red of the jam set against the green of the cake would, indeed, be perfect for Halloween.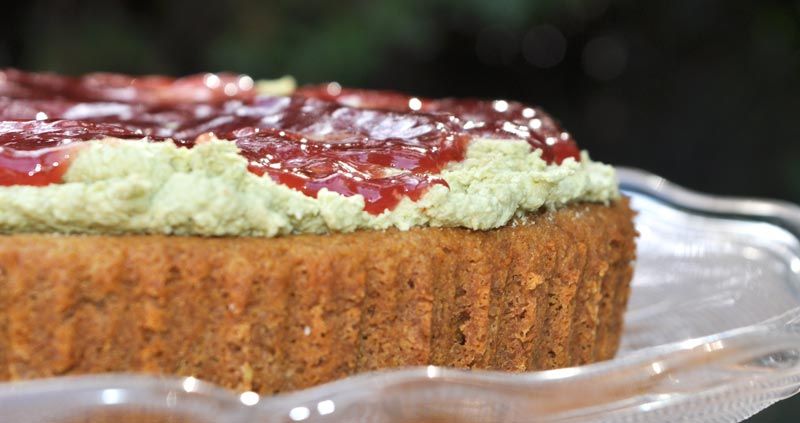 Now I, of course, had already chalked up a matcha cake of my lists of musts for future experimentation but I knew then that it would be super fun to do it for Halloween!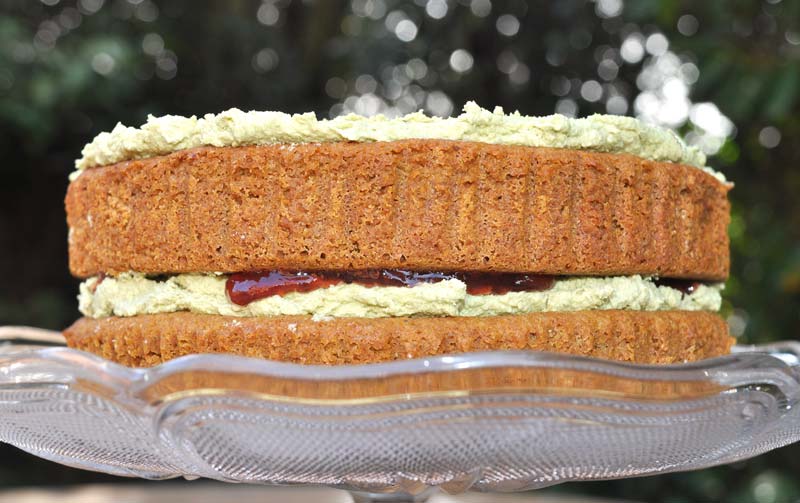 If you fancy your cake a little greener you can just add another teaspoon of matcha tea! I bought mine from the good folks over at teaologists after they contacted me of twitter. Their tea is fantastic quality with a very smooth flavour. Even in cooking I use the ceremonial tea – I know it's a bit pricier but the flavour is so good and gives a lovely finish to the cake.
This is especially worthwhile if you end up fancying a cup of match green tea to go alongside.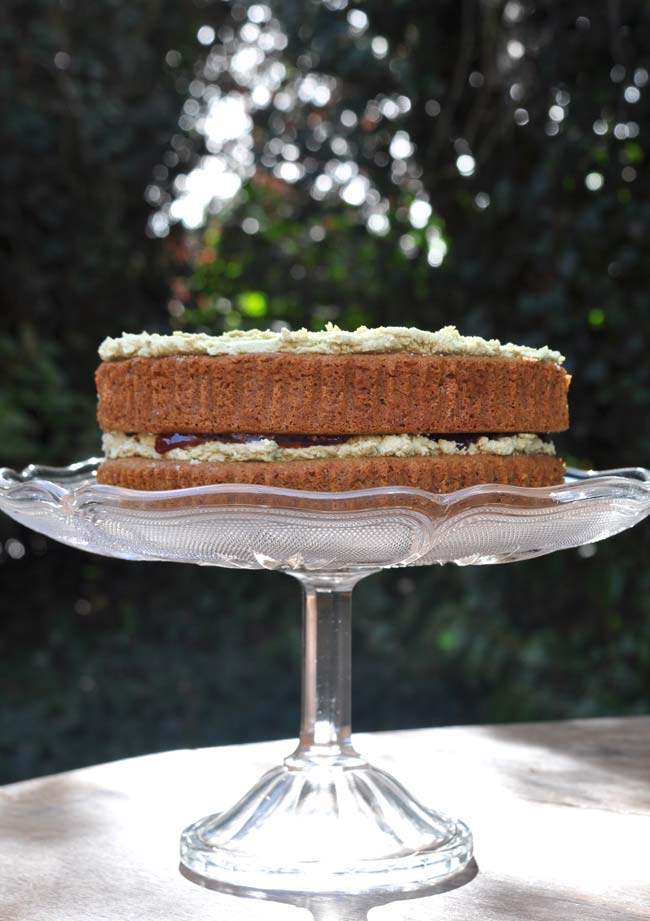 Although I must admit, while I love match tea plain, my favourite is a vanilla bean matcha latte – sooooooooo good and the perfect accompaniment to this Halloween Matcha Victoria Sponge Cake!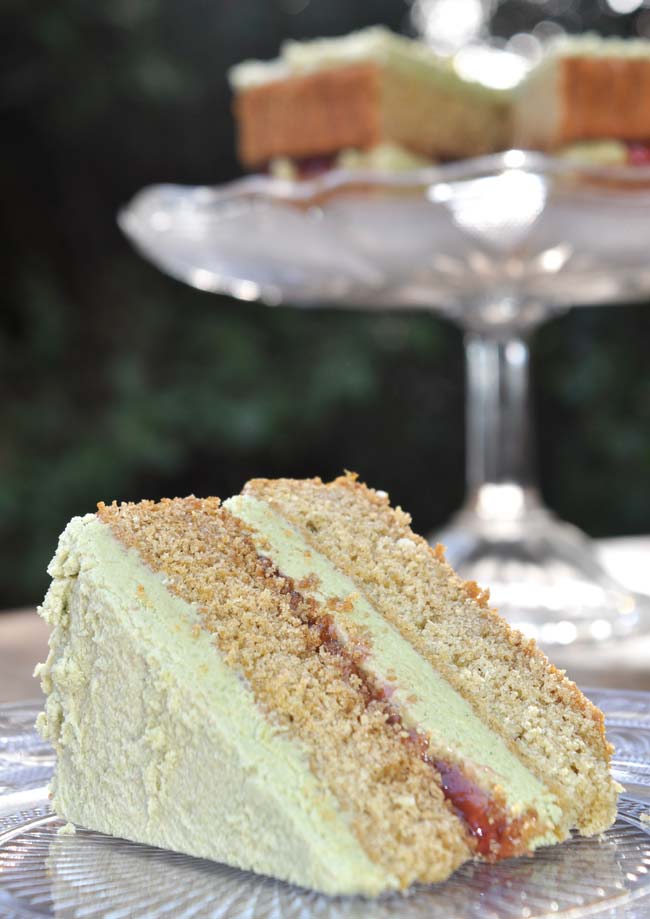 So heat up the oven, brew the kettle and let's get going! :)
Halloween Matcha Victoria Sponge Cake
Prep Time: 20 mins Bake Time 30 mins
Makes: A two layer cake
Ingredients:
Cake:
½ Cup Coconut Oil – melted
¾ Cup Maple Syrup
¾ Cup Almond Flour
¼ Cup Rice Flour
¼ Cup Tapioca Flour
2 tbsps. Arrowroot Powder
1½ tbsps. Match Green Tea
1 tsp. Powdered Vanilla
¼ Cup Non Dairy Milk
2 tbsps. Non Dairy Yoghurt
1 tsp. Baking Powder
½ tsps. BiCarb
½ Cup Dalfour Strawberry Jam
Buttercream Frosting:
4 tbsps. Cocoa Butter
½ Cup Creamed Coconut
2 tbsps Maple Syrup
2 tbsps Cashew Nut Butter
1 tbsps Match Green Tea
Instructions:
Cake
1) Preheat the oven to 170˚C
2) Beat together the melted coconut oil and maple syrup until fully combined.
3) Mix in the almond flour, rice flour, tapioca flour, arrowroot powder. matcha tea and vanilla.
4) Whilst continuing to beat the mix slowly add the milk.
5) Finally add the yoghurt, baking powder and bicarb and beat until fully combined.
6) Divide the mix between two 7 inch round cake pans and place in the oven for 30 mins. After 15 mins cover with a piece of brown paper to prevent the top from over browning.
7) Remove from the oven and cool for 10 mins before removing from the tin and placing on a wire rack.
Buttercream Frosting
8) Either in the microwave or on the hob melt the cocoa butter and stir in the condense coconut milk.
9) Allow to cool to room temperature – stirring periodically. The mix will gradually become lighter and denser and start to fluff up a bit – don't worry it if separates when you leave it the cashew nut butter will bind it together later.
10) Once cooled add the cocoa butter mix, maple syrup, matcha tea and cashew nut butter into your Kenwood Chef/Kitchen Aid/electric beater and beat until light and fluffy.
11) Once the cake has cooled spread the frosting over the bottom layer followed by the strawberry Jam. Place the second cake on top.
12) Slice and enjoy! :)