Laura's Naturally Sweet Blog
Psssst...............looking for naturally sweet, healthy, deliciously moreish cakes? You've come to the right place!
Chocolate Dipped Orange Shortbread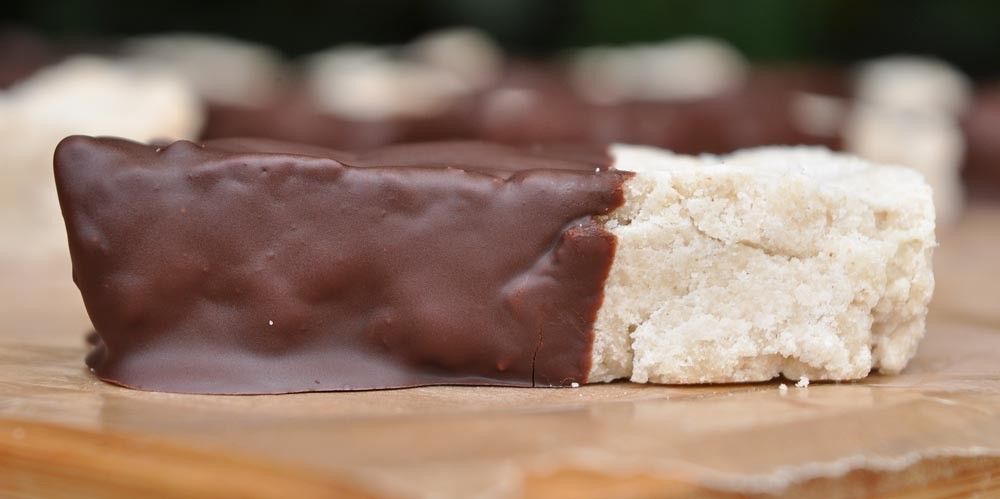 Orange shortbread sure sounds delicious to me but cover it in melted coconut chocolate drops - flavoured with a hint of extra orange – leave it to set and you have found my idea of perfect!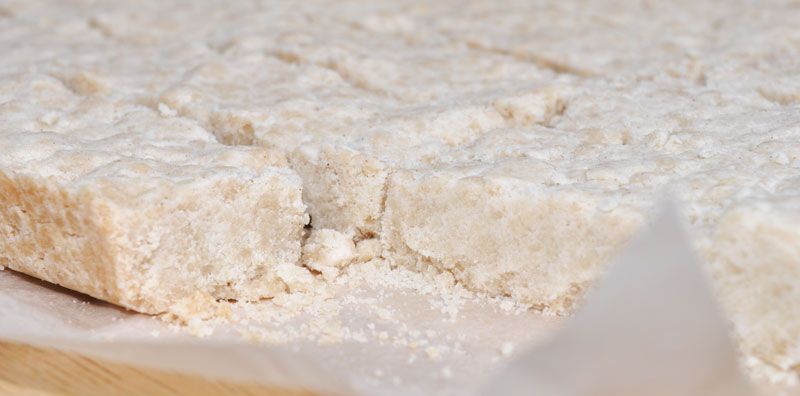 I have a friend who is allergic to nuts as well and gluten and dairy. It's always awesome when she can eat one of my recipes and sometimes a simple swap – like rice flour for almond flour can make this possible whilst still being amazingly delicious – looking at you Light Fluffy Banana Cake.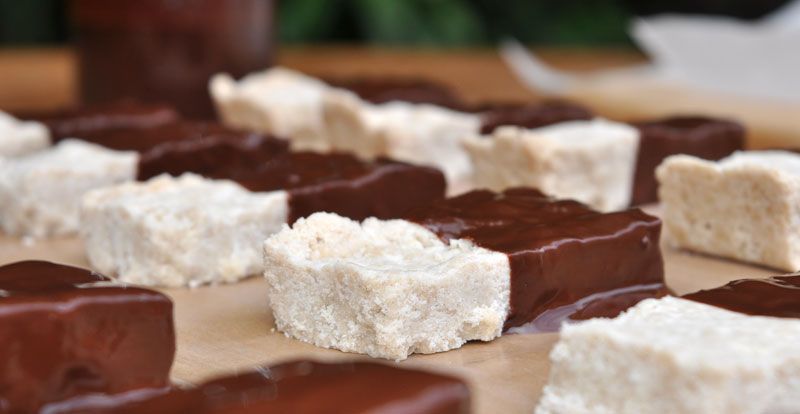 A couple of months back we were discussing my Rich Coconut Sugar Shortbread and she mentioned that she had taken the recipe and converted it into one that she could eat. (Plus added the orange oil – something we both absolutely LOVE!!!)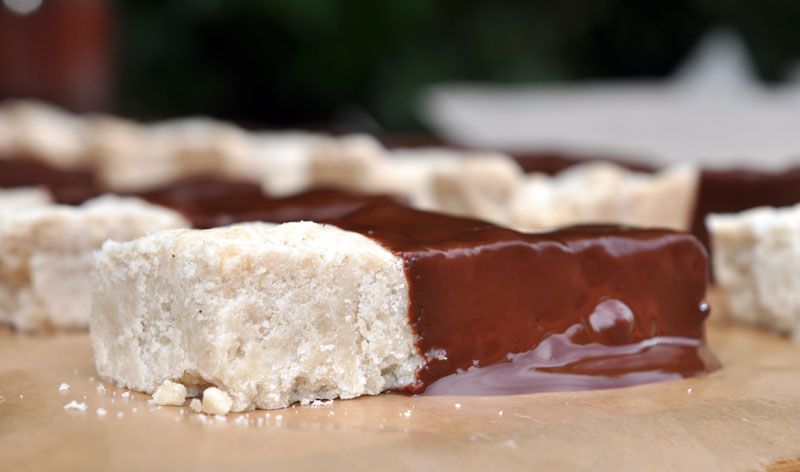 Of course I was dying to try it out, the next week she made me some – (thank you so much!) – and it was soooooooo good I knew I had to share this recipe with you. Especially for those people who can't eat nuts either.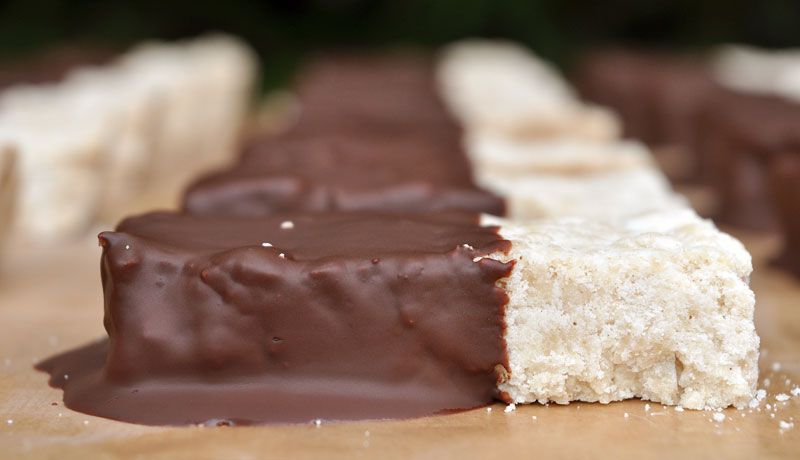 Of course once we had established just how delicious the shortbread is the next step to imagine every variation we could. Vanilla Shortbread – perfect with strawberry ice cream. Lemon Shortbread – perfect with a lemon posset.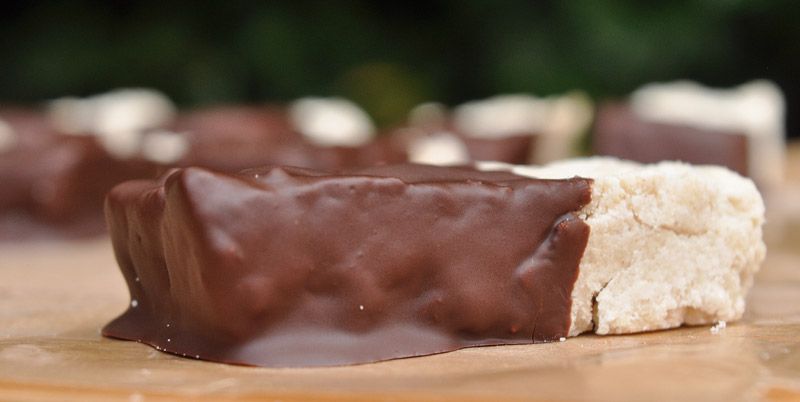 A chocolate version or maybe a chocolate dipped version – and then the one that won the day – Chocolate Dipped Orange Shortbread. Perfect!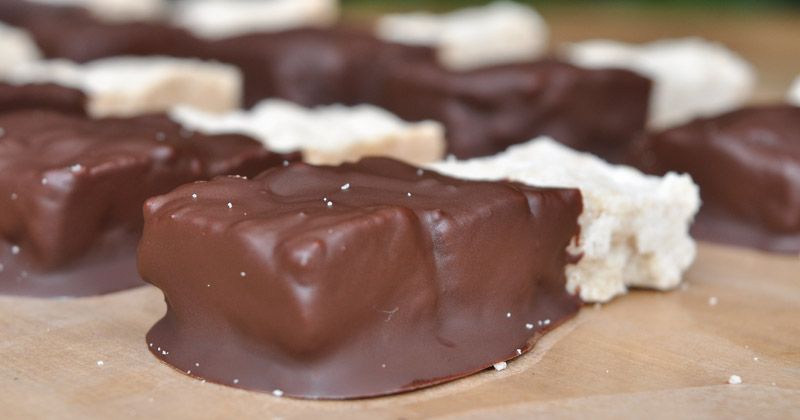 (Not that I won't be making all the others – one has to try out every version right?!?)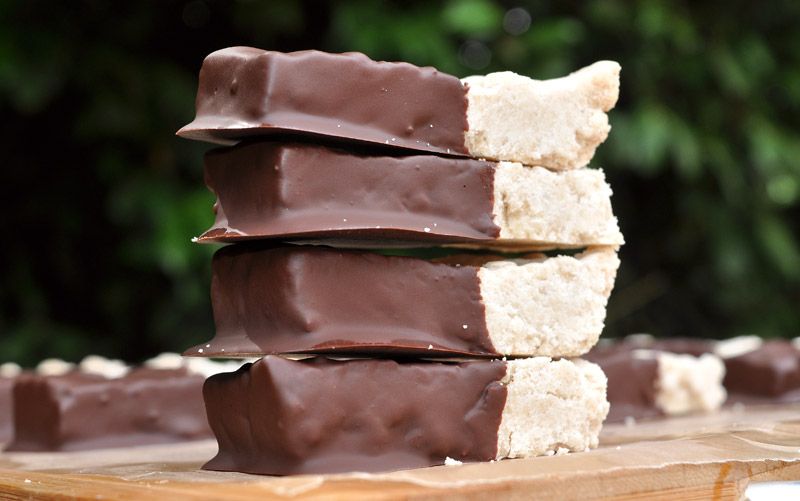 So a big thank you to Nicola for this one – hope you enjoy! :D
Chocolate Dipped Orange Shortbread
Prep Time: 10 mins Fridge Set Time: 15 mins Bake Time: 30-35 mins
Makes: 24 Shortbread Fingers
Ingredients:
2/3 Cup Coconut Oil - melted
½ Cup Maple Syrup
1 Cup Rice Flour
1 Cup Tapioca Flour
¼ Cup Arrowroot Powder
1 tbsps Orange Oil
½ Cup Cocoa Powder
¼ Cup Coconut Oil – melted
¼ Cup Maple Syrup
1½ tsps. Orange Oil
Instructions:
1) In a bowl mix together all of the ingredients until fully combined.
2) Press the mix into a lined 11" x 7" baking pan, prick well all over before placing in the fridge for 15 mins.
3) Whilst in the fridge preheat the oven to 160˚C
4) Bake in the oven for 30-35 mins until a light golden brown.
5) Remove from the oven and slice immediately whilst still in the baking tray. Leave in the tin until completely cool.
6) Stir together the cocoa powder, coconut oil, maple syrup and orange oil until fully combined. Dip the shortbread fingers in the orange chocolate and place on a sheet of waxed paper in the fridge to set.
7) Once set store in an airtight container in the fridge.