Laura's Naturally Sweet Blog
Psssst...............looking for naturally sweet, healthy, deliciously moreish cakes? You've come to the right place!
Chocolate Dipped Hawaiian Macadamia Nut and Coconut Shortbread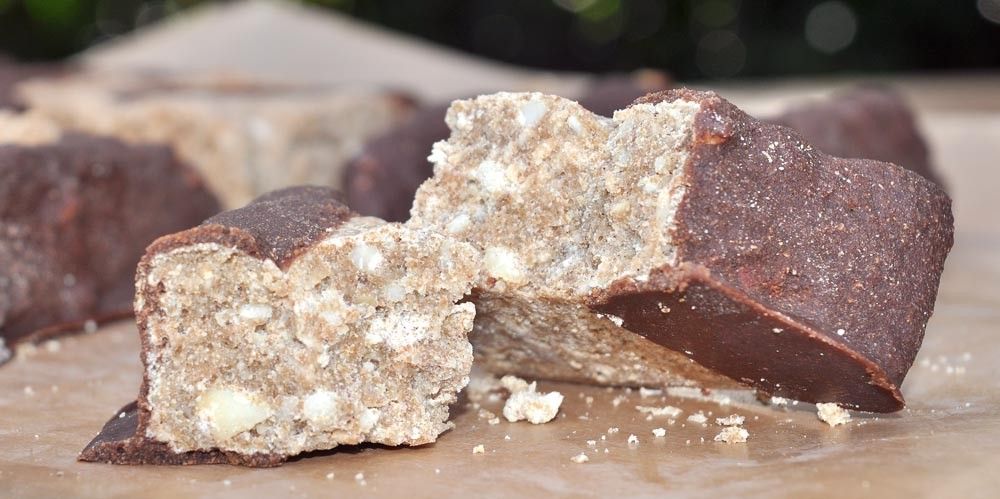 Light, crunchy, melt in the mouth awesomeness – this truly is one amazing shortbread biscuit.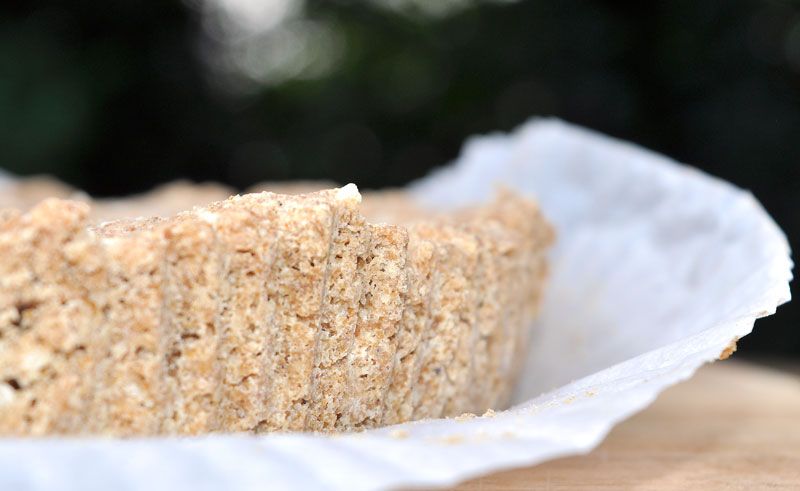 Whilst it is undeniable that macadamia nut and coconut is a match made in heaven, it wasn't one that I had thought of before I visited Hawaii. Whilst I was there I not only visited the famous Honolulu Cookie Company stores – I had to I mean they line the streets of Honolulu and the flight was serving them with dinner on route – but also Big Island Candies in Hilo where we could see the workers dipping the cookie in smooth perfect chocolate.
The array of flavours at both was just mind blowing and so many of them sounded soooooooooooo delicious I knew that I had to try some version as soon as I got home – and of course they had to be chocolate dipped!!!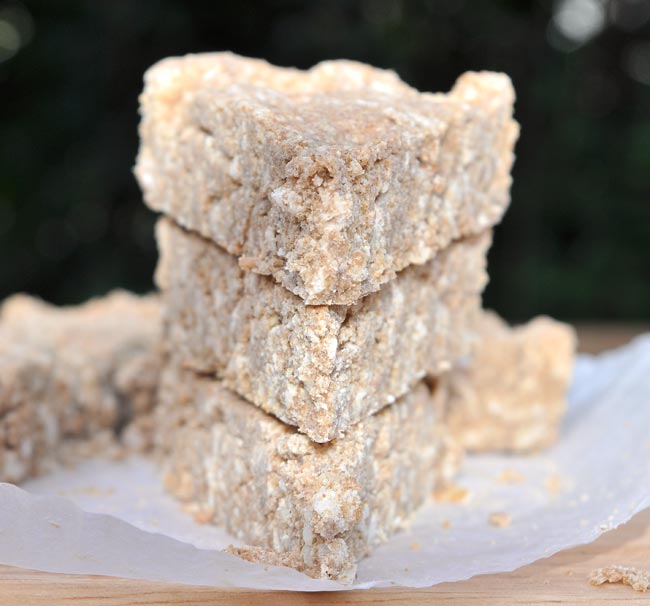 Now there are many that I still plan on trying – lemon with a white chocolate coating, coffee dipped in milk chocolate, coconut dipped in dark chocolate – to name but a few. (Of course!!!!!!! I mean shortbread is a favourite of mine!!!)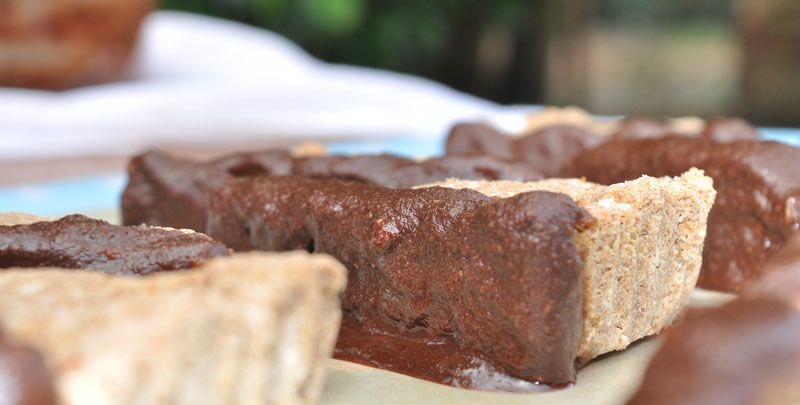 However the flavour that was stuck in my head was macadamia nut and coconut (I blame all those macadamia nut trees and coconut palms I saw in Hawaii!!! ;D) It turned out every bit as sweet, crunchy and delectable as it sounds!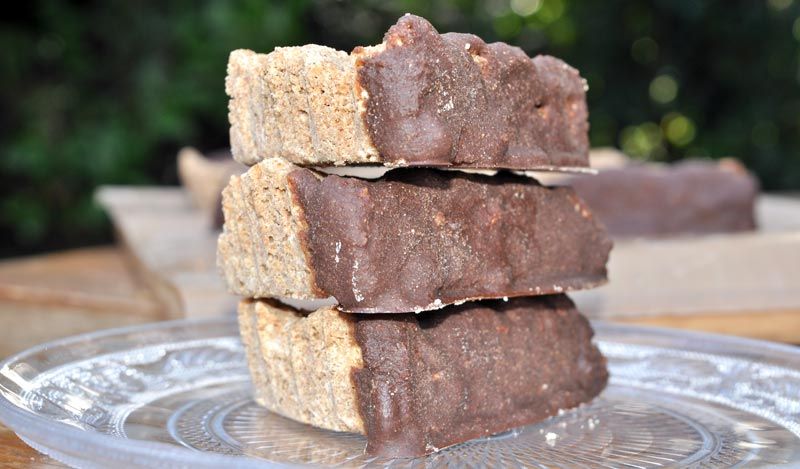 I used creamed coconut for the base of the chocolate for an extra coconut hit – it's like taking a coconut and macadamia nut shortbread and coating it in a Bounty (Mounds for my American friends) bar. Taking it to the next level – oh yeah!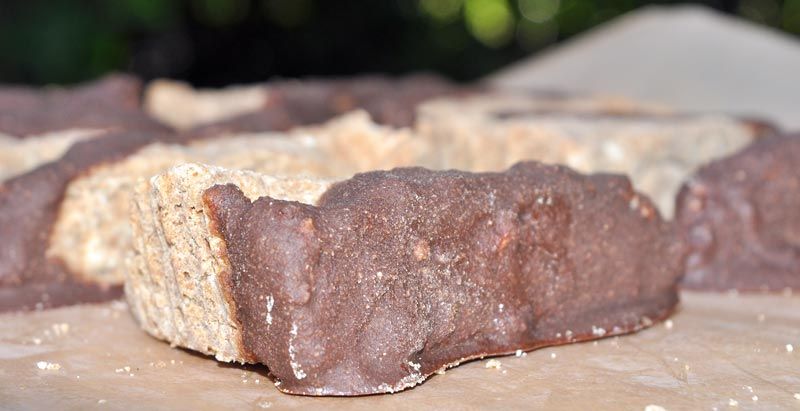 Don't forget to slice the shortbread as soon as it's out of the oven - it stops it breaking if you cut it once firm! So here goes………………………..
Chocolate Dipped Hawaiian Macadamia Nut and Coconut Shortbread
Prep Time: 20 mins Fridge Set Time: 20 mins Bake Time: 15 mins
Serves: 10-12 Cookies
Ingredients:
Hawaiian Macadamia Nut and Coconut Shortbread:
½ Cup Macadamia Nuts
¼ Cup Desiccated Coconut
½ Cup + 1 tbsps. Coconut Oil
½ Cup Powdered Coconut Sugar
½ Cup Tapioca Flour
¼ Cup Almond Flour
¼ Cup Rice Flour
½ tsp. Powdered Vanilla
1/8 tsp. Himalayan Salt
Coconut Chocolate:
3 tbsp. Cocoa Butter
¼ Cup Creamed coconut (¼ Bar or 1 Sachet)
2 tbsps. Cocoa Powder
¼ Cup Powdered Coconut Sugar
1 tbsps. Coconut Oil - melted
½ tsps. Powdered Vanilla
½ tbsp. Maple Syrup
Instructions:
Hawaiian Macadamia Nut and Coconut Shortbread:
1) In your blender pulse the macadamia nuts until finely chopped (be careful not to overdo as it can quickly turn to butter.) Add the coconut and blitz for another 30 secs. Place on a tray in the oven under the grill and toast lightly for about 5-10 mins, turning frequently, until a light golden brown. Place to one side.
2) Cream together coconut sugar and coconut oil. Gradually fold in the tapioca flour, almond flour, rice flour, powdered vanilla and Himalayan salt. Add the toasted macadamia nuts and coconut.
3) Press the mix into a lined 9 inch round tart tin, prick well all over and pinch round the edge before placing in the fridge for 20 mins.
4) Whilst in the fridge preheat the oven to 160˚C
5) Bake in the oven for 15 mins until a light golden brown. Remove from the oven immediately cut into triangles. Leave in the tin until completely cool.
Coconut Chocolate:
6) Melt the cocoa butter in a bowl over a saucepan of boiling water slowly stir in the creamed coconut. Add all the other ingredients and stir until smooth.
7) Dip the shortbread triangles in the coconut chocolate and place on a sheet of waxed paper in the fridge to set.
8) Once set store in an airtight container.