Laura's Naturally Sweet Blog
Psssst...............looking for naturally sweet, healthy, deliciously moreish cakes? You've come to the right place!
Rich Coconut Sugar Shortbread
Rich shortbread – so delicious, light, melt in the mouth, crumbly and totally moreish. Perfect on its own, with strawberries and cream, crumbled over ice cream or as a base for pies, slices and desserts.

In fact the main reason I tackled this now was because a friend recently suggested I added a salted caramel cheesecake to my repertoire as it is one of her Dad's favourites. As I deliberated over the ingredients it occurred to me that this would be perfect with a shortbread base.
I confess that, once again, the kitchen is littered with a series of experiments in my quest for the perfect shortbread. Not that I'm getting any complaints from my trusty food tasters 'just let me try number two again' 'to really tell I'll have to test them all simultaneously……………..'
What have I learnt from this process?

1) Using powdered coconut sugar really does make a difference. Using powdered coconut sugar over ordinary coconut sugar means that it mixes in better with the other ingredients. I haven't done this before but I found that I was getting a slightly grainy effect from the coconut sugar. By putting the coconut sugar through my Magimix and thus making 'powdered' coconut sugar I prevented this from happening. It only took a moment but made a world of difference. (When I get a moment I'll post how to make powdered coconut sugar.)
2) Place in the fridge for 15 mins before cooking. This is an amazing trick for getting perfect, light, melt in the mouth shortbread. The coconut oil solidifies before baking on a low heat (about 160˚C) for a further 15 mins. It really does result in a lighter, airier shortbread.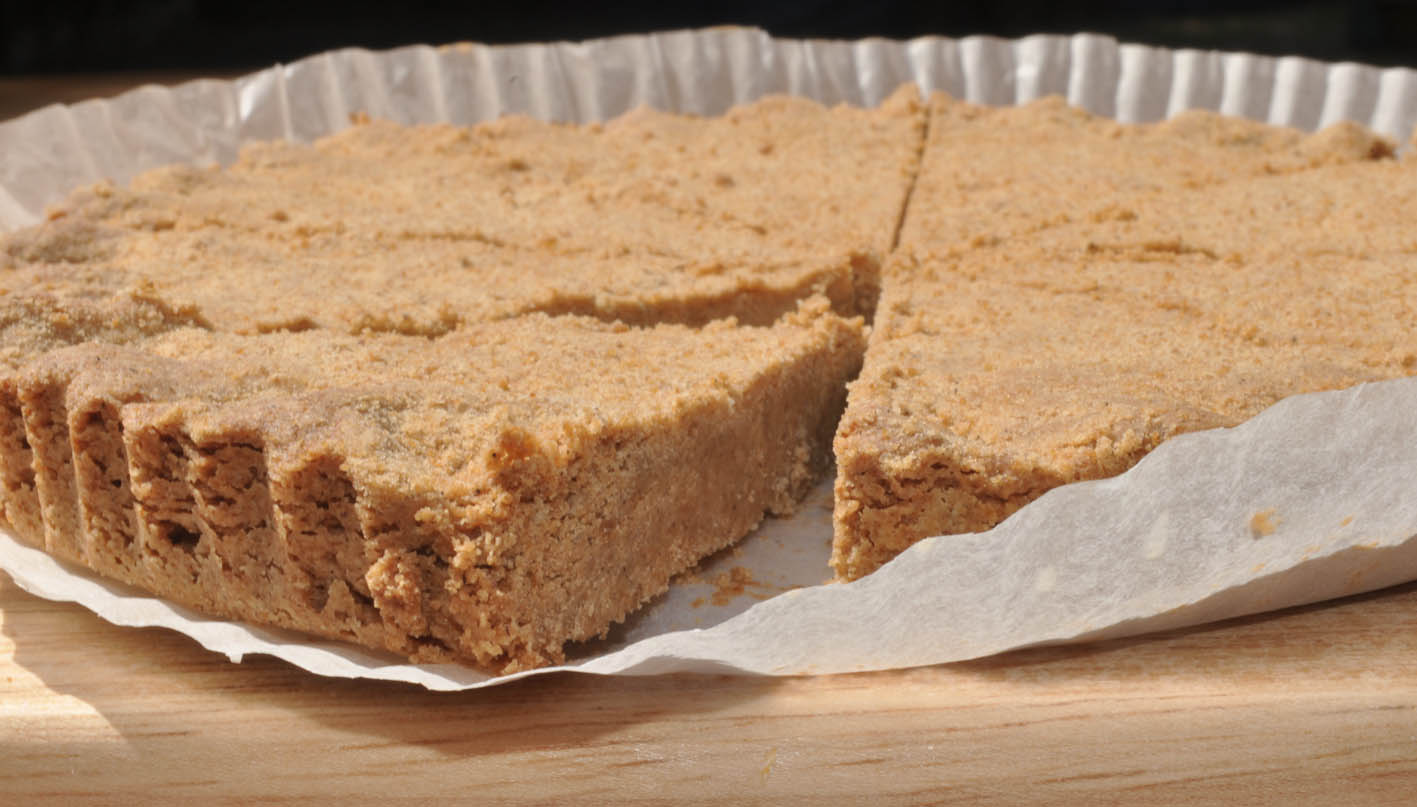 3) Do NOT use vanilla extract with alcohol in it! My favourite vanilla is powdered vanilla, you know what's in it and that taste is always great. However sometimes, when I need to get it quickly and I've run out, I'll pick up whatever I can source locally. The alcohol, coconut oil and coconut sugar mix creates a chemical reaction which causes the coconut sugar to harden into lumps – avoid at all costs!!!!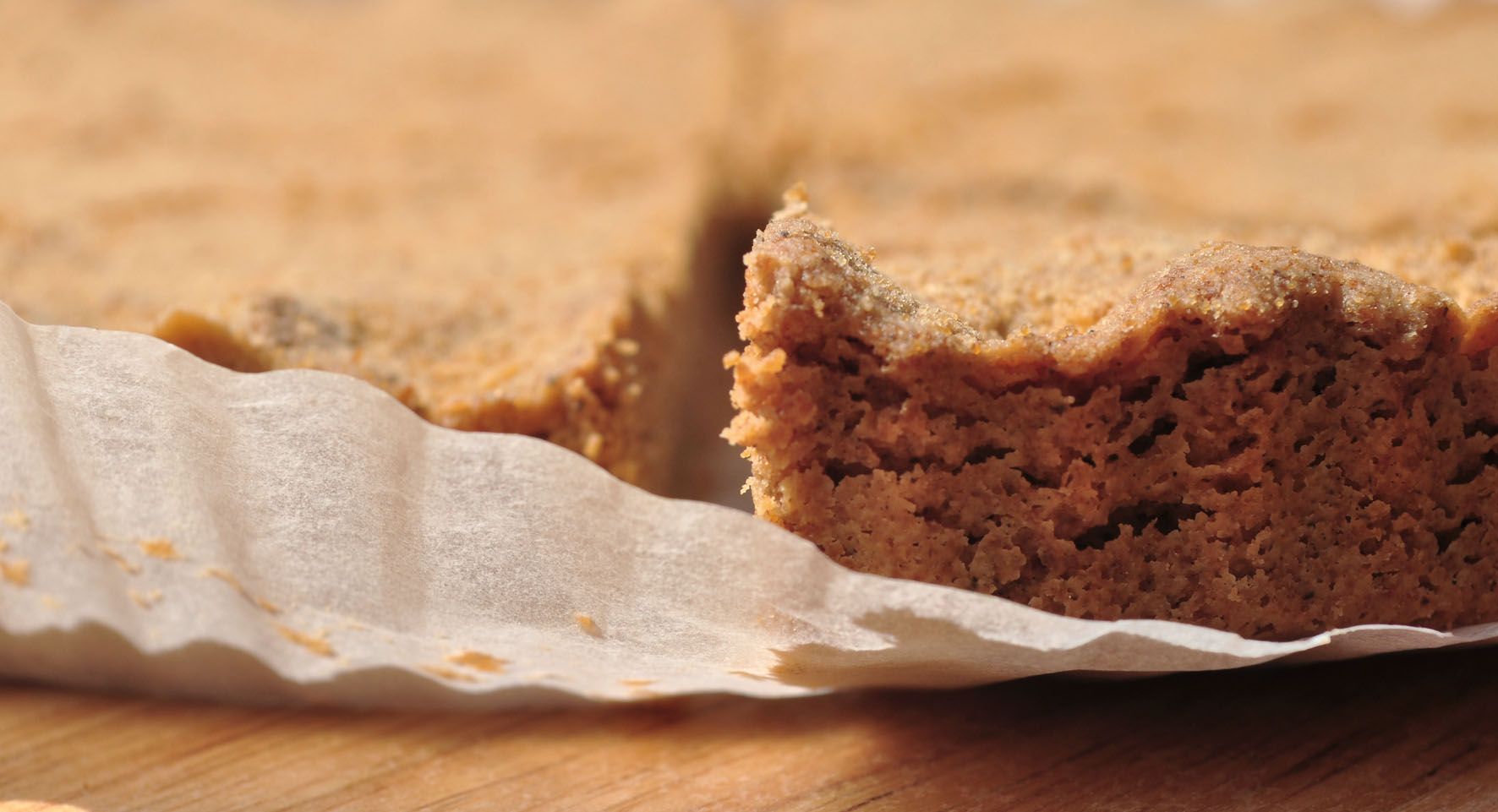 4) Sometimes a little salt is just what a recipe needs. I don't often add salt to my recipes however one of my testers suggested trying a little Himalayan salt in this one and boy was he right. If you don't like adding salt to your food it still tastes great without but I did find that just a pinch of salt (about 1/8 tsp) really helped bring out the other flavours just that little bit more.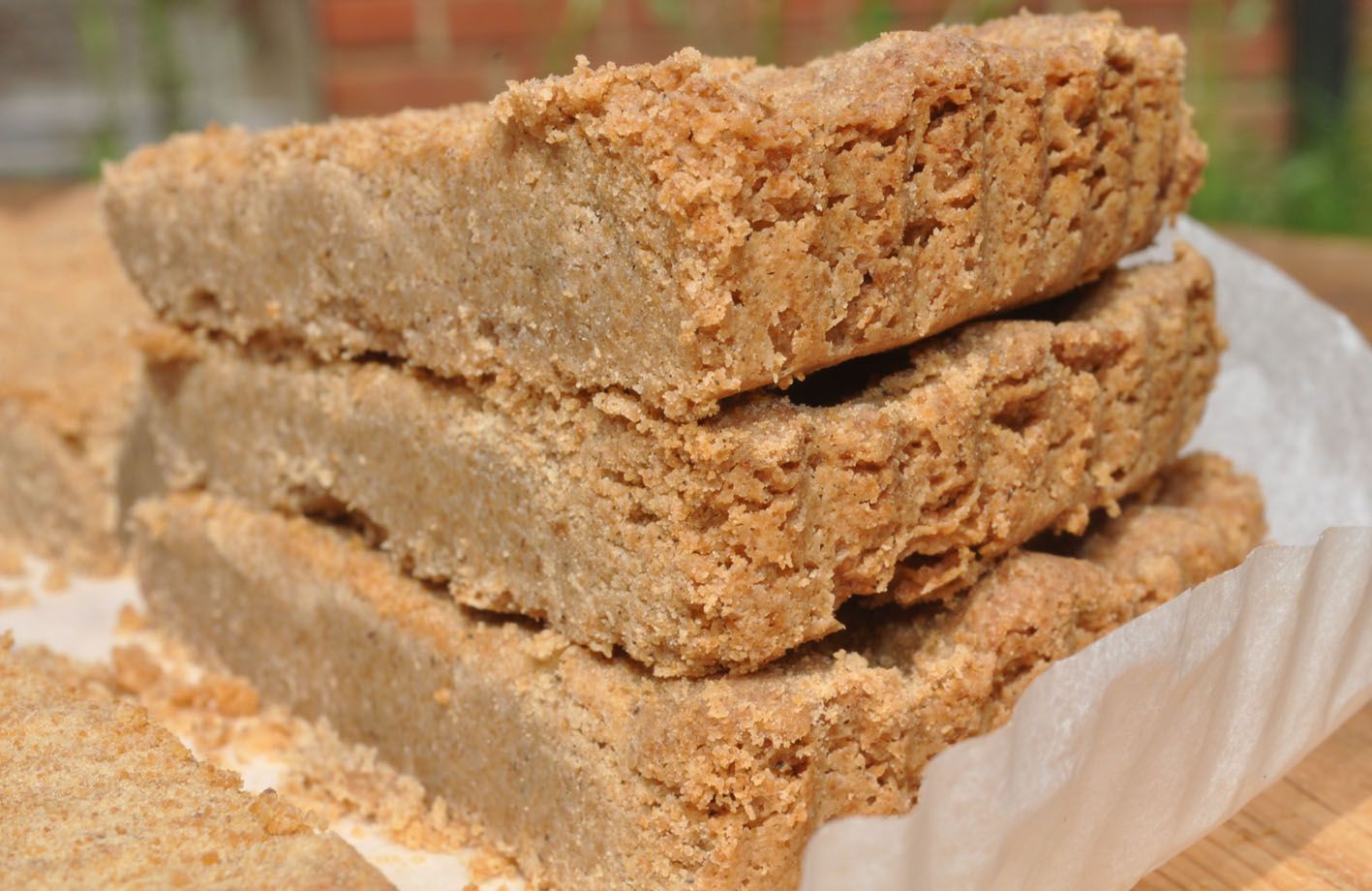 So here goes the final results………..
Rich Coconut Sugar Shortbread
Prep Time: 10 mins Fridge Set Time: 15 mins Bake Time: 15 mins
Makes: 1 Round (8 pieces)
Ingredients:
½ Cup Coconut Oil
¼ Cup + 2 tbsps. Powdered Coconut Sugar
½ Cup Almond Flour
½ Cup Tapioca Flour
2 tbsps. Arrowroot Powder
1½ tsp. Powdered Vanilla
1/8 tsp. Himalayan Salt
Extra Powdered Coconut Sugar for topping.
Instructions:
1) Cream together coconut sugar and coconut oil. (I use my bamix for this but a whisk would be fine.)
2) Gradually fold in the almond flour, tapioca flour, arrowroot powder, powdered vanilla and Himalayan salt.
3) Press the mix into a 6 inch round sandwich tin, prick well all over and pinch round the edge before placing in the fridge for 15 mins.
4) Whilst in the fridge preheat the oven to 160˚C
5) Bake in the oven for 15 mins until a light golden brown.
6) Remove from the oven and allow to cool for 5 mins before sprinkling the top with extra powdered coconut sugar and cutting into 8 triangles. Leave in the tin until completely cool.
7) Once cooled thoroughly remove from tin and place in an airtight container.