Laura's Naturally Sweet Blog
Psssst...............looking for naturally sweet, healthy, deliciously moreish cakes? You've come to the right place!
Cattern (St Catherine) Cakes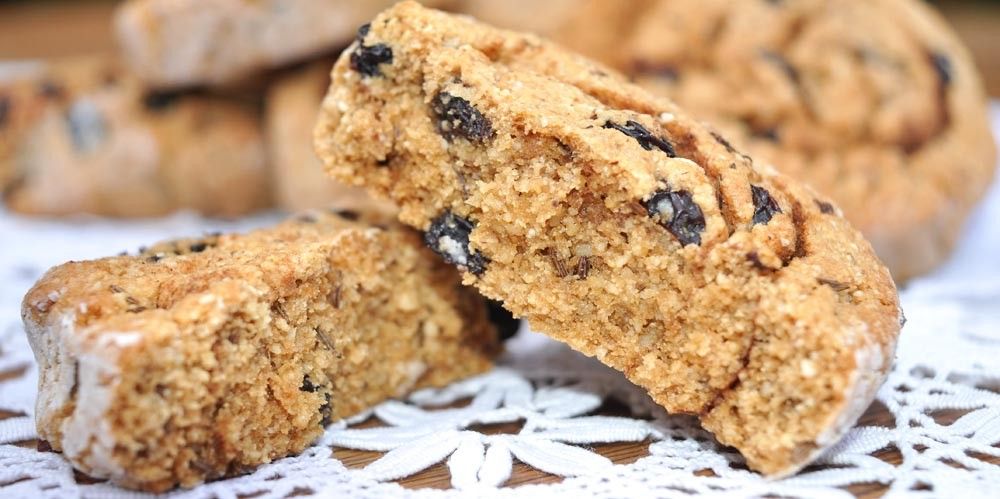 Until a couple of days back I had never heard of Cattern Cakes (or St Catherine Cakes) - St Katherine's Dock London mentioned them on their Facebook page with a link to original recipe.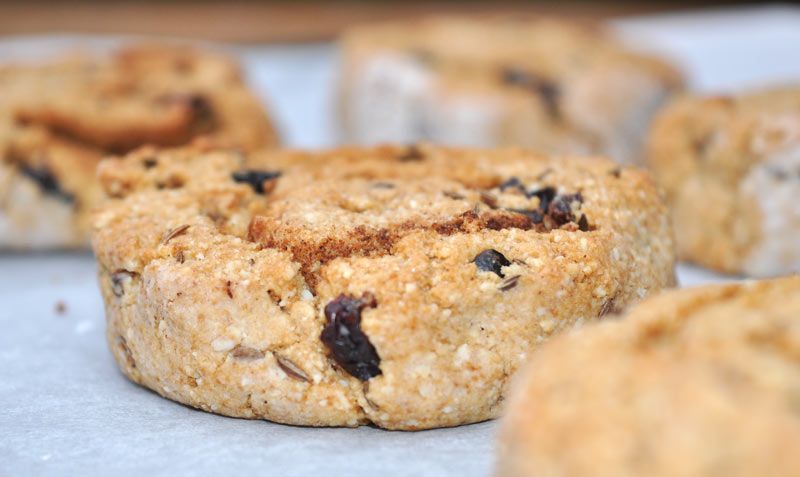 'A CAKE I HAD NEVER HEARD OF!?!?!?!' I didn't think that this was possible but I knew immediately that I had to try them out and so I decided to give the recipe a Laura's Naturally Sweet Makeover and see what these were all about!!!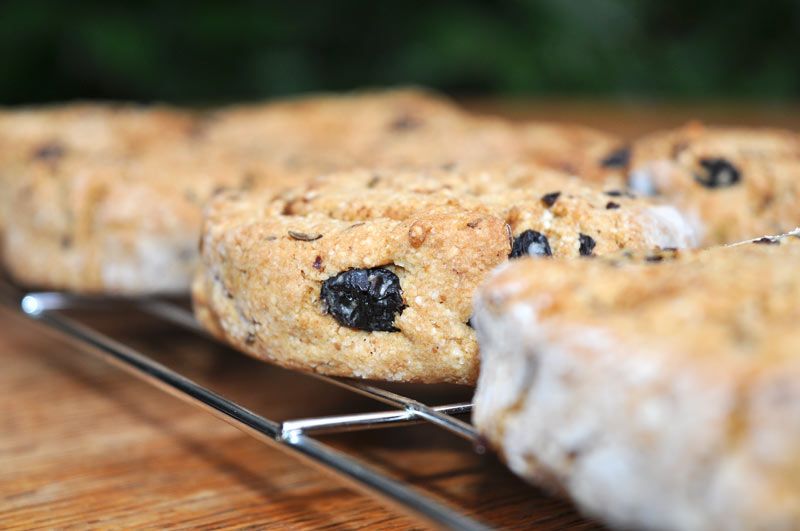 When I googled the recipe I discovered that they are traditionally made by English lace makers at Catterntide (the 25th November) and are named after St Catherine – the same saint who lent her name to the Catherine wheel, the patron saint of spinsters, spinners, rope makers, wood turners and of course – lacemakers – hence the rolled spiral effect.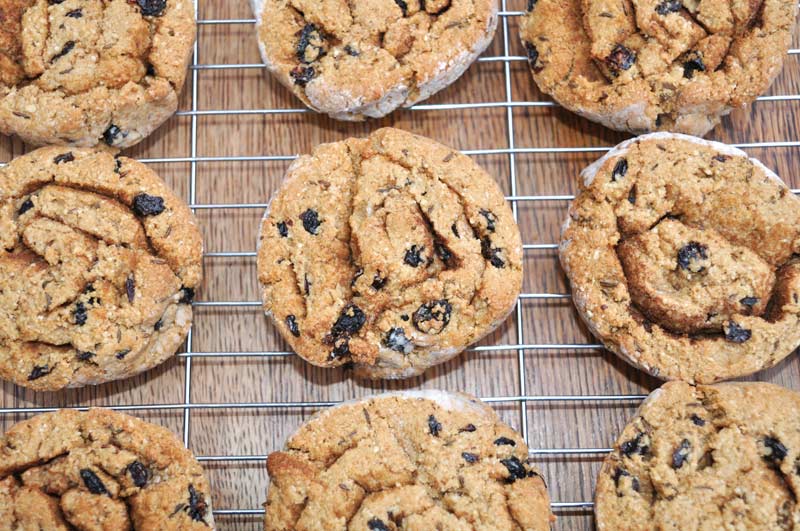 Although there is some debate as to whether, since they originate in Tudor times, they are, in fact, named after Catherine of Aragon who, whilst imprisoned in Ampthil, heard of the lacemakers plight and is said to have burnt all her lace simply so she could commission more!!!!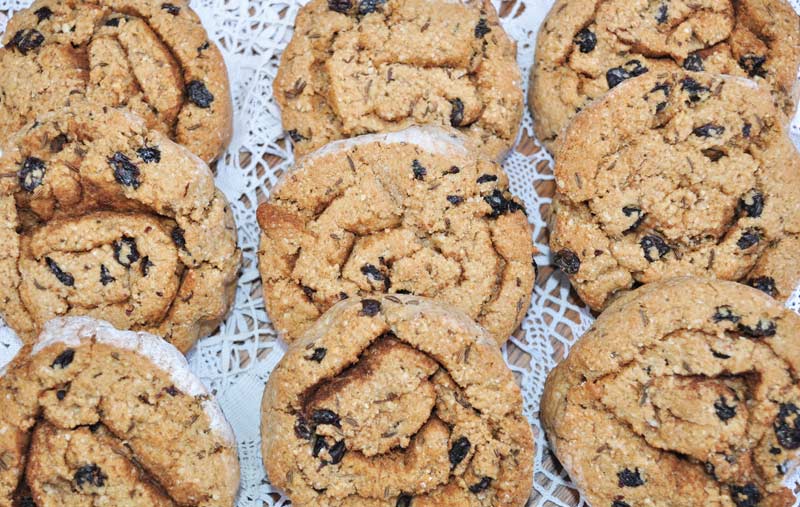 I can't say personally I'm sold on the caraway seeds – when I make these again I will probably miss them out, but other than that they are a light, delicious little cake not to be passed over.
Think of a cinnamon swirl crossed with a sweet fruit scone.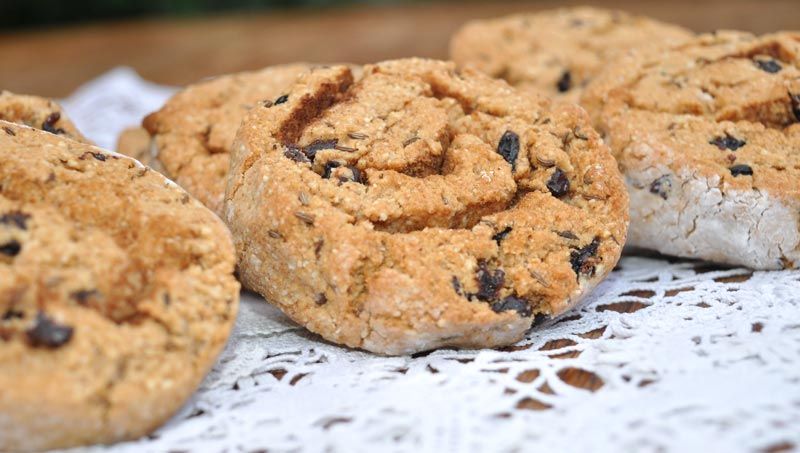 Sweet, lightly spicy and delicious - they are especially good hot from the oven with a nice cup of traditional British tea (or on my case probably my new St Clements!)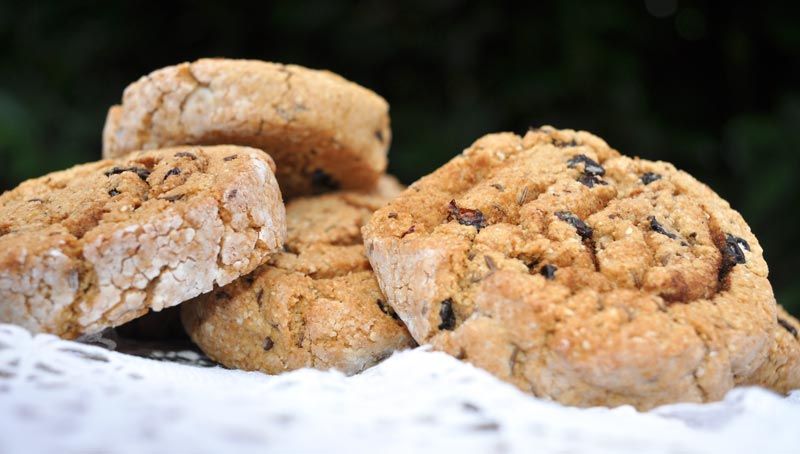 (When rolling the dough, because there is no gluten it might crack a little, it's fairly moist so you can push it back together with your fingers! :) Don't miss out the cinnamon, coconut sugar sprinkle – it's the best bit!!!!!!!)
Cattern (St Catherine) Cakes

Prep Time: 10 mins Bake Time: 8 mins
Makes: 16 Cakes
Ingredients:
1 Cup Almond Flour
1 Cup Ground Almonds
¼ Cup Rice Flour
½ Cup Currants
¾ Cup Powdered Coconut Sugar
(optional) 2 tbsps. Caraway Seeds
¼ tsp. Gound Cinnamon
2 tsps. Baking Powder
1 tsp. BiCarb
½ Cup Coconut Oil - melted
Extra Cinnamon and Powdered Coconut Sugar for sprinkling
Instructions:
1) Preheat the oven to 170˚C
2) Mix together all the dry ingredients in a bowl. Stir in the coconut oil until fully combined.
3) Press into a rectangle shape on a floured surface (about 10 x 12")
4) Sprinkle the surface with powdered coconut sugar and cinnamon to taste.
5) Slowly roll the dough like you would a Swiss roll. If it starts to crack push it back together with your fingers. Pop the roll in to the fridge to rest for 10mins.
6) Cut into 1 cm slices. Place onto a lined baking tray – keeping them well apart – and place in the oven for 8 mins.
7) Allow to cool on the tray before enjoying with your favourite cup of tea!!! :)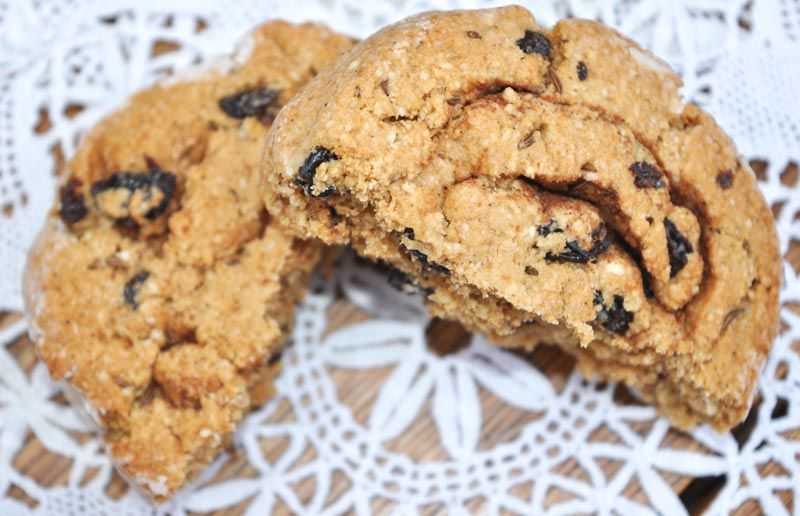 Like this? Try these......................