Laura's Naturally Sweet Blog
Psssst...............looking for naturally sweet, healthy, deliciously moreish cakes? You've come to the right place!
Strawberry Cheesecake Filled 'Oreos'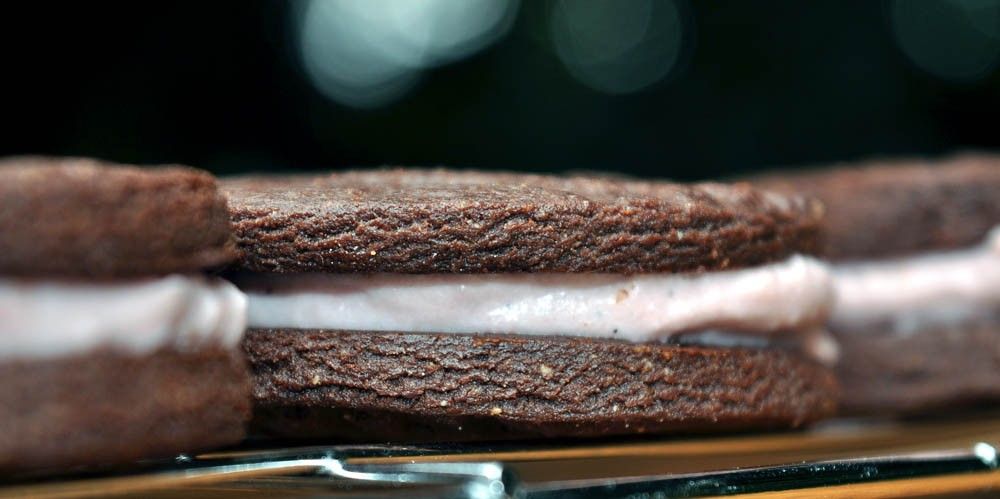 Dark, rich intense chocolate paired with a light fruity strawberry cheesecake filling – this might be Oreo heaven!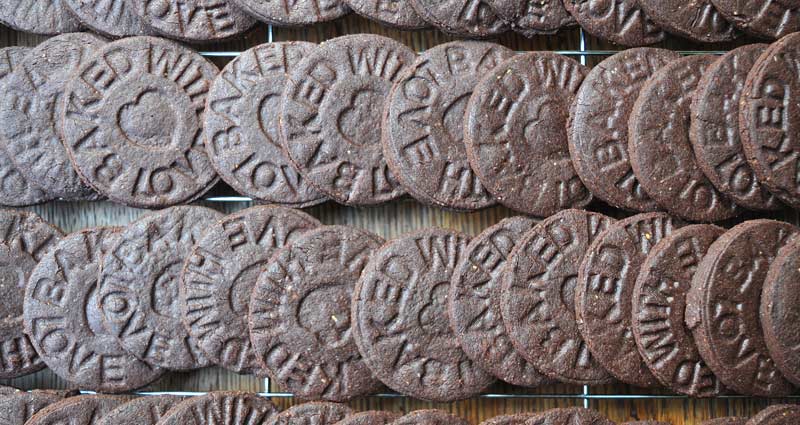 The other day I was at the supermarket and on the way in there was an advert for the latest Oreos – strawberry cheesecake – I mean yum – how good does that sound?!?! To me it sounded heavenly – and I knew I had to make some – immediately!!!
Oreos have that very particular flavour that is distinctive to them. A little while back I discovered that this is because they are made using dutched cocoa powder. This means that the dutch process used to make the cocoa powder has alkalized the final product. Normal cocoa powder has a PH between 5 and 6 where as dutched has a PH of 7.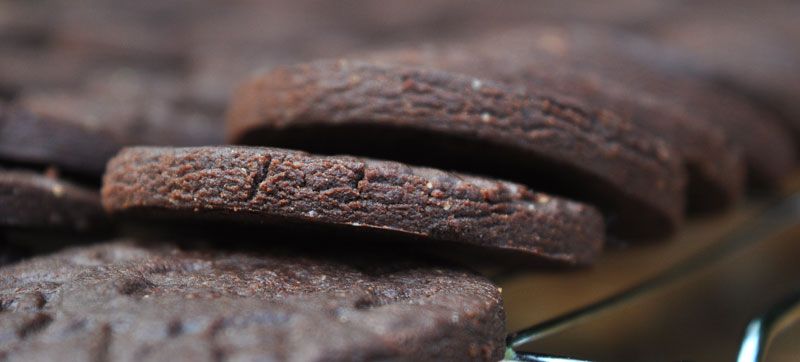 It took me a little while to track down an alkalised cocoa powder. When I did I was surprised that, whilst much darker that normal cocoa powder (quite a bit darker than it looks in the photos,) it wasn't as dark as the ones used for Oreos. This is because the cocoa powder in Oreos has been blackened – which is basically a more heavily alkalized cocoa powder.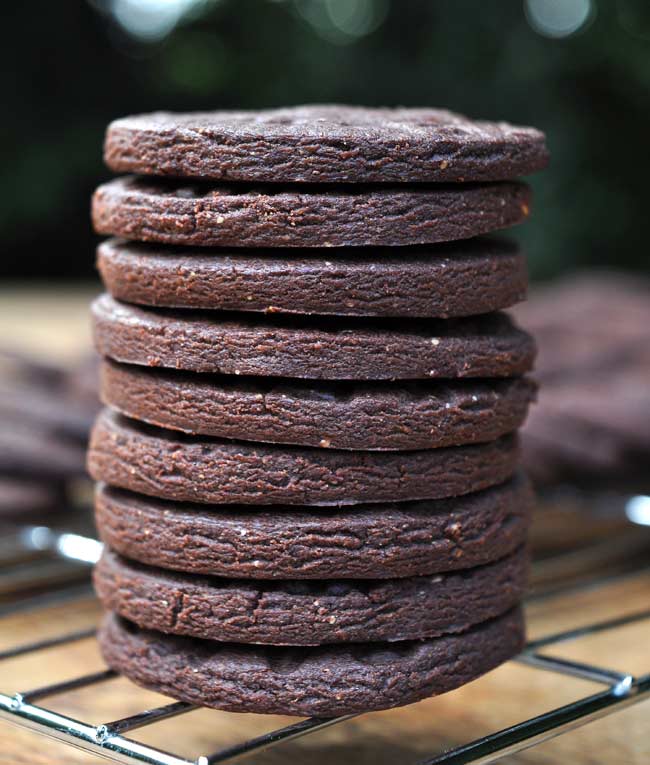 Sadly I couldn't manage to get my hands on any of this – however, as soon as I tasted the dutched cocoa powder, I fell in love.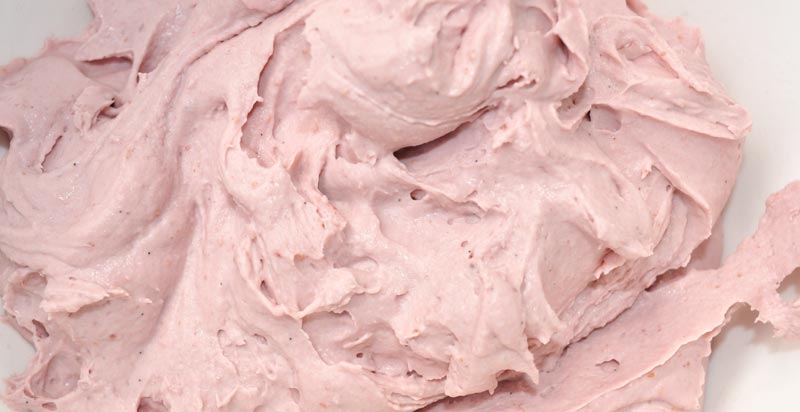 So dark and intense and perfect against the strawberry cheesecake filling. You won't be sorry you gave it a go – it's absolutely delectable!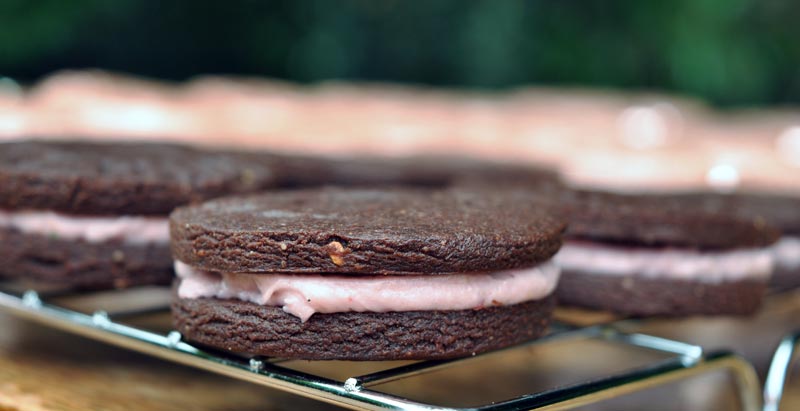 Once made I would store these in the fridge – the weather has been sooooooooo hot recently that my coconut oil is completely liquid at room temp! Practically unheard of in England! However, this also means that the filling will soften at room temperature. If you do keep them out beware that the traditional Oreo split, lick, eat becomes essential!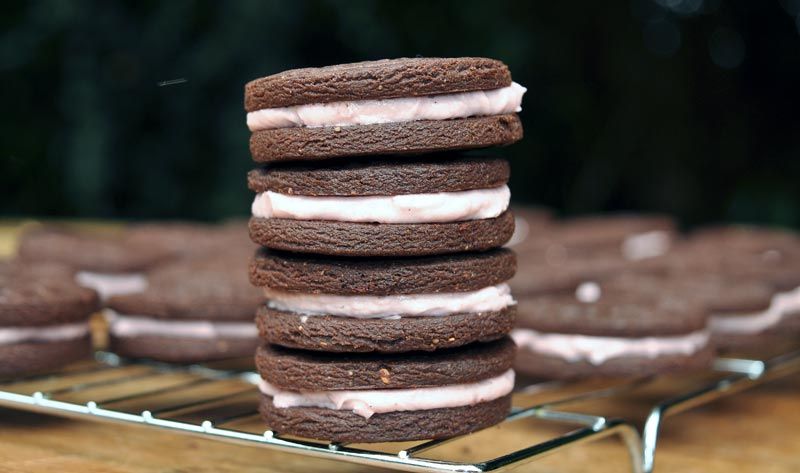 So here goes – happy baking!!! :)
(This recipe makes 36 Super Scrummy Irresistible Biscuits that went almost as fast as I could count them – however, if you need less, the recipe also works if divided it in two or you can store half the dough in the fridge in an airtight container, for up to a week, for use later!)
Strawberry Cheesecake Filled 'Oreos'
Prep Time: 20 mins Bake Time: 7-8 mins Frosting Set Time: 40 mins
Makes: 36 Biscuits
Ingredients:
Oreos:
½ Cup Cashew Nut Butter
½ Cup Coconut Oil – melted
1 Cup Powdered Coconut Sugar
2 tbsps Non-Dairy Yogurt
2 tbsps. Maple Syrup
1 tsps Powdered Vanilla
1 Cup Dutch Processed Cocoa Powder
½ Cup Tapioca Flour
½ Cup Rice Flour
¼ Cup Arrowroot Powder
1½ tsps. Baking Powder
Pinch of Himalayan Salt
Strawberry Cream Cheese Frosting:
¼ Cup Cashew Nuts – (soaked overnight)
¼ Cup Coconut Oil – melted
8 Medium Dehydrated Strawberries (to dehydrate - slice and place in the oven @100˚C for 1 hr)
2 tbsps. Maple Syrup
¼ Cup Non-Dairy Cream Cheese (I used Violife)
¼ Cup + 2 tbsps. Dalfour Strawberry Jam
½ tsp. Powdered Vanilla
Instructions:
Oreos:
1) Mix together the cashew nut butter, melted coconut oil, coconut sugar, non-dairy yogurt, maple syrup, powdered vanilla and cocoa powder until fully combined.
2) Mix in the tapioca flour, rice flour and arrowroot powder.
3) Finally add the baking powder and salt - stir until fully combined – by this point a dough should have formed.
4) Place the dough in the fridge to rest for 20 mins.
5) Preheat the oven to 170˚C.
6) Roll the dough between two sheet for baking parchment until about 2-3 mm think. Repeat until all the dough is used.
7) Using a cutter, cut rounds about 2 inches across. Optional - stamp each biscuit before baking.
8) Place on a lined baking tray in the oven for 7-8 mins. Remove from the oven and cool for 10 mins before removing from the tin and placing on a wire rack.
Strawberry Cream Cheese Frosting:
9) Blend all the ingredients, except the 2 tbsps. of strawberry jam, together until completely smooth. Place in the freezer for about 40 mins. Remove from the freezer and whisk to create a light creamy buttercream frosting. Finally beat in the remaining 2 tbsps. of Jam.
10) Spread the flat side of one of the biscuits with the strawberry filling and place anther on top.
11) Store in the fridge in an airtight container.