Laura's Naturally Sweet Blog
Psssst...............looking for naturally sweet, healthy, deliciously moreish cakes? You've come to the right place!
Raisin Scones with Strawberry Jam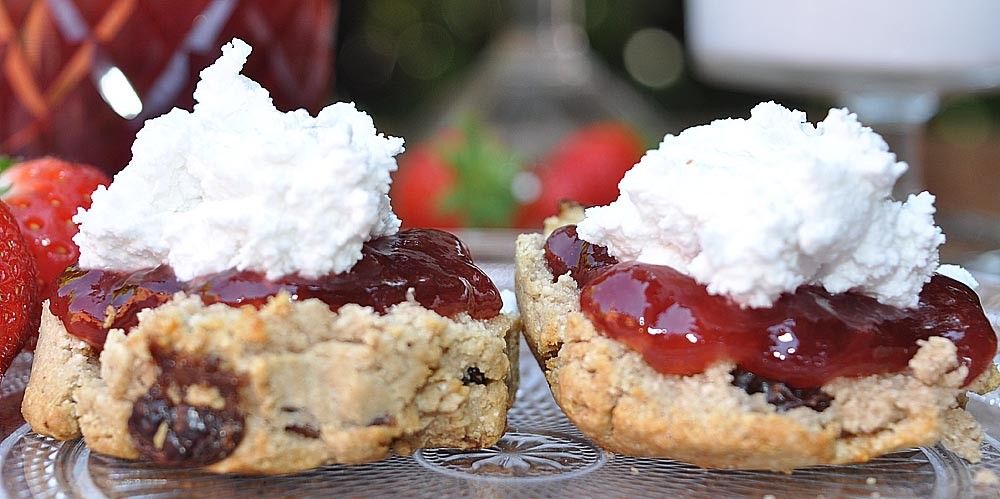 I'm going to admit it – one of the best things about being British is undoubtedly afternoon cream tea. An age old tradition that we could never give up – after all can you really beat warm scone fresh from the oven smothered in your favourite jam and lashings of cream? (Or in this case COYO – yes I found yet another use for it!!!)
Cream tea was always a staple of our holiday when I was growing up. It sure wasn't a holiday until my Dad had found a café that did a perfect cream tea – and in England that is easily enough done.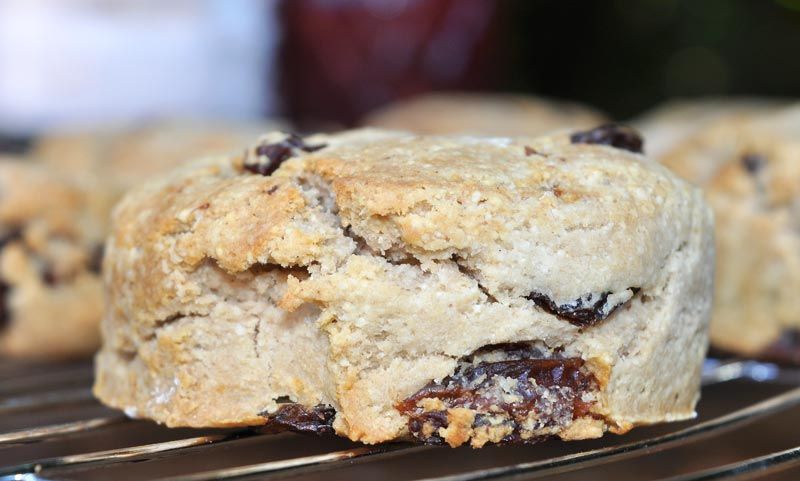 One of the most memorable for me was a lovely little backroom farmyard cafe set off the costal path in Dorset.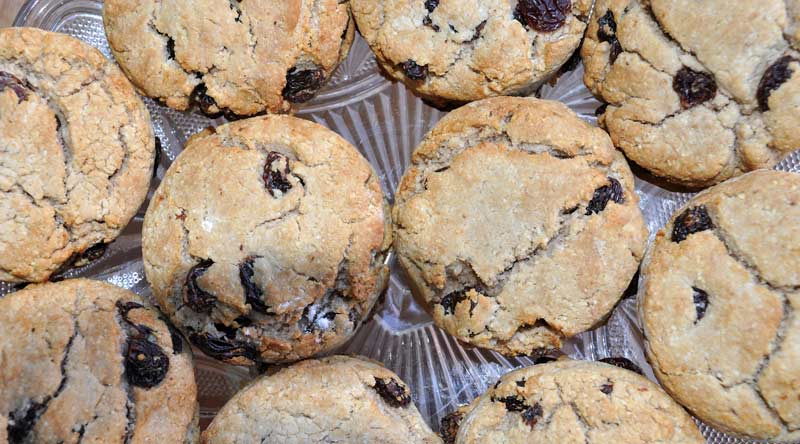 We stumble across it by accident on one of our walks and spent a lovely half hour cosy and warm, whilst it spat with rain outside, in their outside extension with cream tea and hot chocolate – I thought I was in heaven.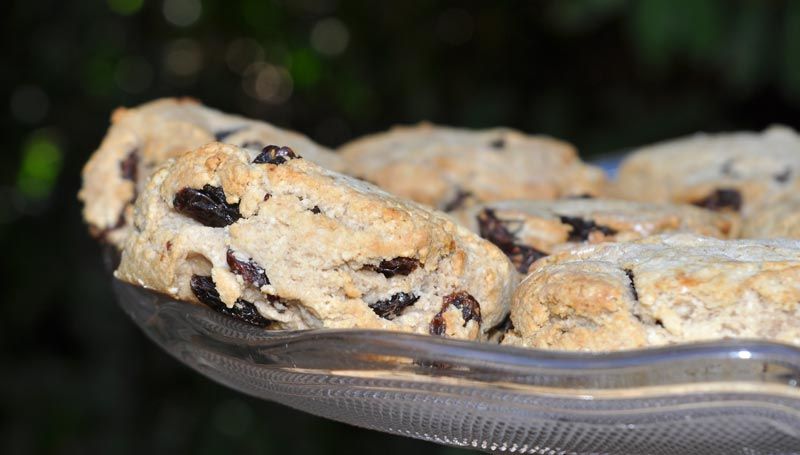 When we returned to the cottage we saw a previous visitor had written in the book that this was the best place in England for afternoon tea – I think we all agreed!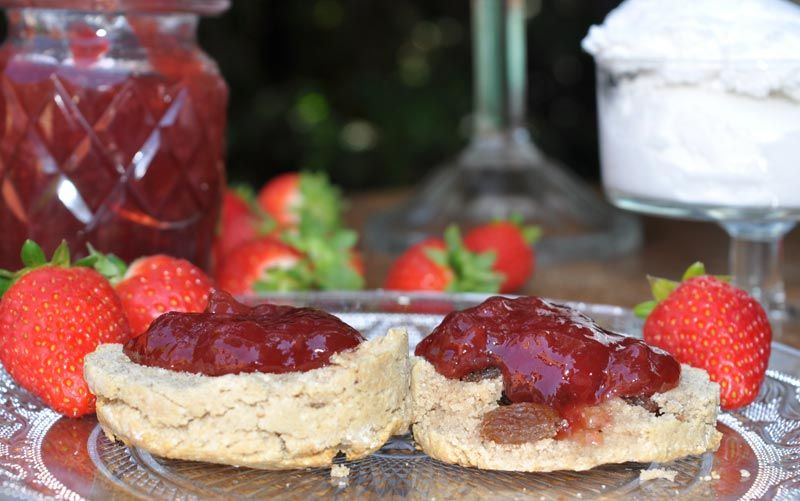 So you can see why I was so keen to do a healthy version of this traditional English treat. I promise that you won't be disappointed – even more delish than the original but healthy as well! Of course I used my favourite sugar free jam - Dalfour – the strawberry one this time – plus a spoonful of COYO – and you're in cream tea heaven.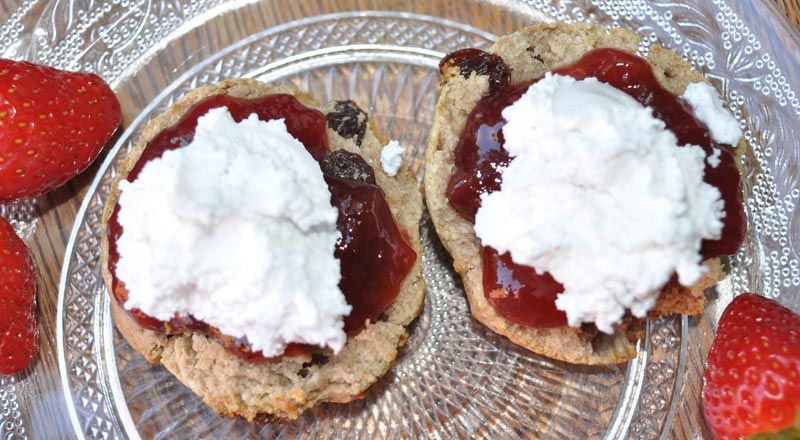 So whip up a batch of these, your favourite free from hot chocolate or fruit tea and relax, sit back and enjoy the afternoon. :)
Raisin Scones with Strawberry Jam
Prep Time: 25 mins Bake Time 10 mins
Makes: 10 Scones
Ingredients:
1 Cup Almond Flour
½ Cup Rice Flour
½ Cup Tapioca Flour
Small pinch of Himalayan salt
2 tbsps. Powdered Coconut Sugar
¼ Cup Coconut Oil – at room temperature
½ Cup Coconut Milk
2 tsps. Baking Powder
1 tsp. BiCarb
½ Cup Raisins
Dalfour Strawberry Jam and COYO Coconut Milk Yoghurt for topping
Instructions:
1) Mix together all the dry ingredients in a bowl. Rub in the coconut oil until crumbs are formed.
2) Slowly add the coconut milk – stir in until a dough forms. Stir in the raisins.
3) Place the dough in the fridge to rest for 15 mins.
4) Preheat the oven to 200˚C
5) On a sheet of baking parchment roll out the dough to about 2 cm thick and using a cutter, cut rounds about 2 ½ inches across.
6) Place on a sheet of baking parchment in the oven for 10 mins until a light golden brown.
7) Remove from the oven and place on a wire rack to cool.
8) Serve with lashings of Jam and Coyo. :)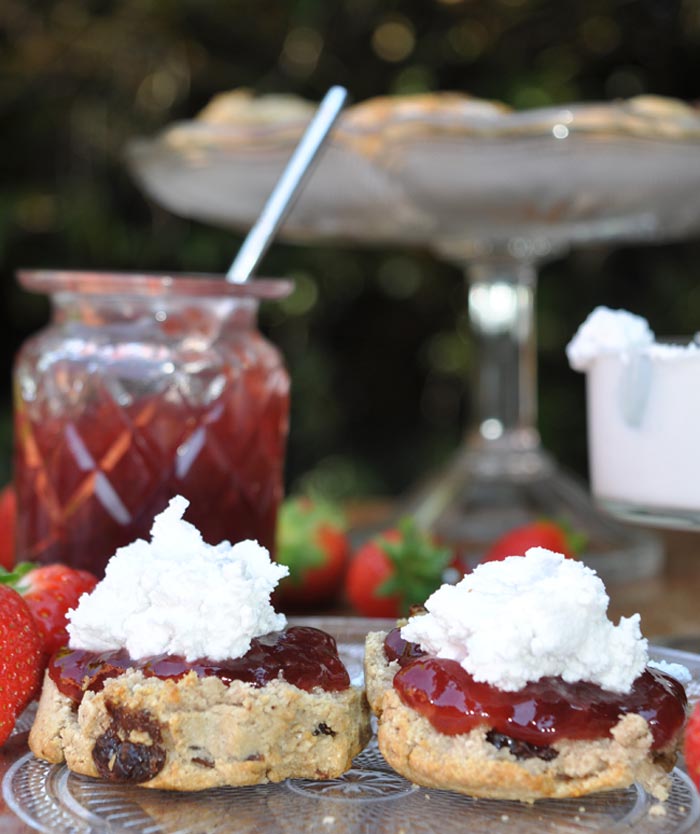 Liked this? Try these..................................