Laura's Naturally Sweet Blog
Psssst...............looking for naturally sweet, healthy, deliciously moreish cakes? You've come to the right place!
Lemon and Blueberry Cupcakes with Lemon Buttercream Frosting
A fruity, light and fluffy blueberry stuffed lemon cupcake with a tangy but sweet and creamy frosting these are quite possibly the world's best lemon and blueberry cupcakes.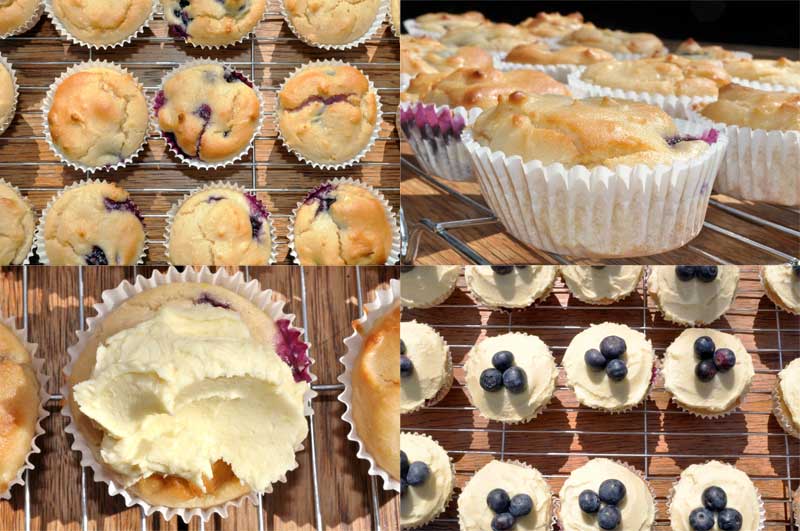 Lol – there was a moment when I first made them when I honestly didn't think that I was going to get the opportunity to frost them let alone photograph them!

I thought it would be a good idea to check that the recipe had worked when they first came out of the oven - but they were just tooooooooo good. It was a fight to save enough!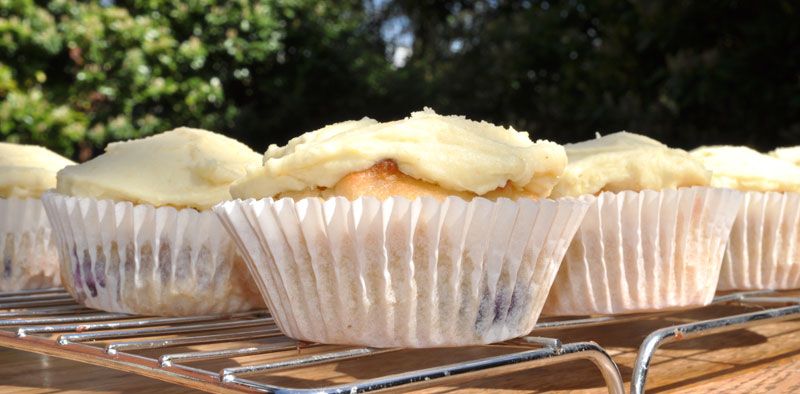 Luckily I managed to sneak a few out of view and move on it as fast as I could - and boy was I glad I did. They are delicious as they stand but with the lemon buttercream frosting they are just magical!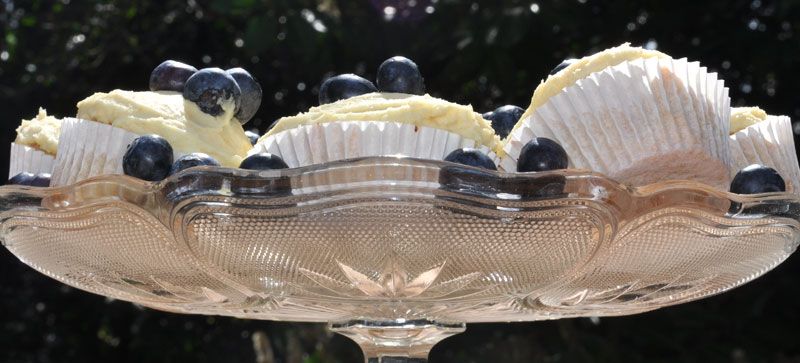 I've been mad about lemon curd for as far back as I can remember! I was so disappointed when I first tried to get a healthy version and couldn't find one anywhere (if anyone does know where you can get one please message me and let me know – such a great one for the cupboard!!!) But have no fear I managed a while back to sort a recipe for a lemon curd that is just divine - and soooooooo much healthier!
It does take a little time to make up.
If you are running short on time – I know how hectic life can be – you can still make the buttercream just add an extra lemon and ¼ Cup of a liquid sweetener, keep the rest of the process the same and it will be fine, just slightly less firm.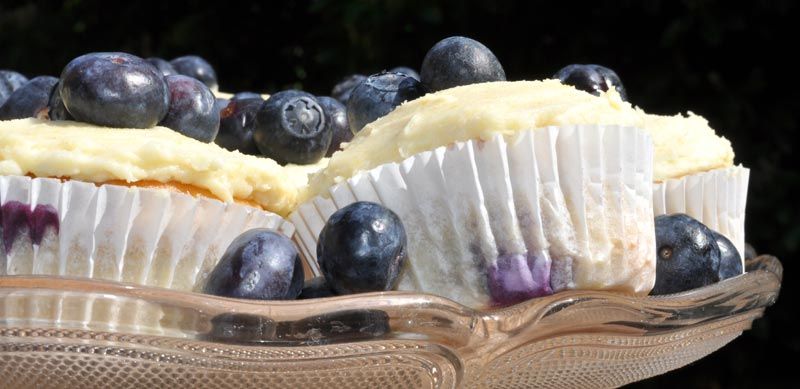 The lemon curd gives it a wonderful rich tangy quality and it is completely firm at room temperature. Once you have made up the lemon curd recipe you will have way more than you need for this recipe – which means time for even more cupcakes, or a batch of my lemon curd slices or pop it in the fridge and in a couple of weeks I will be sharing an amazing lemon curd flapjack recipe that I have been working on! Any which way I promise it's worth it!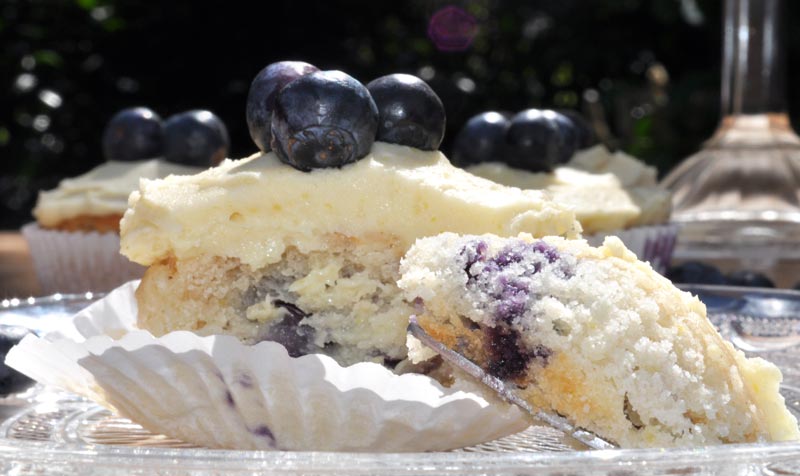 Btw – if you have a few spare blueberries – save them from the top of the cupcakes. They pick up a wonderful lemon flavour from the lemon buttercream that is just delicious!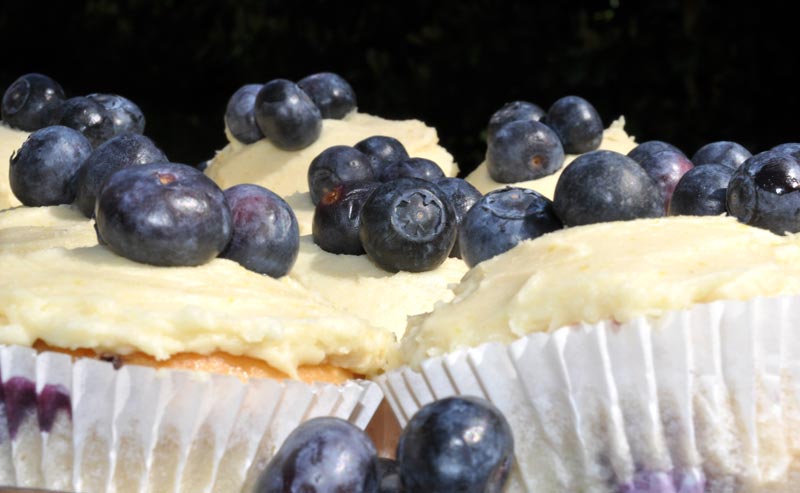 So here we go…………………………….
Lemon and Blueberry Cupcakes with Lemon Buttercream Frosting
Prep Time: 20 mins Bake Time 18 mins Frosting Set Time: 40 mins
Makes: 18 Cupcakes
Ingredients:
Lemon Cupcakes:
½ Cup Coconut Oil - melted
¾ Cup Coconut Blossom Syrup (alternatively you could use Agave Nectar or Maple Syrup)
¾ Cup Almond Flour
¼ Cup Rice Flour
¼ Cup Tapioca Flour
2 tbsps. Arrowroot Powder
¼ Cup Lemon Juice
2 tbsps. Lemon Zest
2 tbsps. Non Dairy Yoghurt
1 tsp. Baking Powder
½ tsps. Bicarbonate of Soda
1 Cup Blueberries
Lemon Buttercream Frosting:
½ Cup Cashew Nuts – (soaked overnight)
¼ Cup + 1 tbsp. Coconut Oil - melted
½ Cup Lemon Curd
1 Lemon – Juice and Zest
2 tbsps. Coconut Blossom Syrup (alternatively you could use Agave Nectar or Maple Syrup)
1/8tsp. Turmeric (optional for colour)
Instructions:
Lemon Cupcakes:
1) Preheat the oven to 170˚C
2) Whisk together the melted coconut oil and coconut syrup until fully combined.
3) Beat in the almond flour, rice flour, tapioca flour, arrowroot powder, lemon juice and lemon zest.
4) Finally add the yoghurt, baking powder and bicarb and beat until fully combined.
5) Stir in the blueberries.
6) Divide mix between 18 cupcake cases - I used a lined 12 cupcake pan. (you'll need two as this recipe makes 18! :))
7) Place in the oven for 18 mins.
8) Remove from the oven and cool for 10 mins before removing from the tin and placing on a wire rack.
Lemon Buttercream Frosting
1) Blend all the ingredients together until completely smooth. Place in the freezer for about 40 mins. Remove from the freezer and whisk to create a light creamy buttercream frosting.
2) Once the cupcakes have cooled use a knife to spread the frosting over the cupcakes.