Laura's Naturally Sweet Blog
Psssst...............looking for naturally sweet, healthy, deliciously moreish cakes? You've come to the right place!
Chocolate Cupcakes with a Strawberry Cheesecake Frosting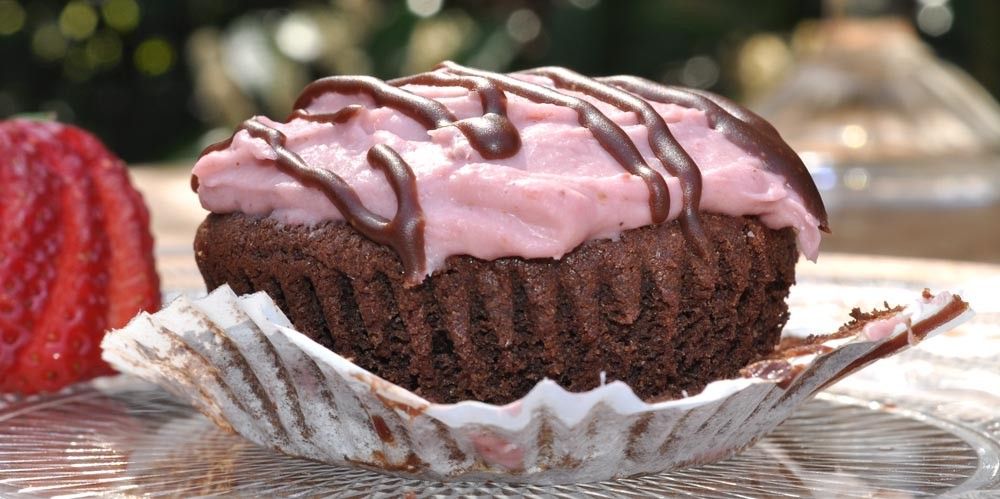 Light and fluffy with an intense rich chocolate flavour - so good - honestly I have been dying to share this recipe with you. After all chocolate cake is definitely a staple when it comes to any recipe selection.

I know I have other chocolate cake recipes which are pretty awesome but the way this one melts in the mouth is true perfection.
Today I've used it in its cupcake form but I have also tried it as a layered birthday cake with a chocolate frosting and it is just amazing (who doesn't love a chocolate birthday cake!!!!!!)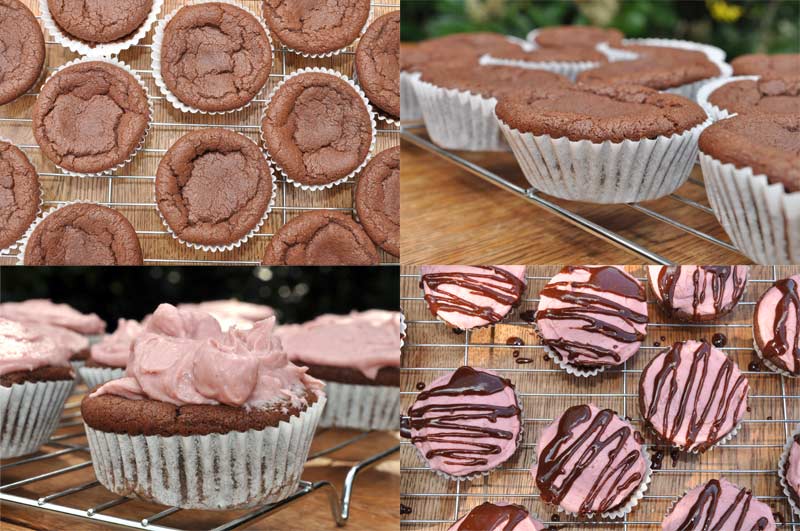 But on the subject of what to couple with these chocolate cupcakes I had a bit of a quandary. There are so many options that work so well. Chocolate frosting is the obvious choice – plus it's always a winner but I fancied something a bit different this time.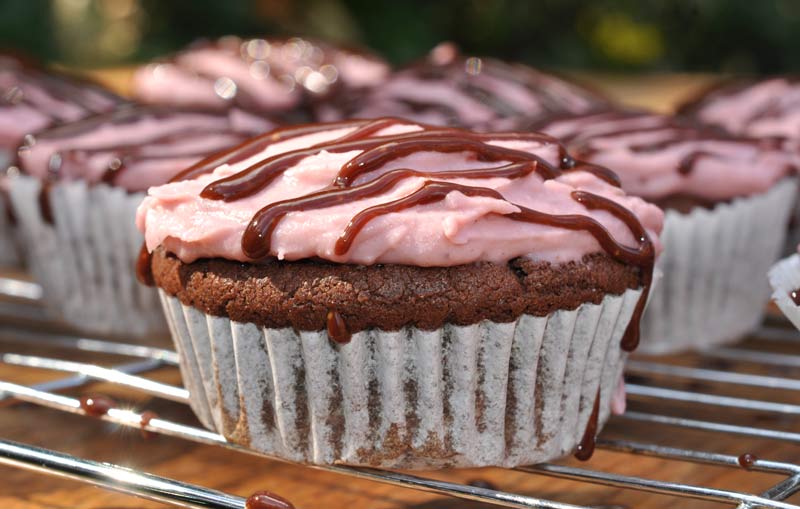 My next 'go-to' is orange chocolate – anyone who knows me know this to be true – orange is one of my all-time favourite flavours and any excuse to pull out my orange oil and I'm there. Still I wanted something more different.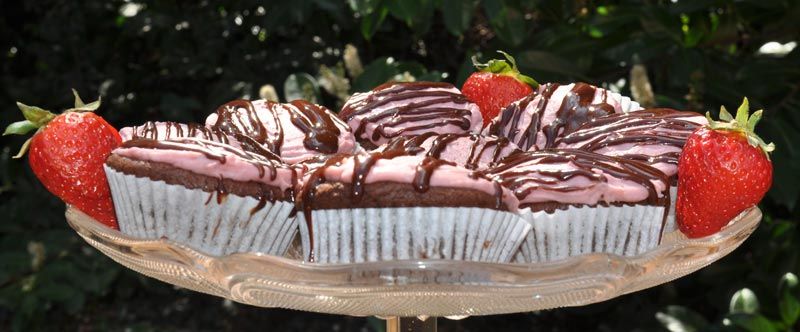 Then I thought of chocolate coated strawberries – and we nearly had them instead!!! But why not make strawberry chocolate cupcakes?!?! I've just mastered a divine buttercream frosting - see here – I could use that for the topping. Or even better a strawberry cheesecake frosting……………………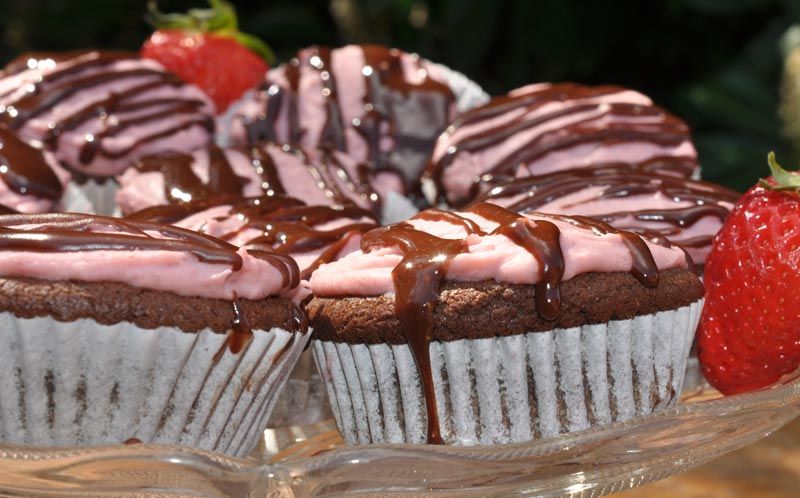 Hmmmmm light, fluffy but intensely chocolatey cupcakes smothered in a sweet, fruity delicious cream cheese frosting – I mean how insanely delicious does that sound?!?!?! Like it's time to start heating the oven me thinks!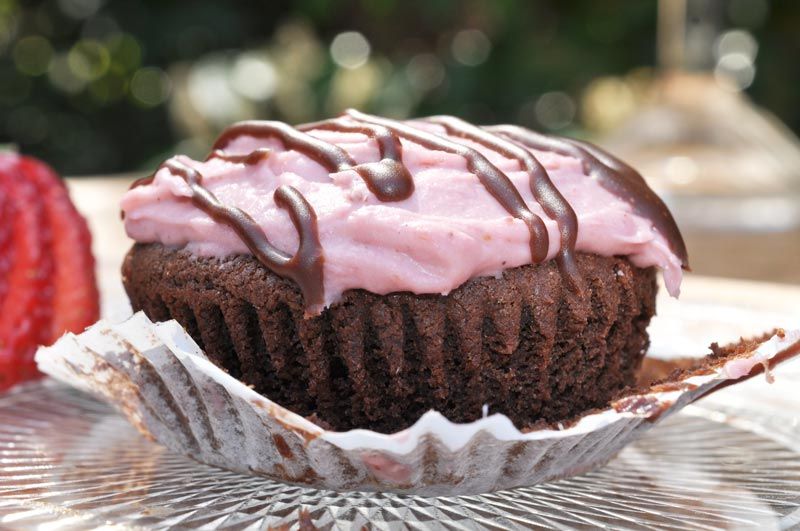 I must confess at this stage I didn't immediately figure out the recipe for the strawberry cheesecake frosting. My first couple of batches were a little runny - don't worry I got there in the end - plus along the way, amongst other things, I discovered the most amazing strawberry mousse – honestly soooooooooo good I absolutely promise to share the recipe with you in the upcoming weeks.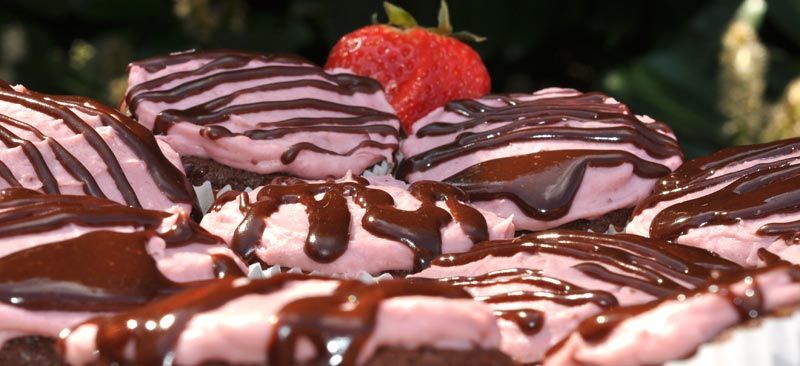 Which in turn led to various other recipes – Strawberry Mousse Pots, White Chocolate Strawberry Slice, Strawberry Cheesecake Ice Cream, Strawberry Cream Pie – ooooooooo this is going to be a fun summer!!!!!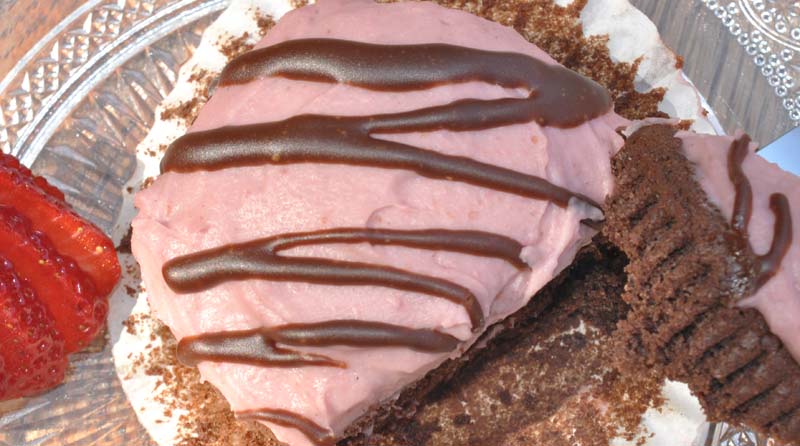 And after that I started thinking of more chocolate cupcake variations – Raspberry Ruffle Cupcakes making it high on the list – I will definitely be sharing that one in the next couple of weeks!!!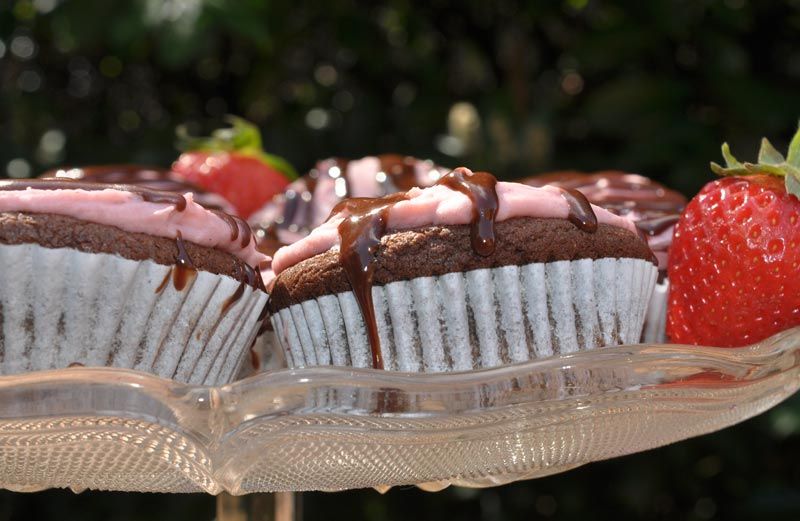 But for now enjoy the perfection that is the Chocolate Cupcake with a Strawberry Cheesecake Frosting! :D
Chocolate Cupcakes with a Strawberry Cheesecake Frosting
Prep Time: 20 mins Bake Time 20 mins Frosting Set Time: 40 mins
Makes: 12 Cupcakes
Ingredients:
Chocolate Cupcakes:
1/3 Cup Coconut Oil - melted
¾ Cup Powdered Coconut Sugar
¾ Cup Non-Dairy Milk
1½ tsps. Powdered Vanilla
½ Cup Almond Flour
¼ Cup Rice Flour
¼ Cup Tapioca Flour
1/3 Cup Cocoa Powder
¼ Cup Non-Dairy Yoghurt
½ tsp. Baking Powder
1 tsp. Bicarbonate of Soda
¼ tsp. Himalayan Salt
Strawberry Cream Cheese Frosting:
¼ Cup Cashew Nuts – (soaked overnight)
¼ Cup Coconut Oil - melted
8 Medium Dehydrated Strawberries (to dehydrate - slice and place in the oven @100˚C for 1 hr)
2 tbsps. Maple Syrup
¼ Cup + 2 tbsps. Dalfour Strawberry Jam
½ tsp. Powdered Vanilla
2 tbsps.RealFoodSource Coconut Sugar Chocolate Drops - melted
Instructions:
Chocolate Cupcakes:
1) Preheat the oven to 170˚C
2) Beat together the melted coconut oil, coconut sugar, non-dairy milk and powdered vanilla until fully combined.
3) Mix in the almond flour, rice flour, tapioca flour and cocoa powder.
4) Finally add the yoghurt, baking powder, bicarb and salt - beat until fully combined.
5) Divide evenly between a 12 lined cupcake pan.
6) Place in the oven for 20 mins. Remove from the oven and cool for 10 mins before removing from the tin and placing on a wire rack.
Strawberry Cream Cheese Frosting:
7) Blend all the ingredients, except the 2 tbsps. of strawberry jam, together until completely smooth. Place in the freezer for about 40 mins. Remove from the freezer and whisk to create a light creamy buttercream frosting. Finally beat in the remaining 2 tbsps. of Jam.
8) Once the cupcakes have cooled spread the frosting over the top of each cupcake.
9) Drizzle with melted chocolate. :)