Laura's Naturally Sweet Blog
Psssst...............looking for naturally sweet, healthy, deliciously moreish cakes? You've come to the right place!
Strawberry Shortcake Pancakes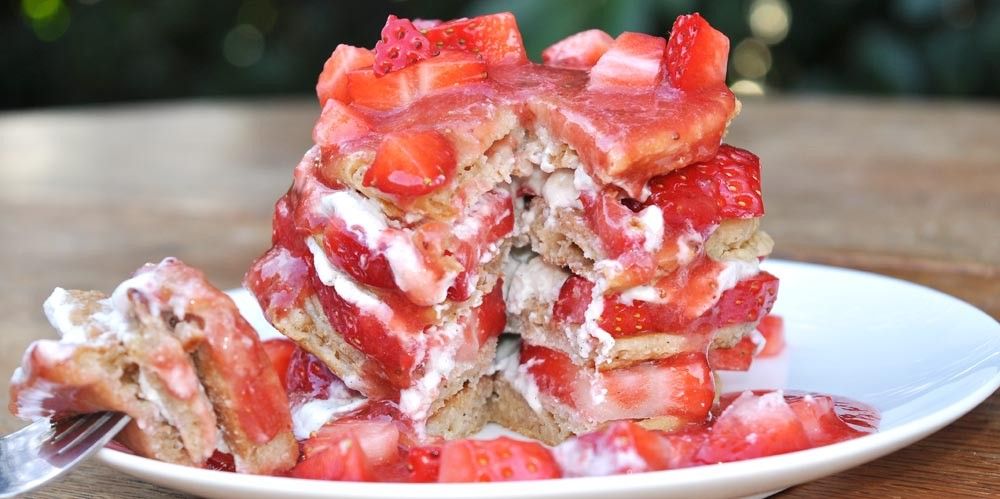 Pancake Day, along with Chocolate Day, Eat Ice Cream For Breakfast Day (yes a real thing!) Peanut Butter Day (for anyone who missed it but loves peanut butter, Peanut Butter Lovers Day is coming up on the 1st March…….)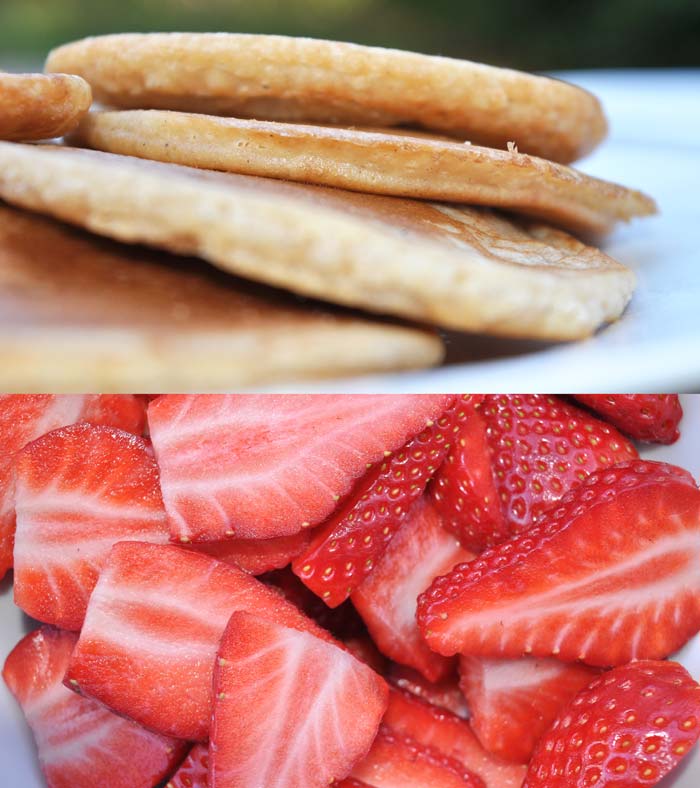 Anyway as I was saying – Pancake Day is definitely one of the best days of the year.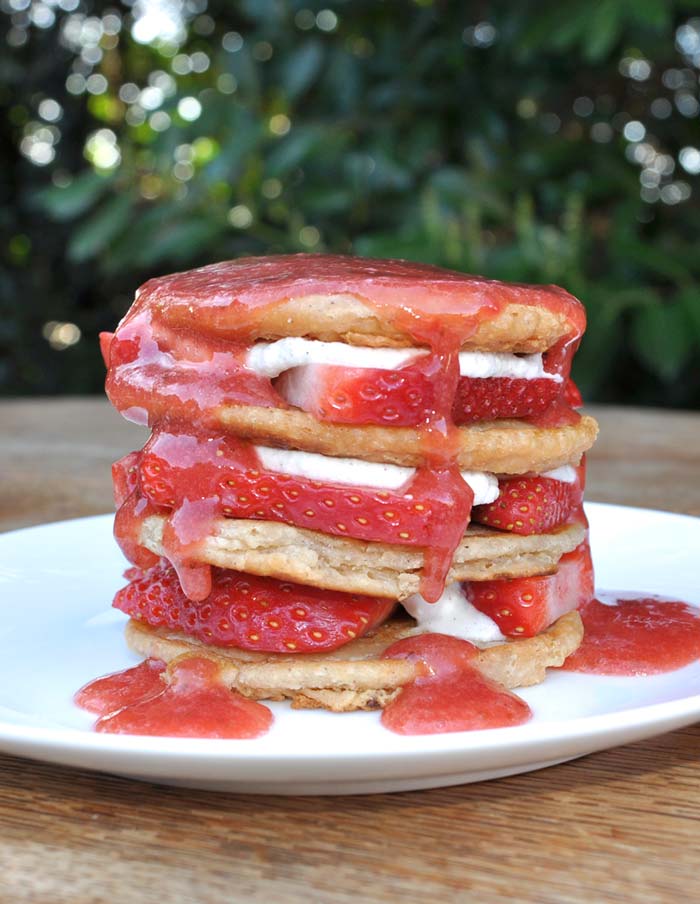 Not that we really need an excuse to drag out our frying pans but it was great fun to have an opportunity to experiment early with different options! I'm sure on Pancake Day even Rapunzel returns her frying pan to its proper use and makes delicious, hot, yummy pancakes, in her case probably hazelnut pancakes (ooooooooooo 'Nutella' pancakes…. hmmmm just putting that on the shortlist for next year!!!!!)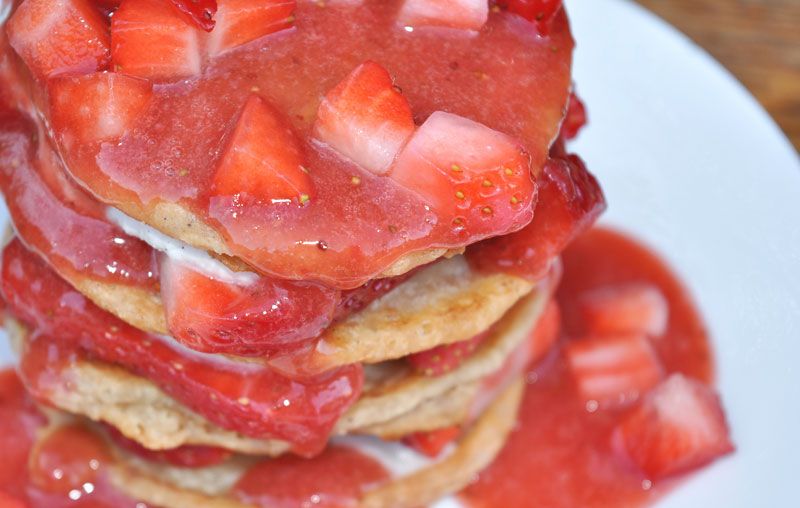 This year however the winner is…………………. Strawberry Shortcake Pancakes and I promise that they taste every bit as divine as they sound! Crispy pancakes, succulent strawberries and the world's easiest strawberry sauce.
I actually was going to do a different strawberry sauce, which is also super scrummy, but involves dehydrating strawberries and therefore takes a bit of planning (if you're interested I used it on my Strawberry Coconut Cream Tarts) It's sooooooo good but it occurred to me, since doing last week's Almond and Apricot Shortbread, that there might be a quicker, simpler way to create a scrumptious strawberry sauce……………………..using St Dalfour strawberry jam of course!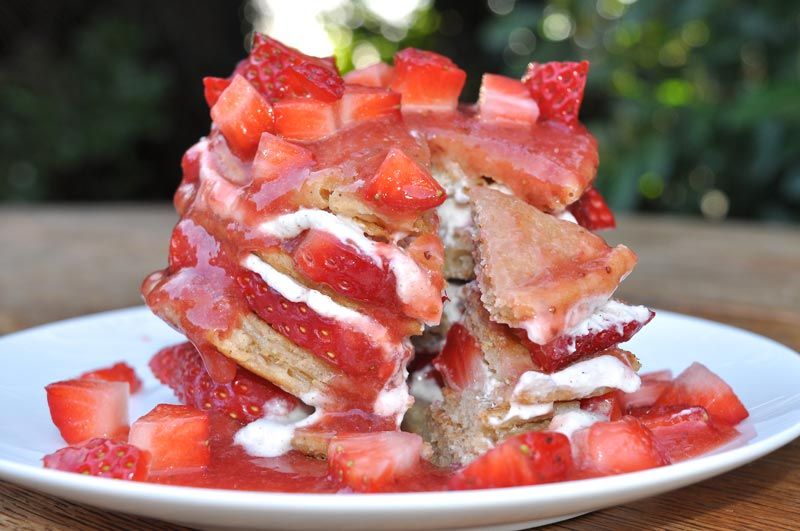 Six large strawberries and 2 tbsp. of St Dalfour strawberry jam – whisk them together and you're there in less than two minutes. You can prepare it whilst you are waiting for the pancake mix to rest – so cool!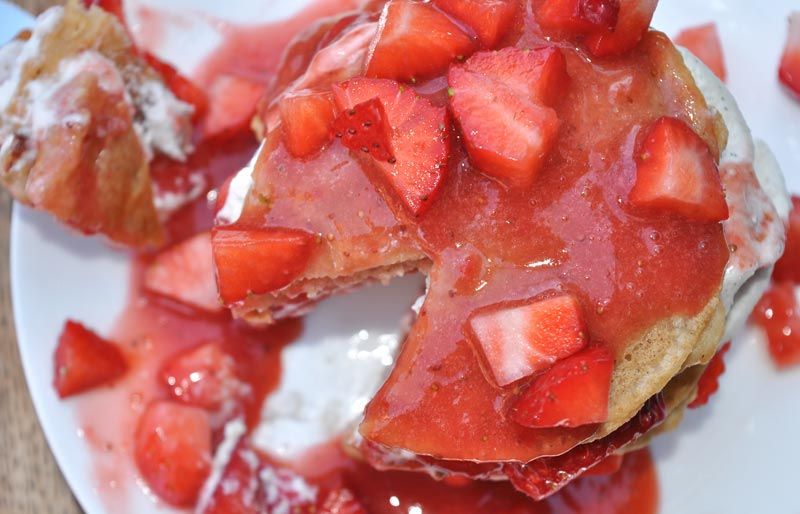 So there you have it a simple, quick but absolutely divine choice for Pancake Day.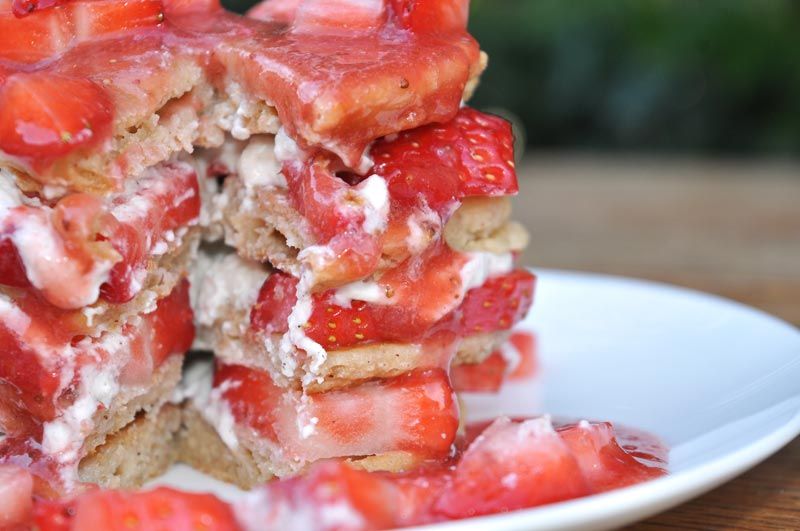 Happy Pancake Day Everyone!! :)
Strawberry Shortcake Pancakes
Prep Time: 25 mins Cook Time: 15 mins
Makes: 18 -24 Small Pancakes
Ingredients:
Pancakes:
½ Cup Cashew Nut Butter or you can make your own - recipe here :)
½ Cup Tapioca Flour
½ Cup Rice Flour
1 Cup Non-Dairy Milk
2 tbsps. Maple Syrup
½ tsp. Powdered Vanilla
1 tsp. Baking Powder
Coconut Oil for frying
Toppings:
Strawberry Sauce:
6 Large Strawberries
2 tbsps. Dalfour Strawberry Jam
Coconut Cream Filling:
1 pk. Rhythm Cold Pressed Coconut Milk or 1 can Coconut Milk
1 tbsp. Arrowroot Powder
1 tsp. Powdered Vanilla
½ tbsp. Maple Syrup
Fresh Strawberries
Instructions:
1) Blend together all the ingredients for the pancakes until completely smooth. Set on one side to rest for 15 mins.
2) Heat 1 tbsps. coconut oil in a frying pan spoon about 2tbsp. of the pancake mix for each pancake. They will start to bubble around the edge turn and fry each side until a light golden brown. I did mine is batches of four. Serve directly or place in a low oven to keep warm.
3) Top with strawberries, coconut cream and strawberry sauce
Strawberry Sauce:
1) Blend together the strawberries and strawberry jam until smooth.
Coconut Cream Filling:
1) Whip together the coconut milk, arrowroot powder, powdered vanilla and agave nectar.
(If you are using a can of coconut milk place it in the fridge the night before. Open the can upside down and pour off the water. What you are left with is thick, creamy milk perfect for whipping.)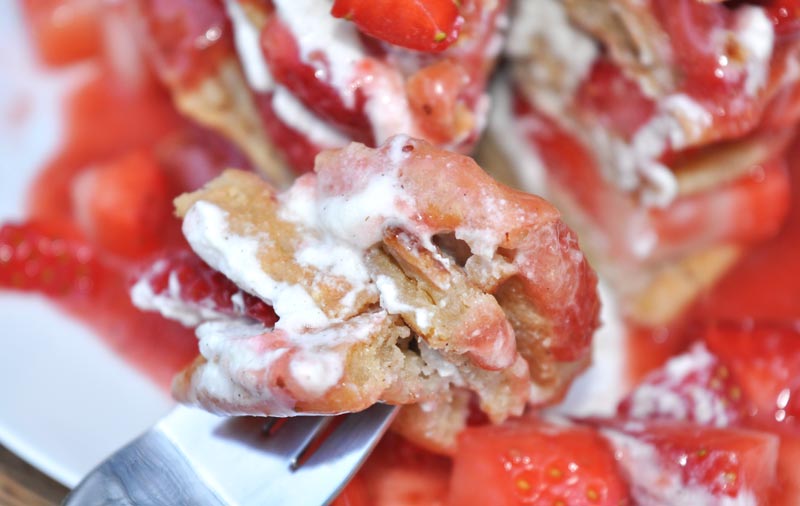 Like this? Try these..................................