Laura's Naturally Sweet Blog
Psssst...............looking for naturally sweet, healthy, deliciously moreish cakes? You've come to the right place!
Strawberry and Coconut Cream Tart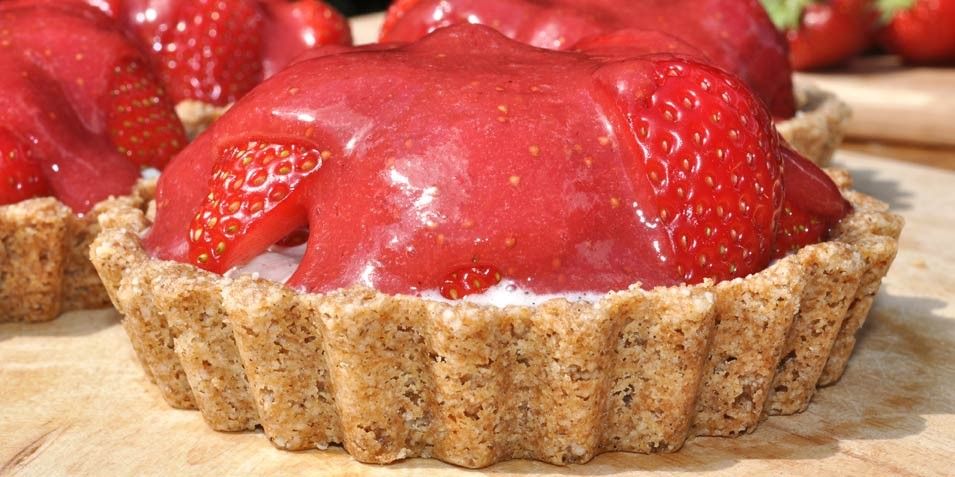 Strawberries and cream - quintessentially British and undoubtedly the perfect match. With Wimbledon around the corner we have reached that point in the summer months when everyone begins dusting off their tennis shoes, grabbing their rackets and making for the nearest court, garden, street, park or any other available space to hone their skills.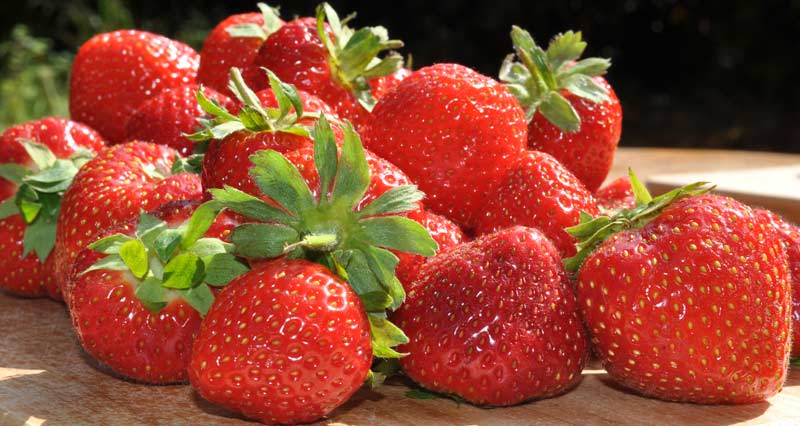 Bets will start on which matches will be rained off and strawberries and cream is the height of fashion. With this in mind I will be dedicating the next three weeks to Wimbledon, tennis and, of course, strawberries!! :)
I have, once again, taken advantage of my shortbread recipe, after all shortbread is always delicious with strawberries!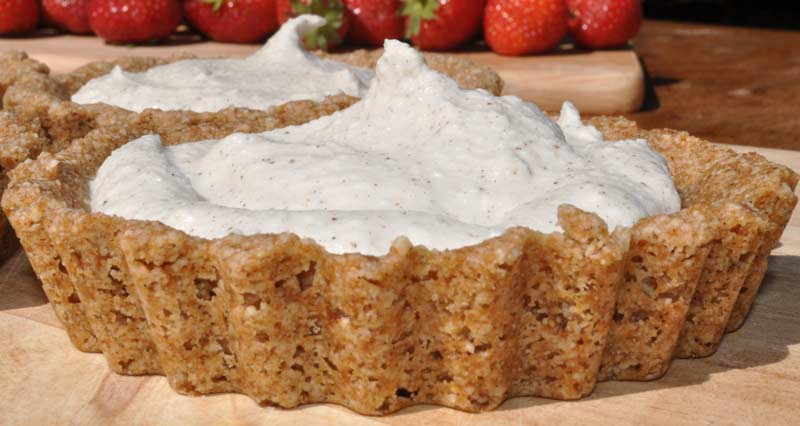 I was lucky enough to stumble across this when I was browsing the shelves of my local health food shop.
It is 100% cold pressed coconut milk making it perfect for a light fresh cream.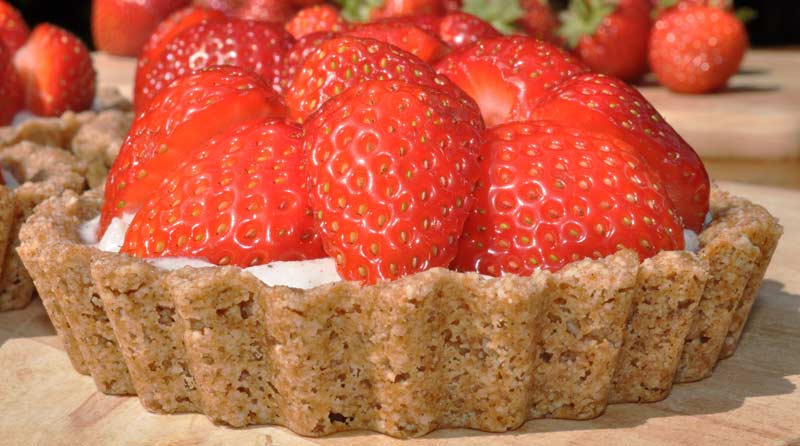 It needs to be eaten on the day it's opened so be sure to be ready to consume your Strawberry and Coconut Cream Tarts the day you make them (the shortbread base and strawberry sauce can be made in advance.) Honestly this product has the most amazing taste and is absolutely perfect as an alternative to whipped cream.

If you can't get your hands on any, place a can of coconut milk in the fridge overnight. This will separate the water from the coconut milk. Open the can upside down and pour the water out. (Be sure to save the water to add to a smoothie!) What you are left with is rich creamy coconut milk that can be whipped in the same way.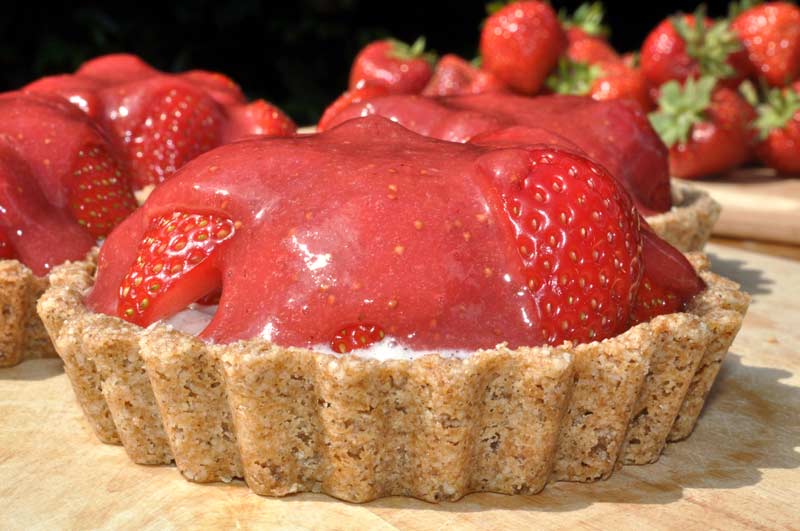 Top this off with strawberries and strawberry sauce and serve with a tall glass of raspberry lemonade whilst watching Wimbledon (or the kids recreating Wimbledon) in the garden! :)
Strawberry and Coconut Cream Tart
Prep Time: 40 mins Bake Time: 8 mins
Makes 4 Tarts
Ingredients:
Base:
1/3 Cup Coconut Oil - melted
¼ Cup. Powdered Coconut Sugar
1/3 Cup Almond Flour
¼ Cup Arrowroot Powder
1 tsp. Powdered Vanilla
Pinch of Himalayan Salt
Coconut Cream Filling:
1 pk. Rhythm Cold Pressed Coconut Milk or 1 can Coconut Milk
1 tbsp. Arrowroot Powder
1 tsp. Powdered Vanilla
½ tbsp. Agave Nectar
Topping:
½ Cup Strawberry Sauce - recipe below
1 Cup Fresh Strawberries for topping
Instructions:
1) Lightly coat four, 4 inch tart tins with coconut oil.
2) Cream together coconut sugar and coconut oil. (I use my bamix for this but a whisk would be fine.) Gradually fold in the almond flour, arrowroot powder, powdered vanilla and Himalayan salt.
3) Press the mix into the base of the tart tins coming up the side and place in the fridge for 30 mins.
4) Preheat the oven to 160˚C
5) After 30 mins remove from the fridge and bake in the oven for 8 mins until a light golden brown. Remove from the oven and set on one side to cool
6) Whip together the coconut milk, arrowroot powder, powdered vanilla and agave nectar.
(If you are using a can of coconut milk place it in the fridge the night before. Open the can upside down and pour off the water. What you are left with is thick, creamy milk perfect for whipping.)
7) Once the bases have cooled and you're ready to serve remove from the tin and fill each base with whipped coconut cream. Layer strawberries over this and finally pour the strawberry sauce over the top.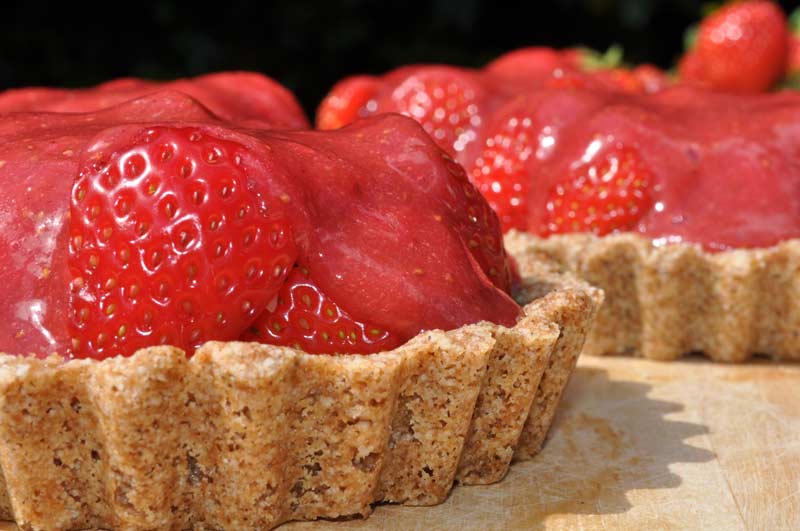 Strawberry Sauce
Prep Time: 10 mins Dehydration Time: 2 hrs
Makes approx. 1 Cup
Ingredients:
1 Cup + ½ Cup Strawberries
2 tbsps. Agave Nectar
Instructions:
1) Hull and slice 1 Cup of strawberries and place in the dehydrator on the fruit setting for 2 hrs.
2) Use a handheld blender such as a bamix to blend the dehydrated strawberries, the remaining ½ Cup of strawberries and agave nectar together until they are completely smooth.
(If you don't have a dehydrator place on a sheet of baking parchment in the oven on a low heat for 2 hrs.)