Laura's Naturally Sweet Blog
Psssst...............looking for naturally sweet, healthy, deliciously moreish cakes? You've come to the right place!
Strawberry Cheesecake in a Jar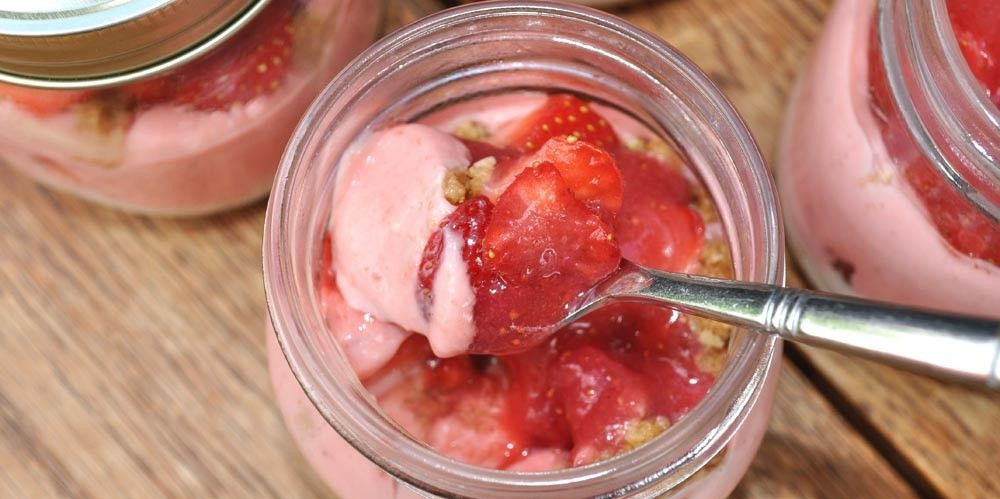 Strawberry Cheesecake in a Jar – tantalisingly delicious, full of ripe fresh strawberries and rich creamy cheesecake. This delectable dessert in jar is a melt in the mouth sensation that is a real treat for your taste buds!
As promised here we are on week two of the Summer Strawberry Wimbledon Extravaganza with a divine strawberry cheesecake in a jar!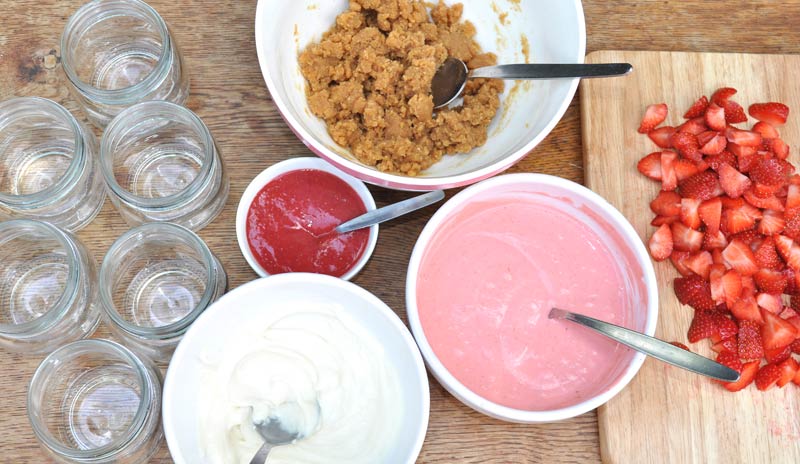 Once again I used the violife cream cheese I found at Tescos the other day. I love how beautifully it takes in other flavours and I have taken to keeping one in the fridge just in case anyone fancies a cheesecake!!!!!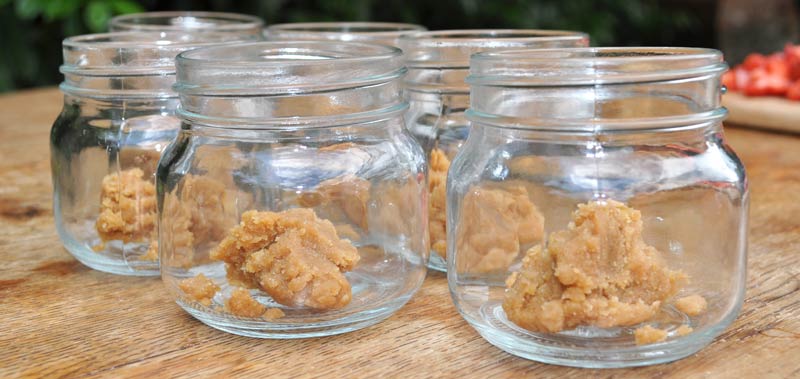 The layering gives an opportunity to add more, yes I said more, delicious strawberries to the mix - they are just so perfectly sweet at the moment I wanted to get as much use out of them as possible.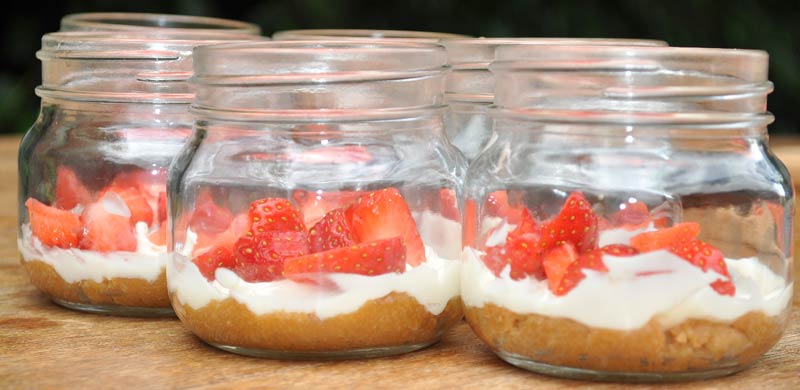 If you are a dyed-in-the-wool fruit lover like me please feel free to go ahead and add more strawberries or other berries on the top!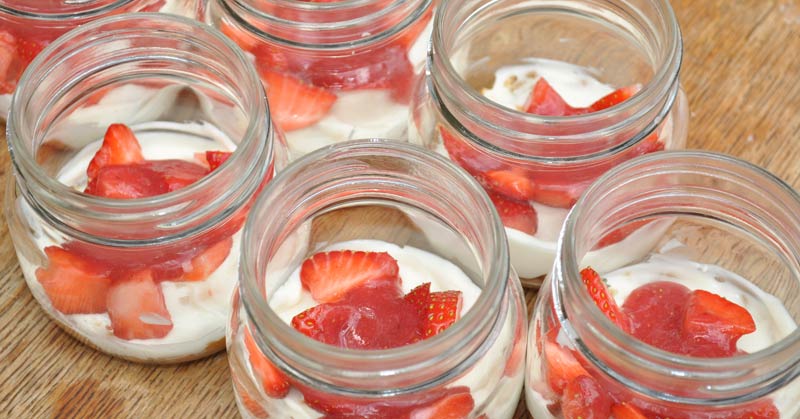 The real awesomeness of this recipe (if we put aside for a moment just how delicious it tastes) is how easy it is to transport. These amazing rubber sealed, screw top Kilner Jars make it so easy to transport your goodies whilst keeping them super fresh!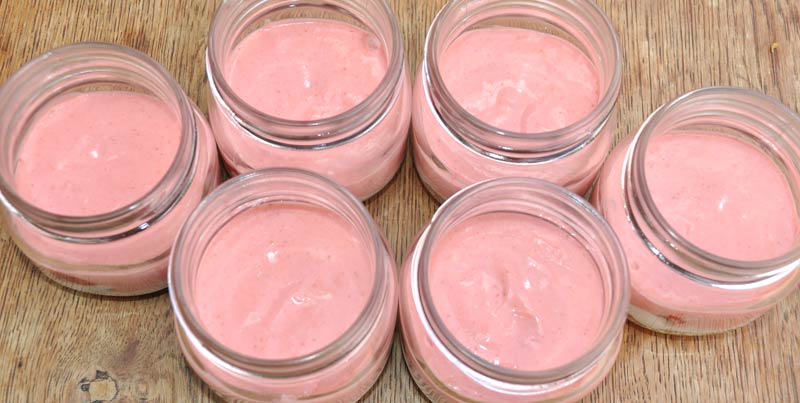 Just make them up, pop them in your cool bag and they'll be waiting for you.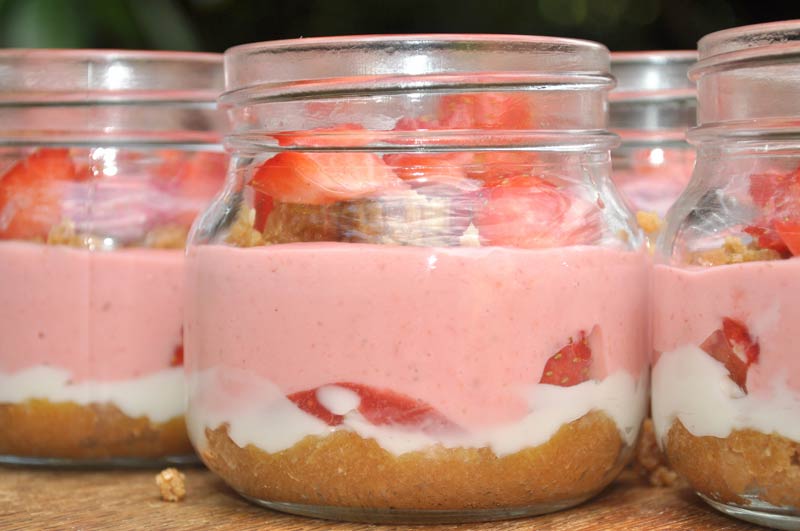 (My newly purchased super awesome Zoom cool bag for just such an occasion! :D)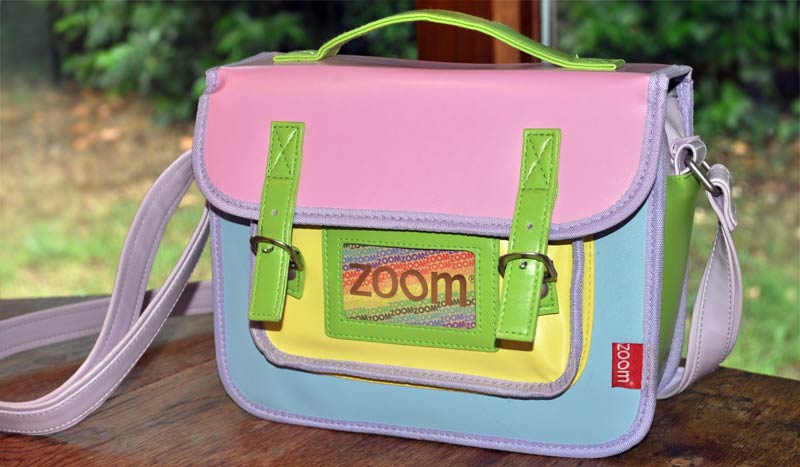 This way they are always beautifully fresh and delicious, whether you are spending the day at Wimbledon, taking a picnic to an outdoor event like Shakespeare in the Park, Opera at Trafalgar Square or for a day out at the beach. These strawberry cheesecakes are the perfect on-the-go dessert – just don't forget to take a spoon!!!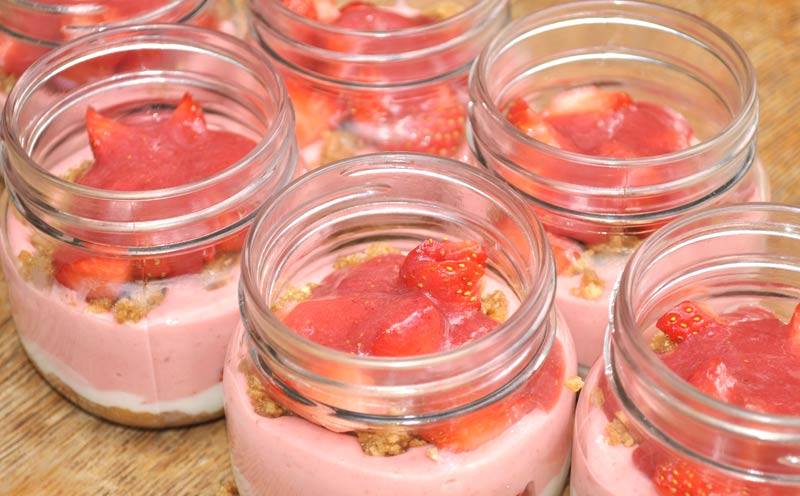 Strawberry Cheesecake in a Jar
Prep Time: 35 mins Set Time: 8 hrs
Serves 6
Ingredients:
Base:
1½ Cups Digestive Biscuit Crumbs (Graham Crackers)
3 tbsps. Melted Coconut Oil
3 tbsps. Maple Syrup
Cream Cheese Filling:
½ Cup Coconut Milk
1 tsp. Agar Agar
¼ Cup Agave Nectar
1 tsps. Powdered Vanilla Extract
1 tbsp. Lemon Juice
½ Cup Strawberries
1 pk. Non-dairy Cream Cheese (I used Violife)
½ Cup Arrowroot Powder
Topping:
1 Cup Fresh Chopped Strawberries
½ Cup Strawberry Sauce (recipe below)
Instructions:
1) In a saucepan whisk together the coconut milk, agar agar, and agave nectar. Leave to stand for 10 mins.
2) In a bowl combine thoroughly all the ingredients for the base. Press about 1½ tbps. into the base of 6 small kilner jars and place in the refrigerator to set for 10 mins. Any remaining crumbs can be used later.
3) Place the coconut milk, agar agar and agave mix on a medium-high heat for 10 mins. Stir continuously.
4) Blend together all the ingredients for the cream cheese filling except the strawberries.
5) Divide the cream cheese mix in two. Placing one half to the side to use later and blend the strawberries into the other half.
6) Spoon a layer of the plain cream cheese over the base cover with strawberries and about two teaspoons of strawberry sauce.
7) Pour the strawberry cream cheese filling over this and cover with more strawberries, strawberry sauce and any remaining biscuit crumbles.
8) Tighten the lids onto the jar and place in the fridge ready for your exciting excursion!!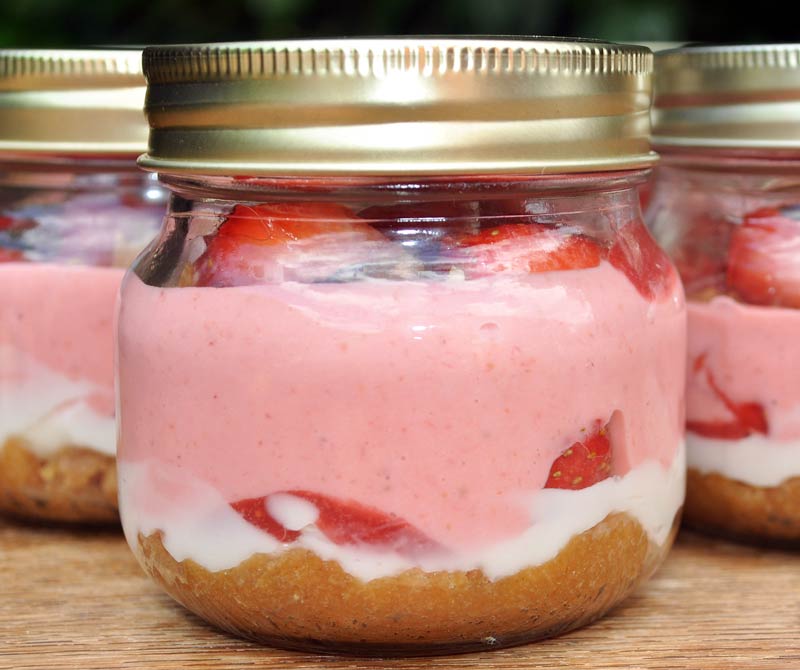 Strawberry Sauce
Prep Time: 10 mins Dehydration Time: 2 hrs
Makes approx. 1 Cup
Ingredients:
1 Cup + ½ Cup Strawberries
2 tbsps. Agave Nectar
Instructions:
1) Hull and slice 1 Cup of strawberries and place in the dehydrator on the fruit setting for 2 hrs.
2) Use a handheld blender such as a bamix to blend the dehydrated strawberries, the remaining ½ Cup of strawberries and agave nectar together until they are completely smooth.
(If you don't have a dehydrator place on a sheet of baking parchment in the oven on a low heat for 2 hrs.)