Laura's Naturally Sweet Blog
Psssst...............looking for naturally sweet, healthy, deliciously moreish cakes? You've come to the right place!
'Raspberry Ruffle' Cupcakes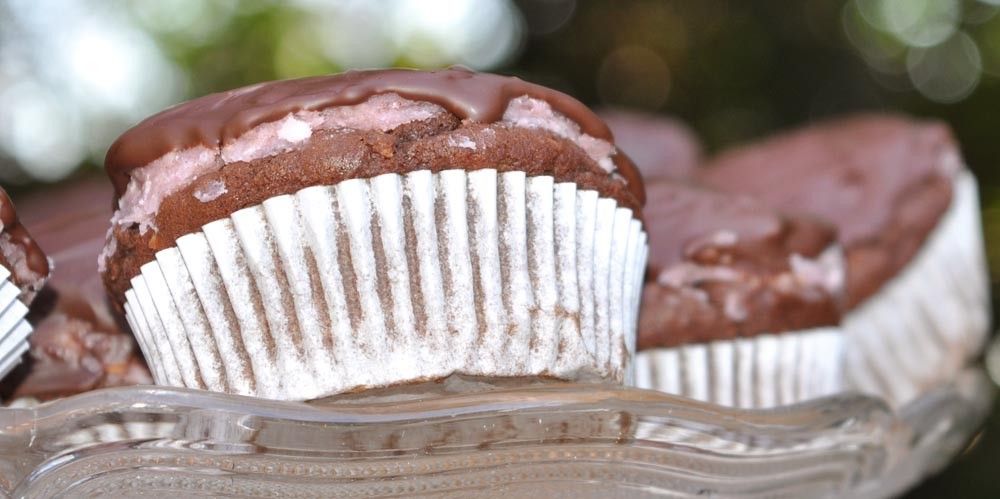 Light, fluffy chocolate cupcakes with a hint of raspberry and a dash of coconut, topped with a divine coconut raspberry frosting and drizzled with smooth dark chocolate – cupcake heaven!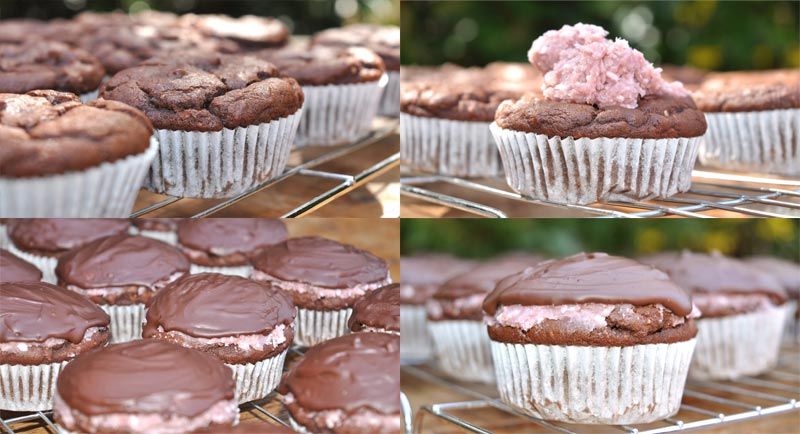 Once again its cupcake time and I have used my favourite chocolate cake recipe, with a little coconut thrown in, as the base for this delectable little cupcake.
I would have called them bouncer cupcakes but I seem to be among the few who actually remember bouncers.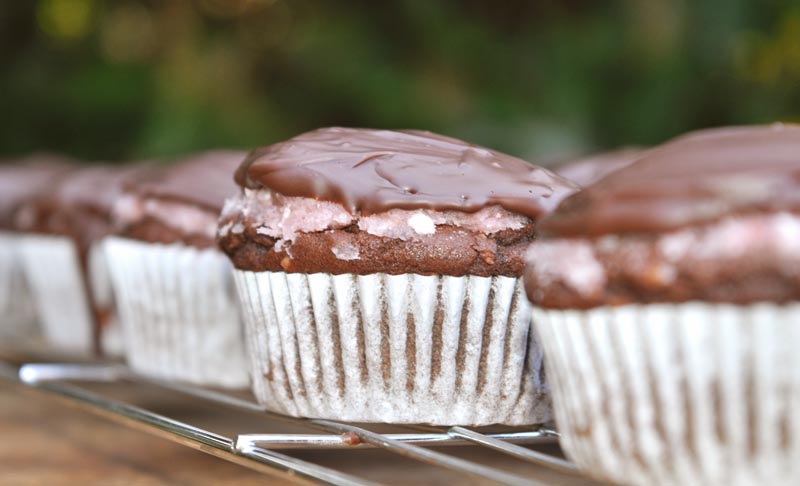 They were these incredible little balls of raspberry coconut sweetness coated in a velvety dark chocolate. A real treat for me, and one of the few that both my sister (who is allergic to dairy products) and I could both indulge in.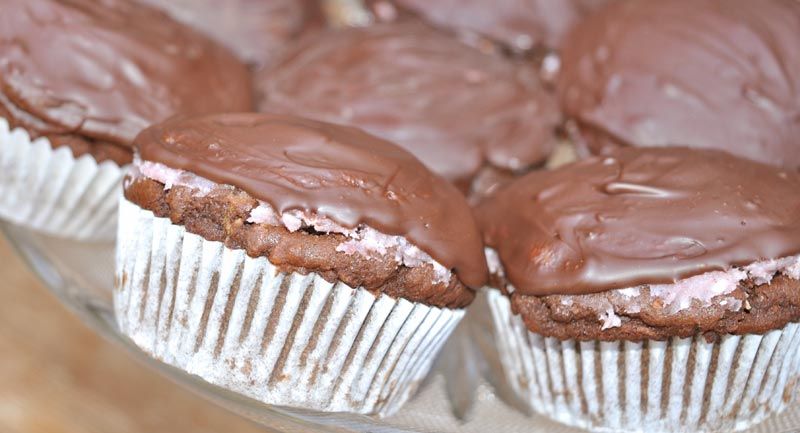 My sister had cello lessons at a town not too far away from where we lived and her teacher lived a short walk from the centre. On the odd occasions that I accompanied my Mum we would walk in and there was a tiny – to my mind sweet shop – I was only about seven – it was probably more of a corner shop - that sold this particular sweet.
I don't remember ever seeing them anywhere else I'm sure their rarity made them an extra special treat in my eyes!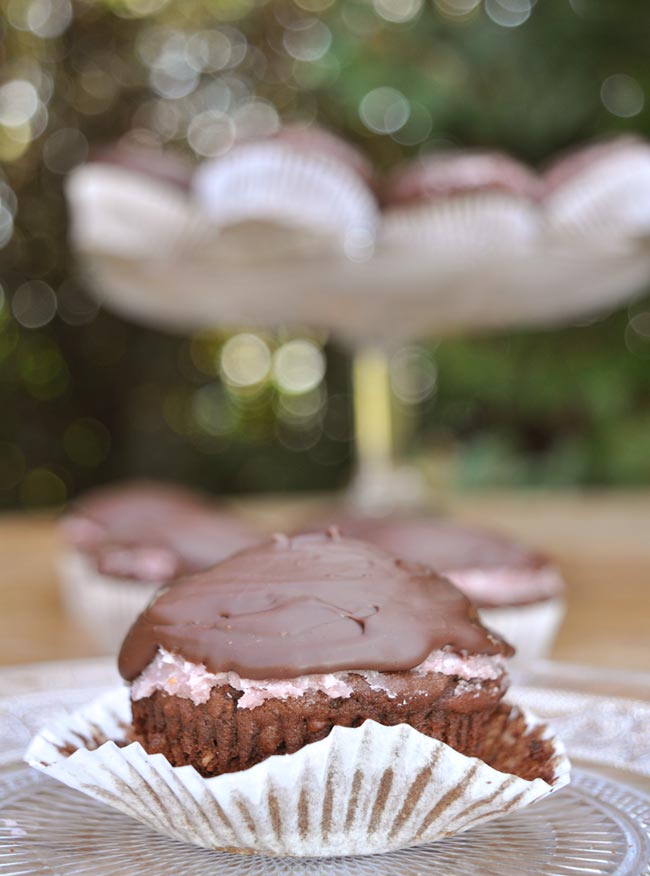 Before long they were removed from the market and I can tell you there was more than one disappointed person in my house.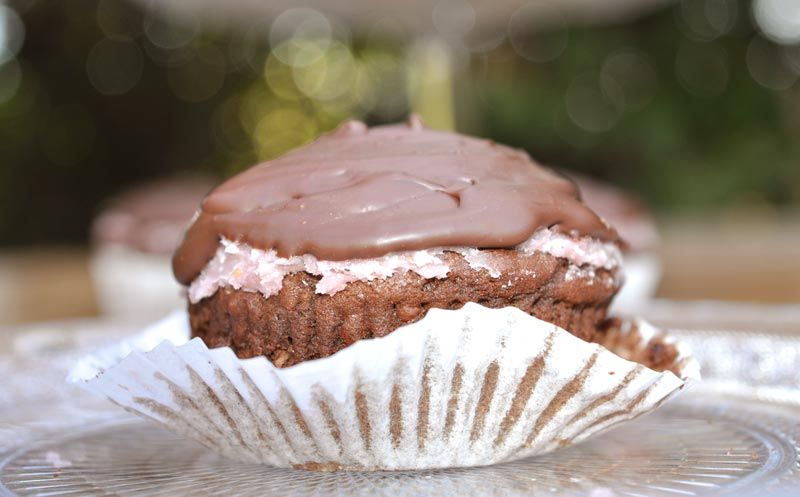 A few years later we discovered the luxury that is the raspberry ruffle. Almost exactly the same in taste and texture they quickly became a family favourite!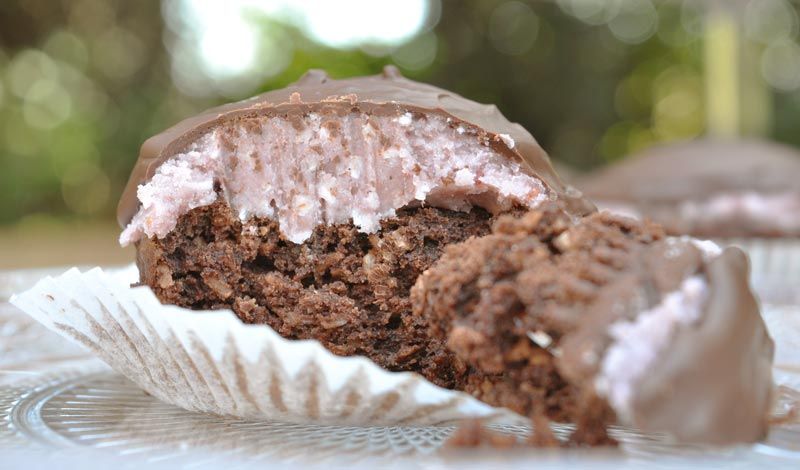 My love of coconut, and by extension all things coconutty, meant that I felt it necessary to add coconut to the cupcake as well as the topping – such a good decision - so delicious!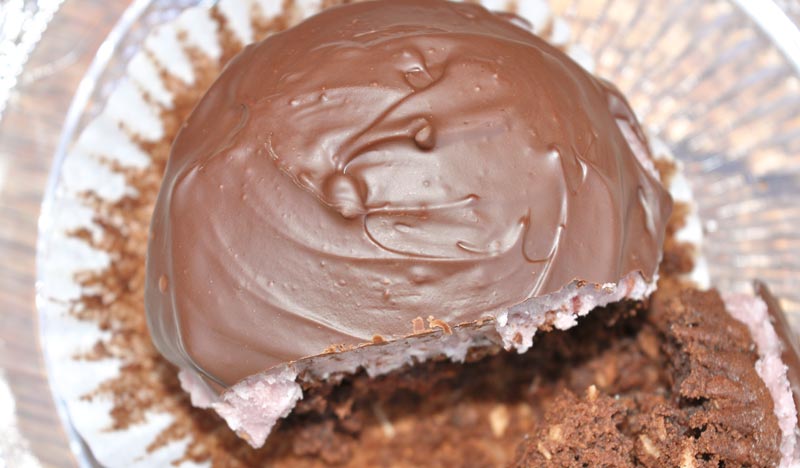 These really do represent all that was awesome about the mixture of raspberries, coconut and dark chocolate.
'Raspberry Ruffle' Cupcakes
Prep Time: 20 mins Bake Time 16-18 mins
Makes: 18 Cupcakes
Ingredients:
Chocolate Coconut Cupcakes:
1/3 Cup Coconut Oil - melted
¾ Cup Powdered Coconut Sugar
2 tbsps. Coconut Blossom Syrup or Maple Syrup
1 Cup Non-Dairy Milk
1½ tsps. Powdered Vanilla
½ Cup Almond Flour
¼ Cup Rice Flour
¼ Cup Tapioca Flour
¼ Cup Cocoa Powder
½ Cup Desiccated Coconut
¼ Cup Non-Dairy Yoghurt
½ tsp. Baking Powder
1 tsp. Bicarbonate of Soda
¼ tsp. Himalayan Salt
'Raspberry Ruffle' Frosting:
200g pk. Creamed Coconut
¼ Cup Coconut Oil - melted
2 tbsps. Coconut Blossom Syrup or Maple Syrup
½ tsp. Powdered Vanilla
2 tbsps. Raspberry Powder
¼ Cup Dalfour Raspberry Jam
½ Cup Desiccated Coconut
¼ Cup RealFoodSource Coconut Sugar Chocolate Drops - melted
Instructions:
Chocolate Coconut Cupcakes:
1) Preheat the oven to 170˚C
2) Beat together the melted coconut oil, coconut sugar, coconut nectar/maple syrup, non-dairy milk and powdered vanilla until fully combined.
3) Mix in the almond flour, rice flour, tapioca flour, cocoa powder and desiccated coconut.
4) Finally add the yoghurt, baking powder, bicarb and salt - beat until fully combined.
5) Divide evenly between two lined 12 cupcake pan – this recipe makes 18 cupcakes.
6) Place in the oven for 16-18 mins – if you press the top lightly it should bounce back. Remove from the oven and cool for 10 mins before removing from the tin and placing on a wire rack.
'Raspberry Ruffle' Frosting:
7) Blend together the creamed coconut and the coconut oil.
8) Stir in the maple syrup, powdered vanilla, raspberry powder, raspberry jam and finally the desiccated coconut until completely combined.
9) Once the cupcakes have cooled spread the frosting over the top of each cupcake and put in the fridge for 10 mins to set.
10) Coat the top with the melted chocolate. :)