Laura's Naturally Sweet Blog
Psssst...............looking for naturally sweet, healthy, deliciously moreish cakes? You've come to the right place!
Raspberry and Vanilla Cheesecake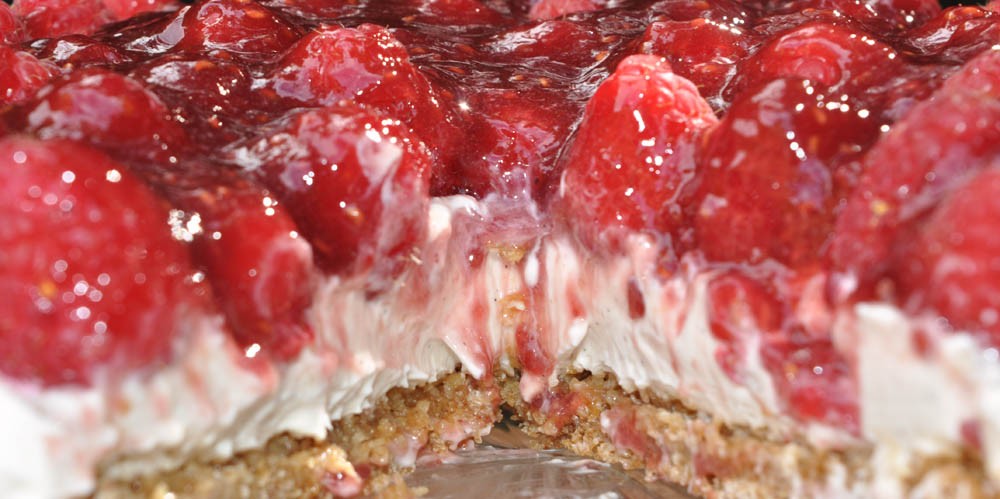 Until I visited New York I did not fully appreciate the real difference between an American and a British cheesecake. And I don't just mean in portion size – although that does play a pretty big role!!!
Some years ago, whilst exploring New York, having not eaten all day, a friend and I ordered a piece of cheesecake and, despite her excellent appetite, it still beat the pair of us!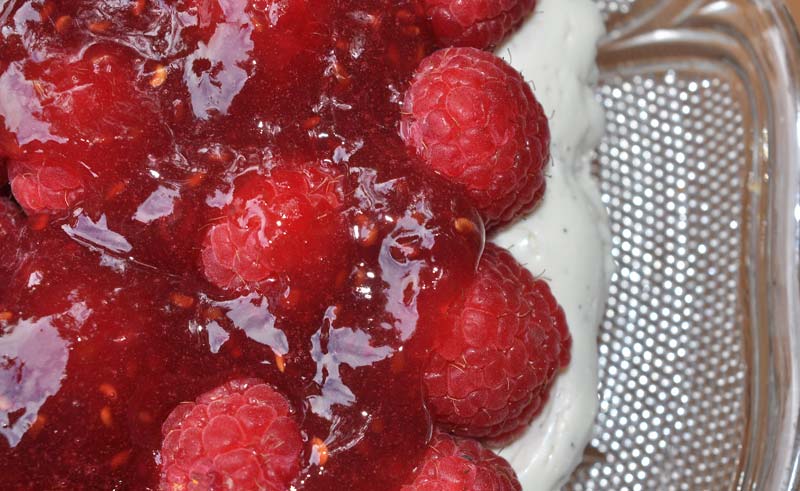 Still it was delectable, and my first baked cheesecake. It was strange having a baked cheesecake with no biscuit base - still a delicious dessert.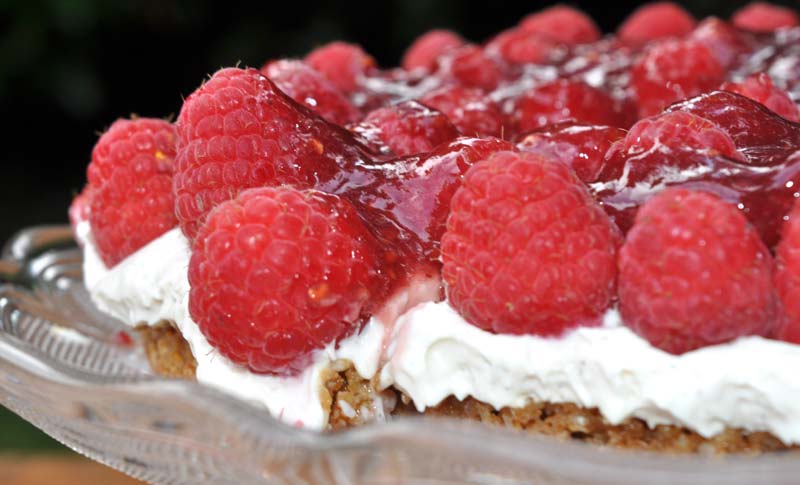 British cheesecake is essentially unbaked and fresh sweet and creamy and is paired with a crumbly biscuit base and most frequently topped with delicious sweet fruit.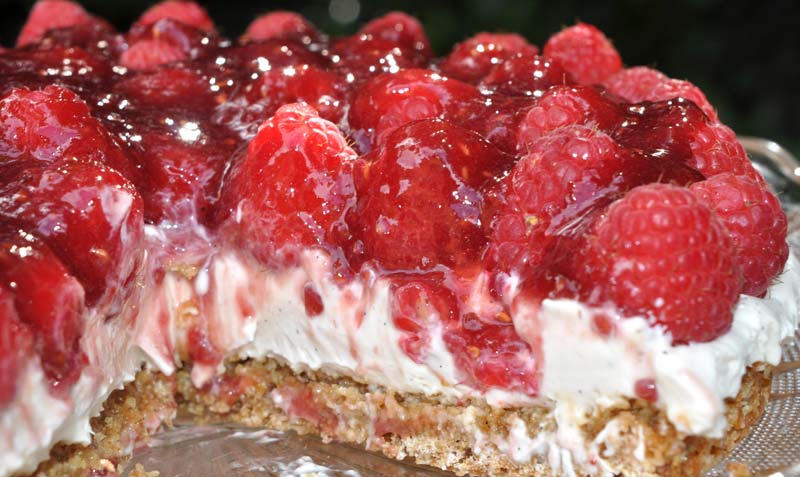 This gluten free, dairy free, egg free, sugar free version captures all those essential ingredients that blend together to make the perfect cheesecake. Here I have used one of my favourite fruits - raspberries which pair beautifully with the vanilla cream filling.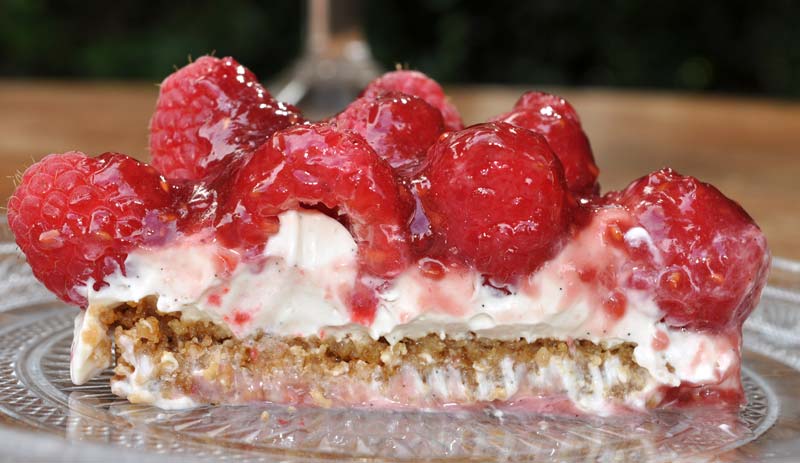 I used toffutti cream cheese that I happened to find lurking in our refrigerator crying out to be eaten. Whatever cream cheese you use you will have an awesome dessert.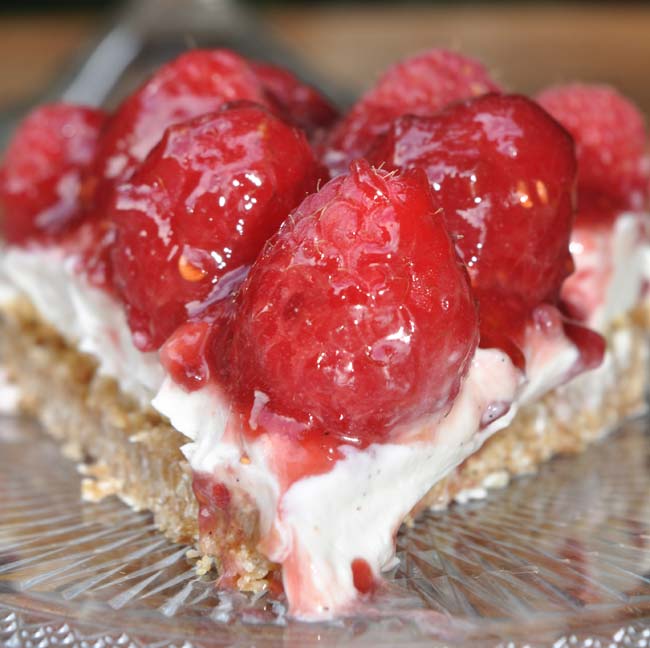 It's very straightforward to make. So, what more can I say, grab that blender and give it a go, you will not be disappointed!
Raspberry and Vanilla Cheesecake
Prep Time: 10 mins               Bake Time 8 mins                            Set time: 4-8 hrs               
Makes: 8-10                       
Ingredients:
Base:
½ Cup GF Oats
¼ Cup Ground Almonds
¼ Cup Powdered Coconut Sugar   
2 tbsps. Coconut Oil – melted
Pinch Himalayan Salt
Vanilla Cream Cheese Filling:
½ Cup CoYo
1 pk. Non-dairy Cream Cheese  (I used Violife)
¼ Cup Maple Syrup
¼ Cup Coconut Oil – melted
1 tsps. Powdered Vanilla
Topping:
½ Cup Dalfour Raspberry Jam
¼ Cup Maple Syrup
1 ½ Cups Raspberries
Instructions: 
     1)      Preheat the oven to 170˚C  
     2)      Blitz the oats in the blender and stir in the ground almonds, coconut sugar, coconut oil and salt.
     3)      Press the mix into the base of a 8 inch round tart tin and place in the oven and bake for 8 mins. Remove and set aside to cool.
     4)      Whilst the base is cooling blend together all the ingredients for the cheesecake filling until completely smooth.
     5)      Spoon the cheesecake mix over the cooled base and place in the fridge to set for 4 hrs.
      6)    Stir together the raspberry jam and raspberries. Cover the top with raspberries and spoon the sauce over the top – slice and enjoy!! :)