Laura's Naturally Sweet Blog
Psssst...............looking for naturally sweet, healthy, deliciously moreish cakes? You've come to the right place!
Father's Day Snickers Bar Cream Pie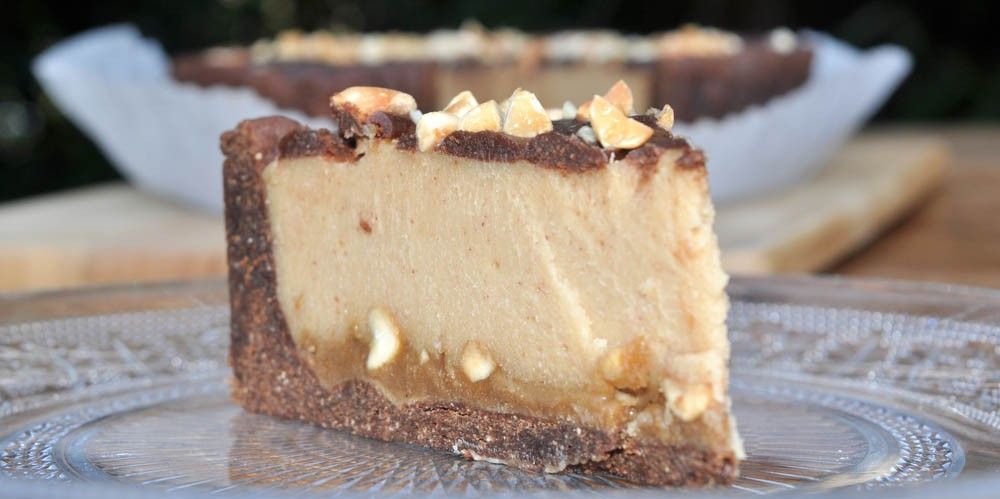 Happy Father's Day to all you Dad's out there!! Father's day is undoubtedly the best excuse ever for making the most indulgent dessert on the plant. It's undeniable that all Dads all love the rich, decadent, luxurious desserts - well I know mine does!!!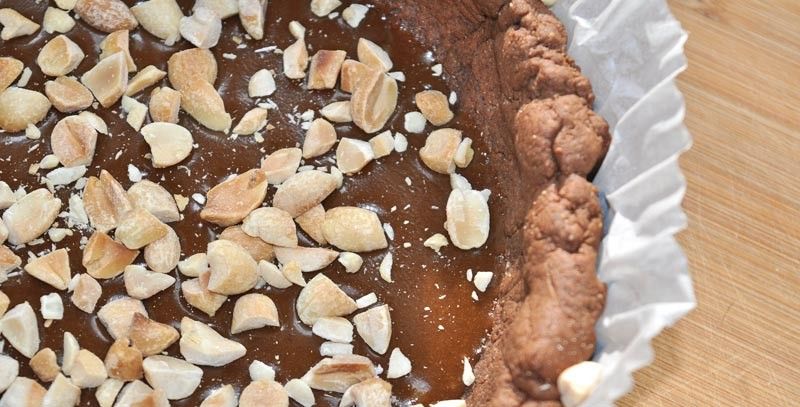 This is truly one incredible dessert – every mouthful is delicious – the sweet caramel layer, the crunchy peanuts, the smooth peanut butter cream and decadent chocolate – I can't, right now, think of anything more perfect!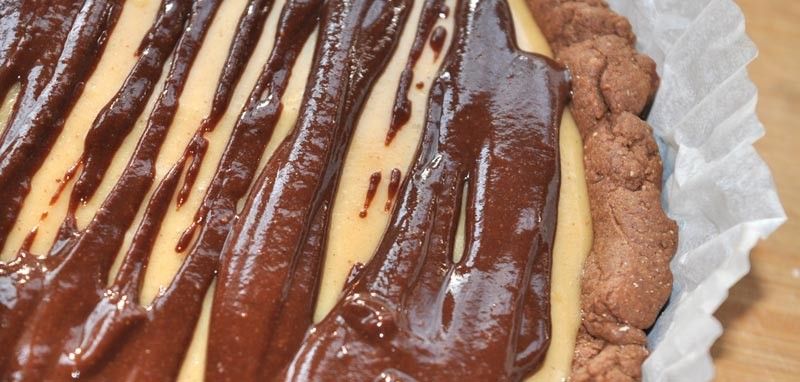 When was the marathon bar renamed snickers bar? Well the name is not really important it is that combination ofsoft nougat, caramel and peanuts dipped in chocolate. As a child I loved that combination and it was a super cool occasional treat. Of course, then, I planned on making such foods the basis of my adult diet.
My Dad would very much have liked to have made them a major food group too. I know that, along with Mars Bars, Snickers Bars were always one of his favourites.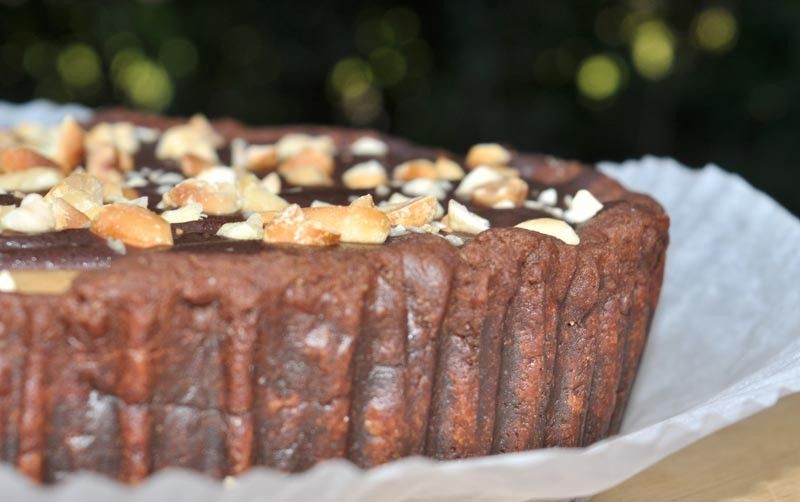 So I came up with the idea for a dessert that's a healthier version of that amazing snickers bar. It's the snickers bar cream pie. I'm glad to say that he loved it! It retains that creamy caramel peanut combination with that rich decadent chocolate finish.
So Dad, the guy I remember giving me shoulder rides and playing swing ball with me and my sister in the garden and patiently teaching me to drive, this one is for you.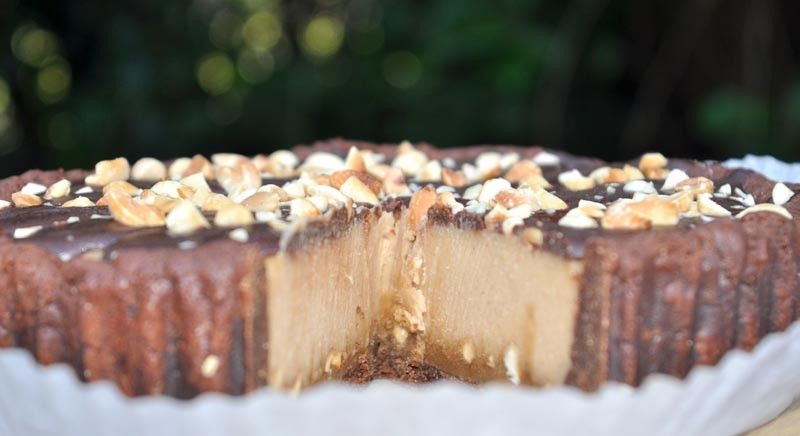 And I would like to say an extra big thank you to you for helping me set up my flat pack computer desk this morning so I could stand here this afternoon writing my blog - even though it is a) Father's Day and b) The hottest day of the year so far!!!!! You really are an awesome Dad and I hope you had an amazing Day!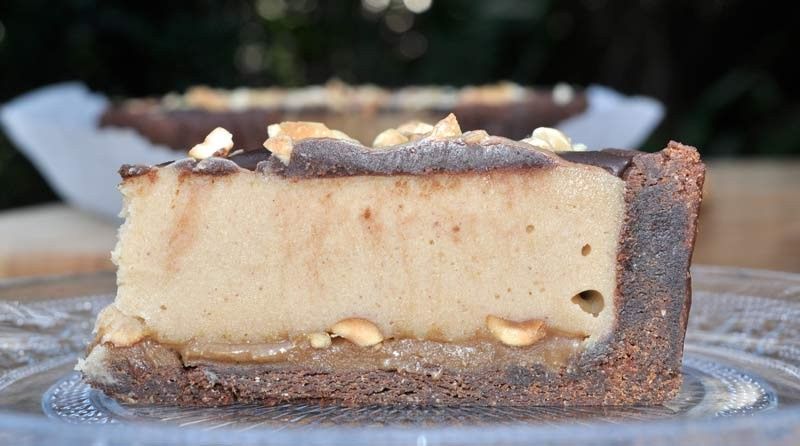 If it feels a little rich on a hot day today it is also delicious straight from the freezer – turning 'Snickers Bar' Cream Pie into 'Snickers Bar' Ice Cream Pie – Oh yeah!!!!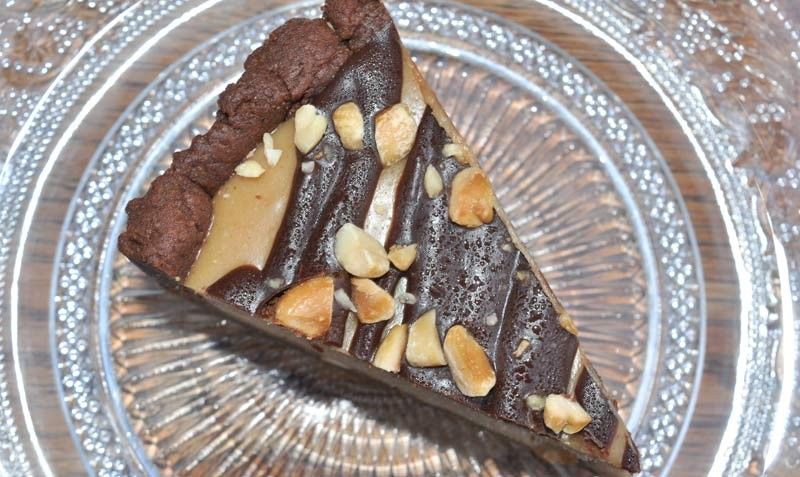 Let's get making……………………
Father's Day 'Snickers Bar' Cream Pie
Prep Time: 30 mins Set Time: 2-4 hrs

Serves: 12-16

Ingredients:
Chocolate Base:
½ Cup Peanut Butter

1/3 Cup Maple Syrup

¼ Cup Cocoa Butter

½ Cup Peanut Flour
¼ Cup Tapioca Flour

½ tsp. Powdered Vanilla

½ tsp. Baking Powder

Caramel Layer:
¼ Cup Powdered Coconut Sugar

¼ Cup Maple Syrup

2 tbsps. Coconut Oil

Tiny pinch Himalayan Salt

¼ Cup Chopped Roasted Peanuts
Peanut Butter Cream Filling:
½ Cup Peanut Butter
½ Cup Non-Dairy Milk
½ Cup Maple Syrup

¼ Cup Coconut Oil - melted
¼ Cup Cashew Nuts – Soaked Overnight

Chocolate Topping:
2 tbsps. Peanut Butter

2 tbsps. Coconut Oil - melted
2 tbsps. Maple Syrup

2 tbsps. Cocoa Powder

Instructions:
1) For the base - In a bowl combine thoroughly all the ingredients for the base. Press the mix into the base of a 9 inch round tart tin coming up the sides about an inch or so and place in the fridge for 10 mins to set.
2) For the caramel – place all the ingredients in a saucepan and heat for two mins on a medium high heat – stirring continuously. Set aside to cool
3) For the cream filling - Blend all the ingredients together until completely smooth.
4) For the chocolate topping – mxi together the peanut butter, coconut oil, maple syrup and cocoa powder until fully combined.
5) Assembly – pour the caramel into the cooled base and sprinkle with half the roasted peanuts.
6) Spoon the cream filling over the top and smooth in to place. Drizzle the chocolate over the top and sprinkle with the remaining peanuts.
7) Place in the freezer to set for 20 mins or in the fridge for 2 hrs. Keep refrigerated before serving.