Laura's Naturally Sweet Blog
Psssst...............looking for naturally sweet, healthy, deliciously moreish cakes? You've come to the right place!
Dark Sweet Cherry Cheesecake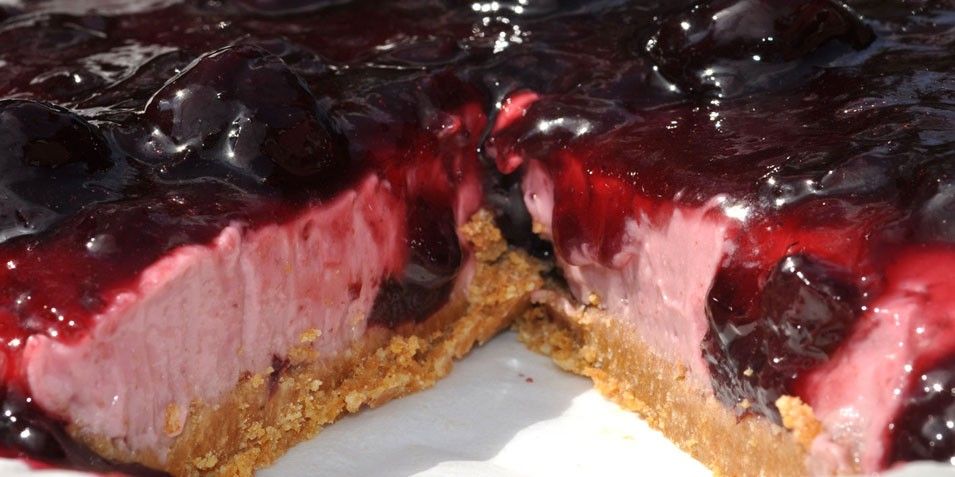 Dark Sweet Cherry Cheesecake – sweet juicy cherries with a hint of almond topping the firm biscuit base and the creamy cheesecake. Just heavenly with a splash of coconut milk and an almond version of my chocolate sauce – yum!!

Whilst perusing the health food isles of my local Tesco's store last week I not only found coconut yoghurt – very impressed with this one as I usually have to go to the health food shop to get it, but today I also found a tub of Violife vegan, dairy free, lactose free, soya free, palm oil and gluten free cream cheese. I had never heard of it before and curiosity got the better of me.

I had, for a while, fancied a traditional British unbaked cheesecake so I thought 'why not give it go?' I decided, wisely as it turned out, that I should probably purchase more than one tub as this was my first attempt.

So armed with a jar of my favourite Dalfour Cherry jam I set about creating one, um two or maybe three - we won't say for sure - versions before finding perfection!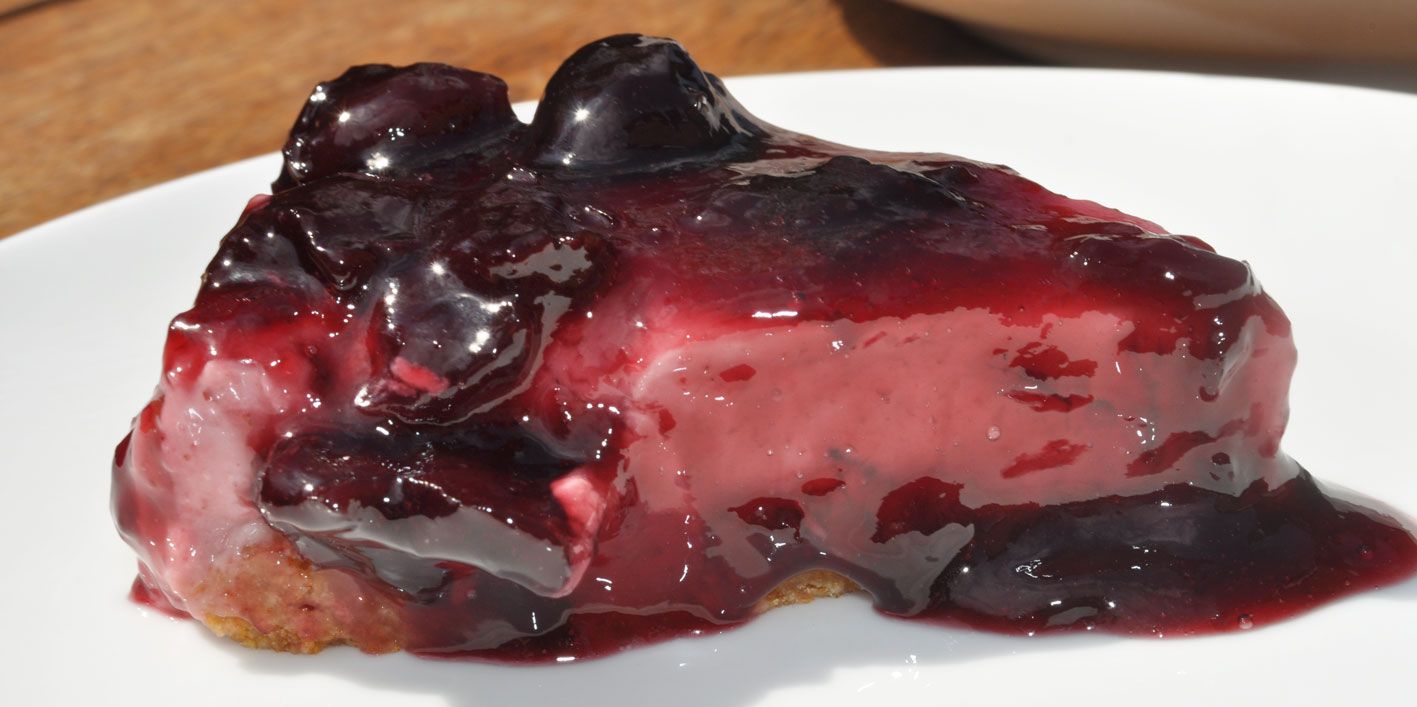 The almond oil really accentuates the cherry flavour and my last minute addition of the cherries to the cream cheese mix was something I didn't regret – although I did have a scary moment because the cherries were frozen so it seemed to start setting really quickly and I thought it might be too firm but once spread over the digestive biscuit base and popped in the fridge it turned out just fine!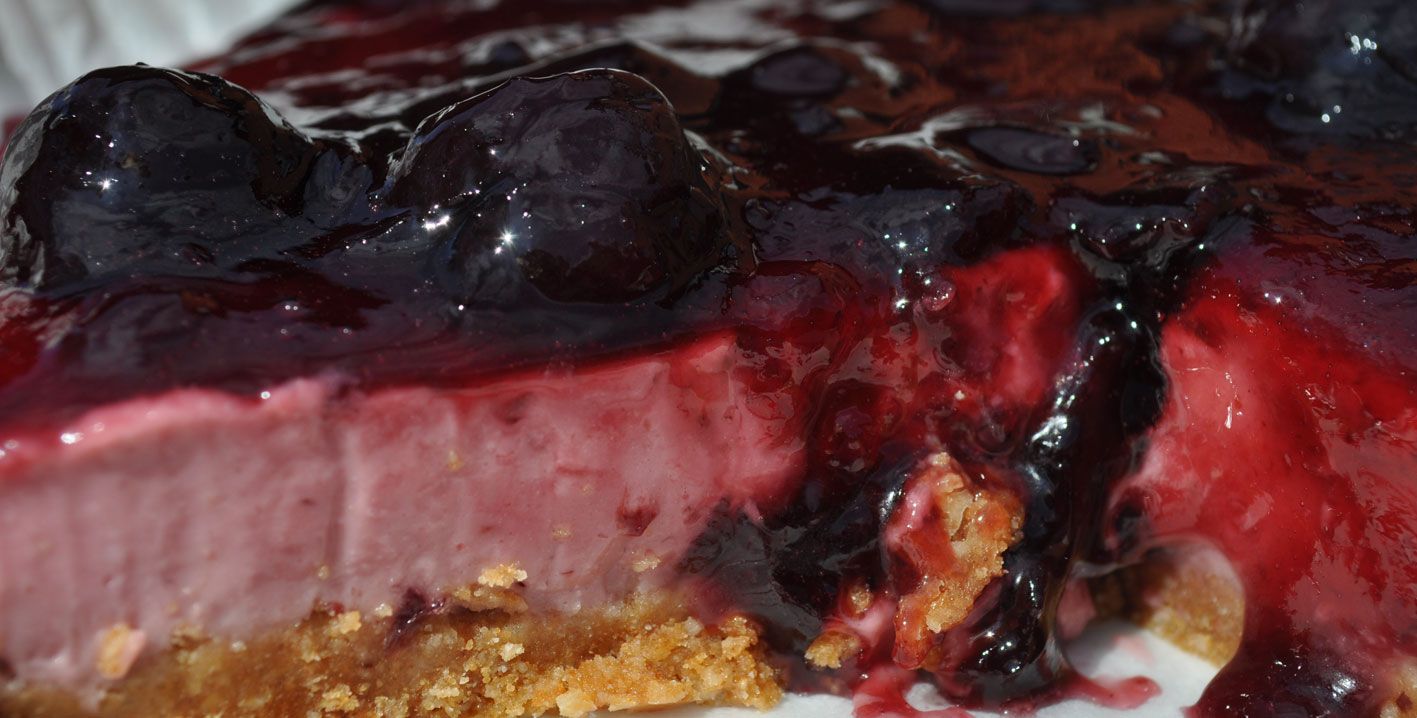 Dark Sweet Cherry Cheesecake
Prep Time: 25 mins Set Time: 24hrs
Serves 6-8
Ingredients:
Base:
1 Cups Digestive Biscuit Crumbs (Graham Crackers)
2 tbsps. Coconut Oil - melted
3 tbsps. Maple Syrup
Cream Cheese Filling:
½ Cup Coconut Milk
1 tsp. Agar Agar
¼ Cup Agave Nectar
1 tsps. Vanilla Extract
1 tsps. Almond Extract
½ Cup Frozen Dark Sweet Cherries

1 pk. Non-dairy Cream Cheese
½ Cup Arrowroot Powder
Topping:
1 Jar Dalfour Cherry Jam
Instructions:
1) In a saucepan whisk together the coconut milk, agar agar, and agave nectar. Leave to stand for 10 mins.
2) In a bowl combine thoroughly all the ingredients for the base. Press into a 6" round pan and place in the refrigerator to set for 10 mins.
3) Place the coconut milk, agar agar and agave mix on a medium-high heat for 10 mins. Stir continuously.
4) Blend together all the ingredients for the cream cheese filling including the coconut mix until completely smooth.
5) Pour the cream cheese filling over the digestive base and place in the fridge to set overnight.
6) Once set spoon the cherry jam over the top and serve,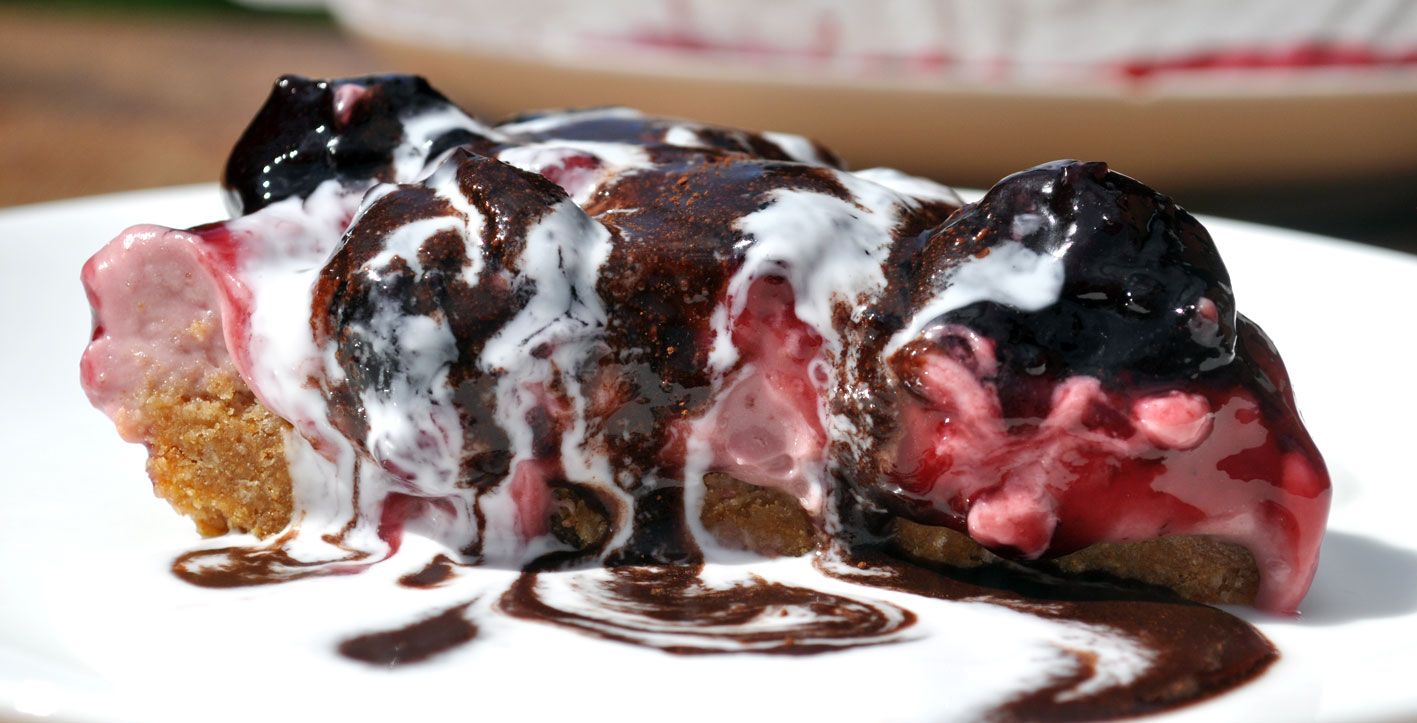 Just in case you need it.........................................
Digestive Biscuit (Graham Crackers) Recipe
Prep Time: 10 mins Bake Time: 15 mins
Makes 12 Biscuits or 2 Cups of Crumbs
Ingredients:
1 Cup Oat Flour
¾ Cup Ground Almonds
¼ Cup Coconut Oil
2 tbsps. Agave Nectar
3 tsps. Baking Powder
2-3 tbsps. Almond Milk
Instructions:
1) Preheat the oven at 170˚C
2) In a mixing bowl thoroughly combine all the ingredients except the milk.
3) Add the milk one tablespoon at a time until you form a dough.
4) Roll out the dough between two slices of baking parchment until about 3-4mm thick.
5) With a cookie cutter cut out the biscuits and place on a lined baking tray.
If you want these for biscuit crumbs you can always just place the rolled dough into the oven.
6) Bake in the oven for 15 mins until a light golden brown
7) Remove from the oven and allow to cool on the tray for at least 10 mins
These will be soft when you remove them from the oven but they will firm as they cool.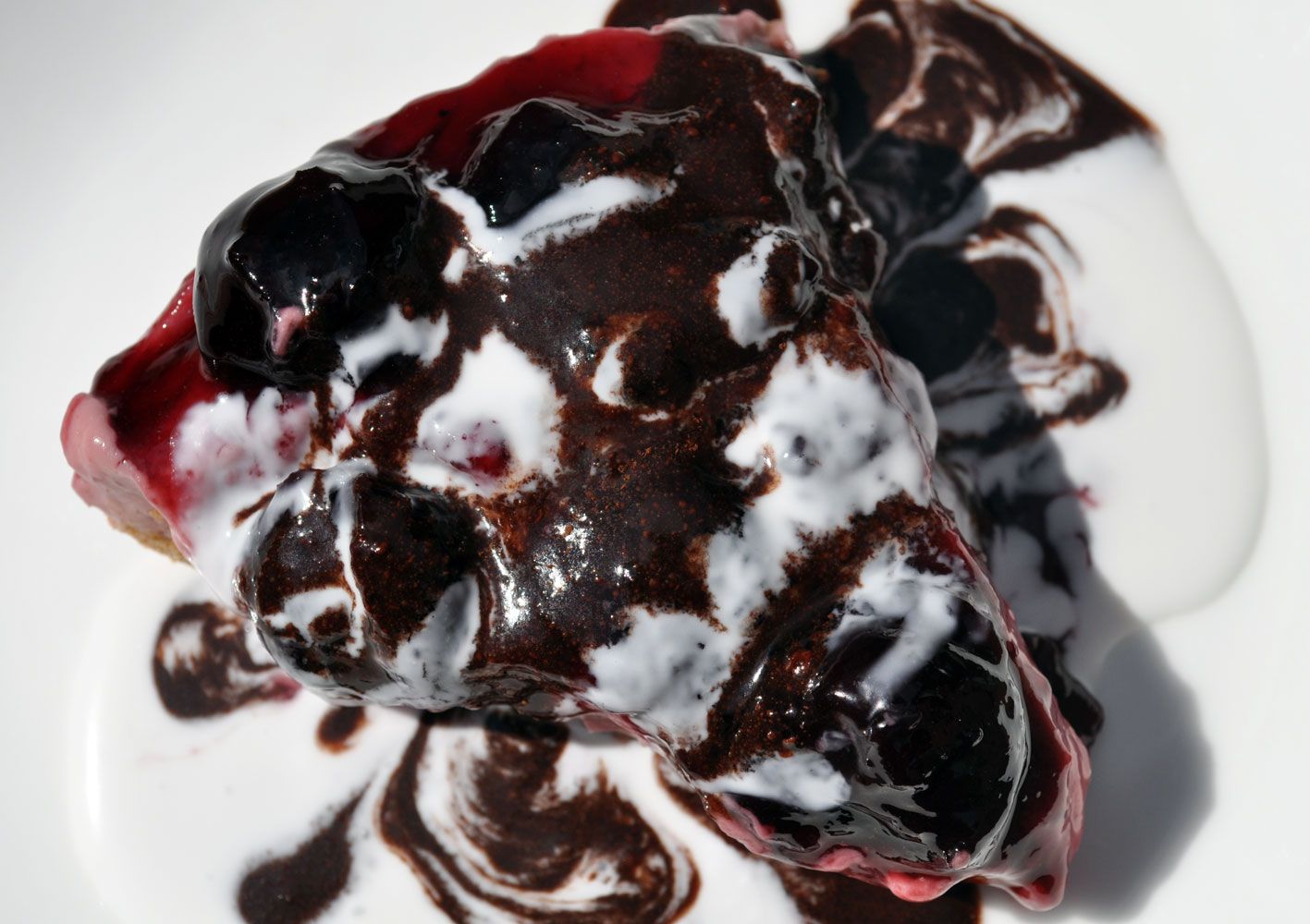 For the chocolate sauce use my Heathy Chocolate Sauce and add ½ tsp. Almond Extract. :)