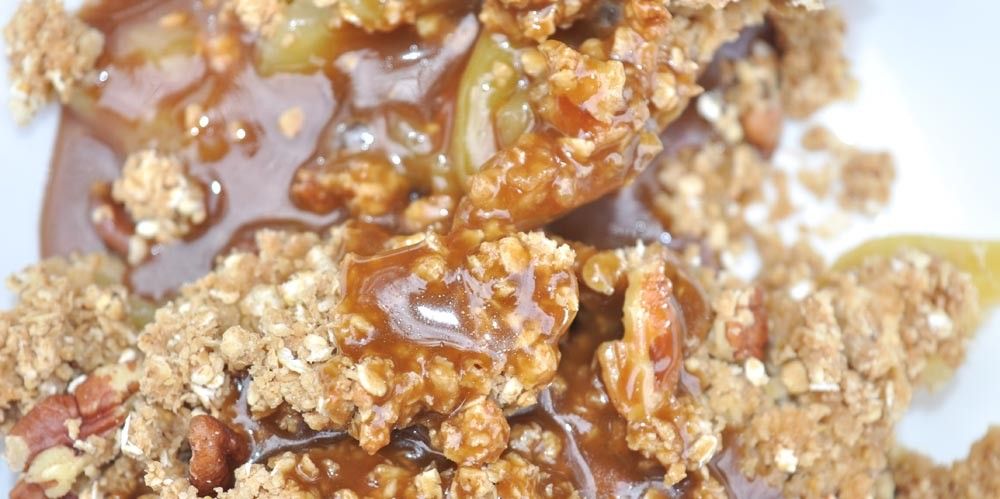 Sweet, crispy, delectably fruit and smothered in a tantalisingly moreish caramel sauce. This is one of those recipes that you won't be able to resist bringing out any time you want to impress.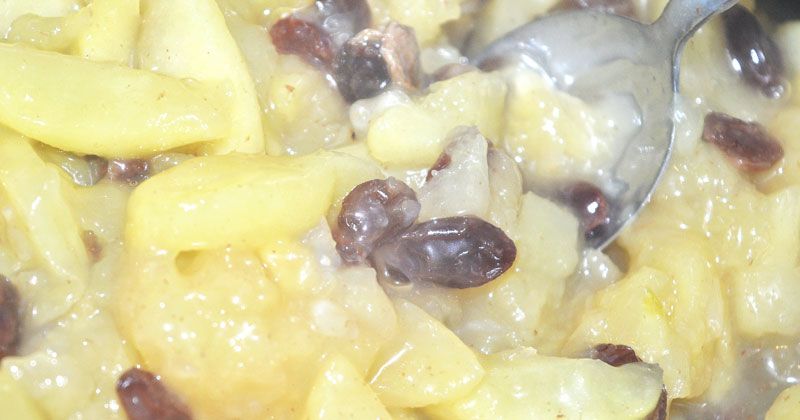 Traditional and delectable it's almost guaranteed everyone is going to love it! They sure did here! :)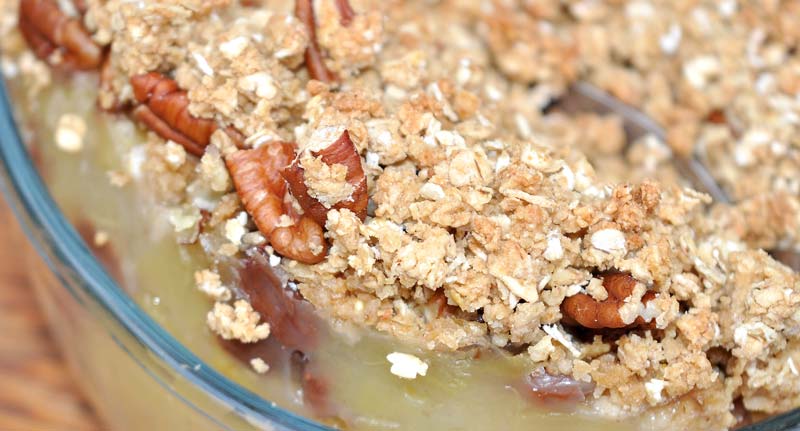 I was in ASDA the other day and they had a whole bag of 12 apples for just £2 – of course I figured I could do something with that.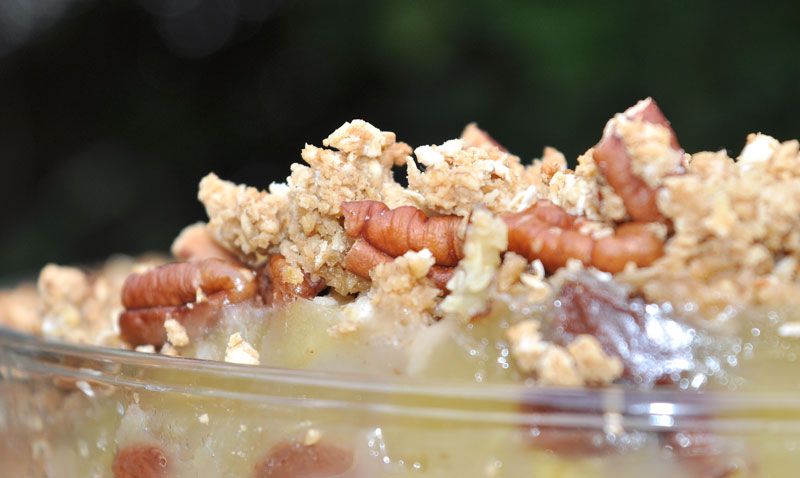 I was, at first, thinking of just making some of my individual apple crumbles – they are a regular dessert for my household – but then I fancied something a bit different this time.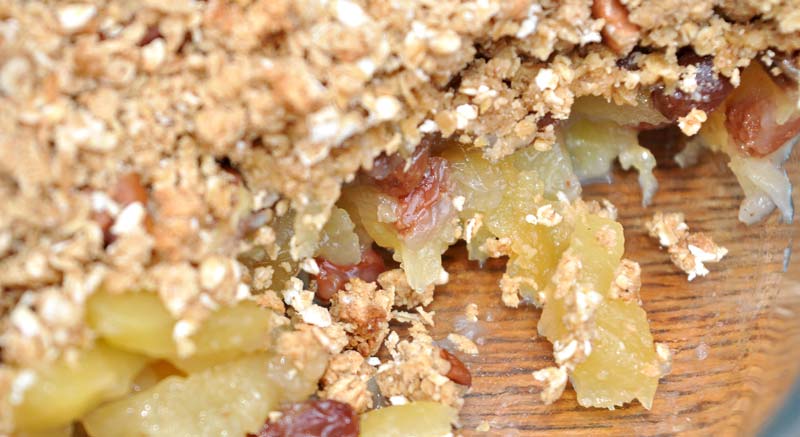 I had recently been to a restaurant where they served what looked like one of the most incredible, mouth-watering apple crisps, smothered in a caramel sauce, that I have ever seen.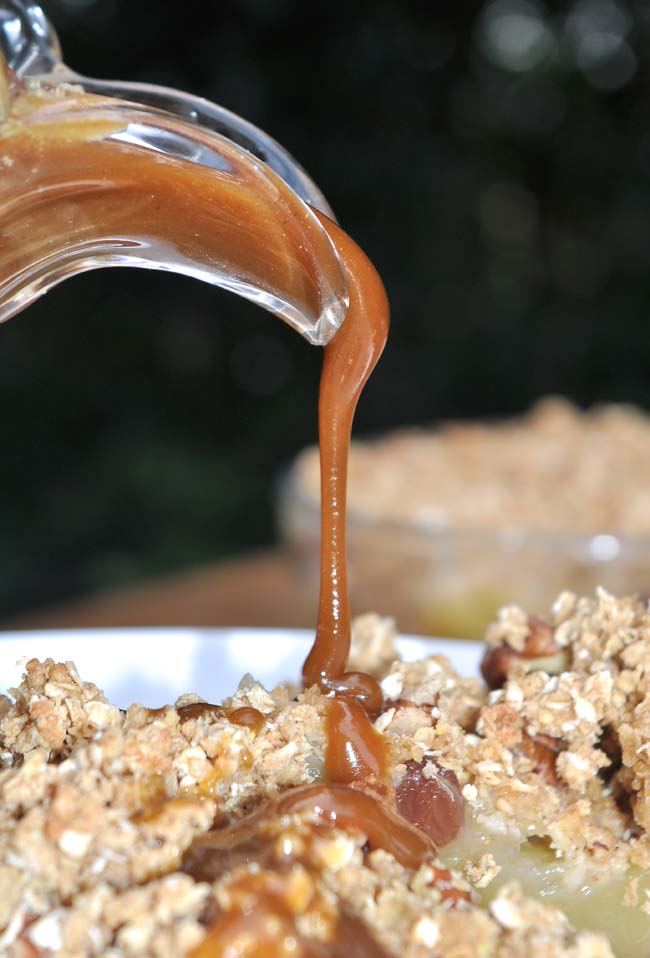 It was also the largest dessert I have ever seen – I'm pretty sure it would have fed us and the next table with a portion to spare! But I just couldn't get over how good it looked and smelt and I just knew I had to have a go at a healthy, free-from version!
Apple crisp is one of those desserts that lends itself to a healthy version. Simply cooked apples with maple syrup coated in a mixture of oats, ground almonds and pecan nuts - it couldn't have been healthier, easier or tastier.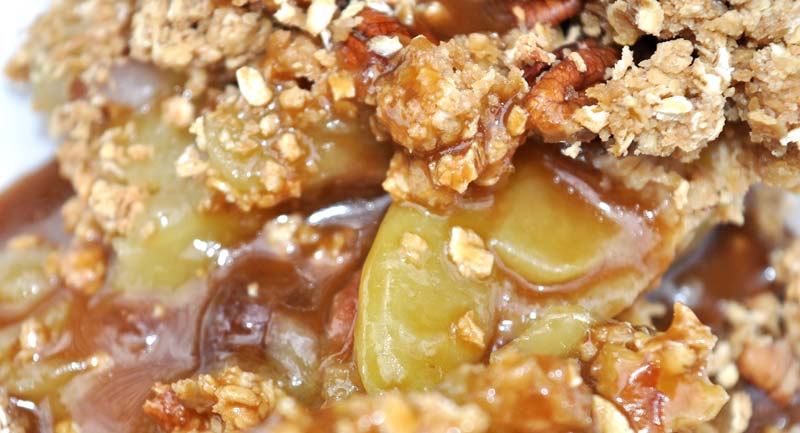 This caramel sauce is definitely one of my favourites! Surprisingly simple to make it really gives this dessert a little something extra. Serve warm with a splash of coconut milk or a non-dairy ice cream.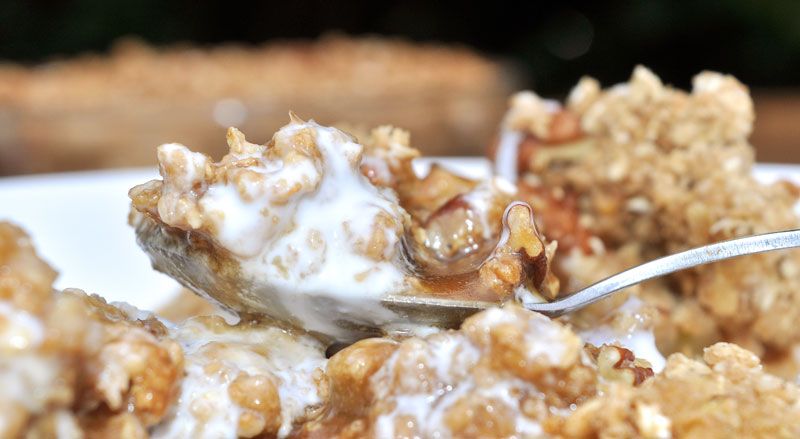 Hope you enjoy! ;)
Apple Crisp with Caramel Sauce
Prep Time: 20 mins Bake Time: 15 mins
Serves: 10-12
Ingredients:
Apple Crisp:
Base:
12 Small Apples – Peeled, Cored and Sliced
½ Cup Raisins
2 tbsps. Maple Syrup
2 tbsps. Water
1 tbsps. Arrowroot Powder
Topping:
¼ Cup Powdered Coconut Sugar
¼ Cup Maple Syrup
2 tbsps. Coconut Oil - Melted
1 ½ Cups GF Oats
½ Cups Ground Almonds
½ Cup Toasted Pecan Nuts
Caramel Sauce
¼ Cup Powdered Coconut Sugar
¼ Cup Maple Syrup
¼ Cup Coconut Oil- Melted
Instructions:
Apple Crisp:
1) In a saucepan combine the apples, raisins, maple syrup and water. Place on a medium heat for 10 mins – make sure you stir it from time to time to stop the fruit sticking and to make sure it doesn't boil over. Stir in the arrowroot powder and simmer for a further 5 mins, stirring regularly, to thicken the mixture.
2) Preheat the oven to 160˚C
3) Remove from the heat and spoon into the base of an ovenproof dish.
4) In a bowl mix together the coconut sugar, maple syrup and coconut oil. Stir in the oats, ground almonds and pecan nuts.
5) Crumble over the apple until the entire dish is covered and place in the oven for 15 mins until a light golden brown.
Caramel Sauce:
6) Add the powdered coconut sugar, maple syrup and the coconut oil in a saucepan and place on a medium heat for two minutes.
7) The mix will start to bubble quite quickly turn down to a simmer for a further two minutes.
8) Remove from the heat and allow to cool a little before serving.