Laura's Naturally Sweet Blog
Psssst...............looking for naturally sweet, healthy, deliciously moreish cakes? You've come to the right place!
Chocolate Peanut Fudge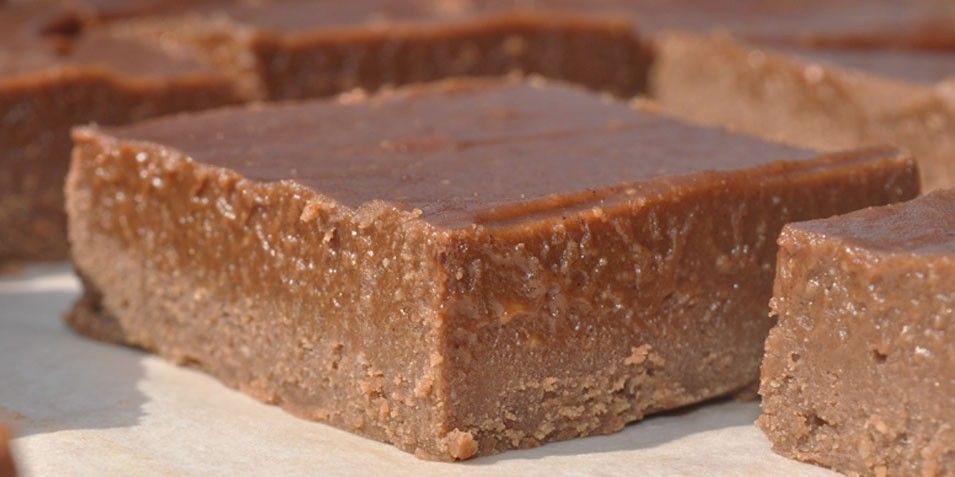 This afternoon I came in, flicked the kettle on, opened the biscuit tin and – it was official we'd had burglars – they had stolen every last biscuit.
I desperately cast my mind back to the previous day when the realisation hit me that I, not burglars, not the dog (which is good as we don't own a dog) had eaten the last cookie.
I opened the fridge and stared into the abyss. It had been one of those days and I needed a treat – something big small would do but there was nothing but a couple of jars of peanut butter hidden away at the back. A jar of peanut butter. Peanut butter. 'Aha' I thought 'I can do something with that!' Something simple. Something quick. Something totally scrummy!!!

Ten minutes, 1 bowl and 7 ingredients later I placed a tray of 'Chocolate Peanut Fudge' (it didn't actually have a name at that point) into the freezer to set it as quickly as possible. Half an hour and 5 checks later it was set and as I took my first bite all the stresses of the day melted away. This was definitely a keeper!!

Prep Time: 10 mins
Makes 24 Squares
Ingredients:
6 tbsp. Cocoa Butter
2 tbsps. Coconut Oil
1 Cup Peanut Butter
¼ Cup Cocoa Powder
½ Cup Honey
2 tsps. Vanilla Extract
Instructions:
1) Melt the cocoa butter together with the coconut oil in a bowl over a saucepan of boiling water.
2) Remove from heat and slowly stir in all the other ingredients.
3) Keep stirring until the mixture is completely smooth.
4) Pour into a 7"x11" baking pan and place in the fridge to set.
5) Once set cut into squares.