Laura's Naturally Sweet Blog
Psssst...............looking for naturally sweet, healthy, deliciously moreish cakes? You've come to the right place!
Strawberry and White Chocolate Flapjacks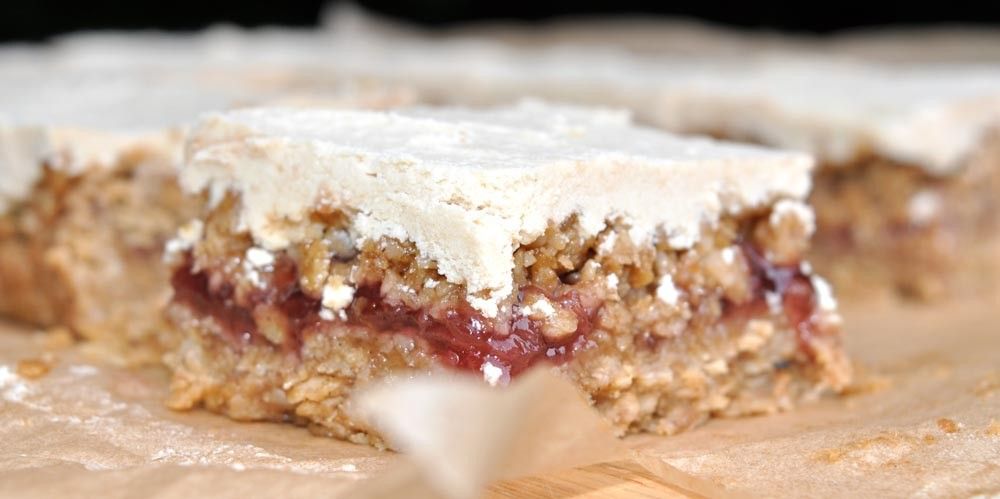 So here we are in the last days of Wimbledon 2016 – later this afternoon will see Andy Murray compete in the men's finals (congratulations Andy!) As I mentioned previously undoubtedly my favourite thing about Wimbledon is the excuse to make as many strawberry and cream based recipes as I can!!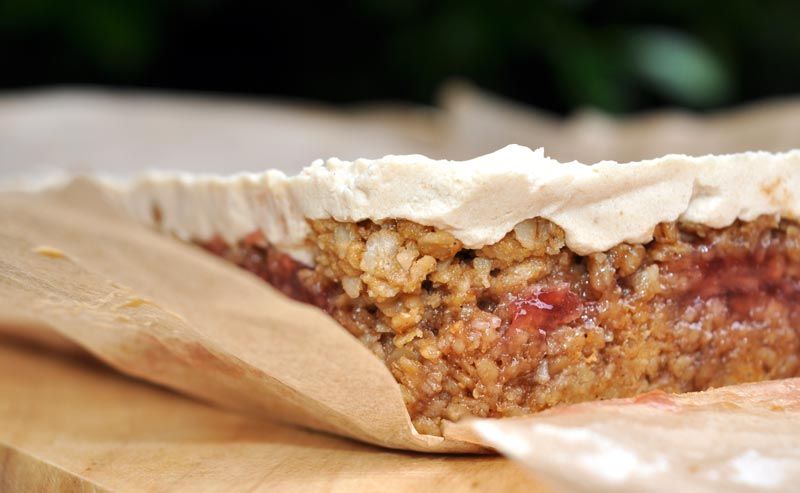 There is something so special about sitting down in the garden (however overgrown) amongst the grass and summer flowers with an iced drink and a special strawberry and cream treat. This delightful flapjack is definitely one of my favourites.

However, it is not just any flapjack, no, it is the quintessential, most luxurious of luxurious, strawberry and cream flapjack.
The ingredient and method are simple but the result divine.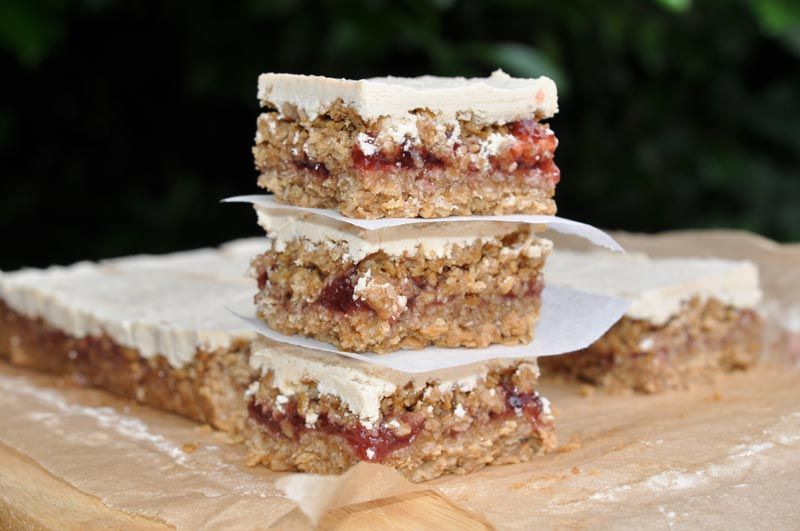 A bowl, some of my favourite Dalfour jam (I know I just can't resist Dalfour jam – perfection in a jar every time!) and my special white chocolate frosting and you're away!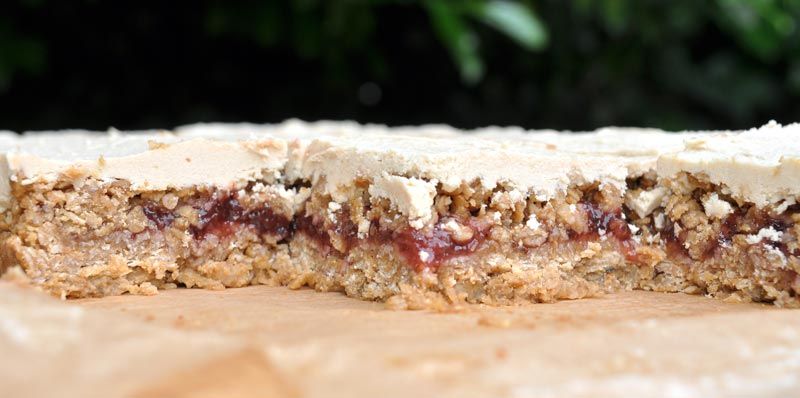 If anyone had the time to make the white chocolate and strawberry slice you probably have some leftover sweetened condensed coconut milk hiding away in the fridge. Grab it now – you're going to need it for this incredible luxurious frosting. If you happen not to have any/are a little short on time for making some, you can alternatively use a ¼ Cup extra of cashew nut butter in the mix as a replacement for the condensed coconut milk.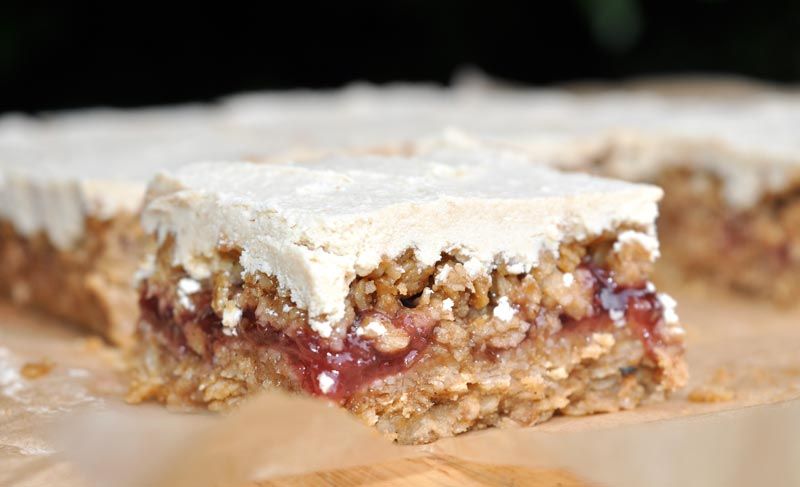 If you do have some I promise you will not be disappointed – the white chocolate topping is a heavenly, melt in the mouth, sweet, creamy haven that really should be tasted to be believed!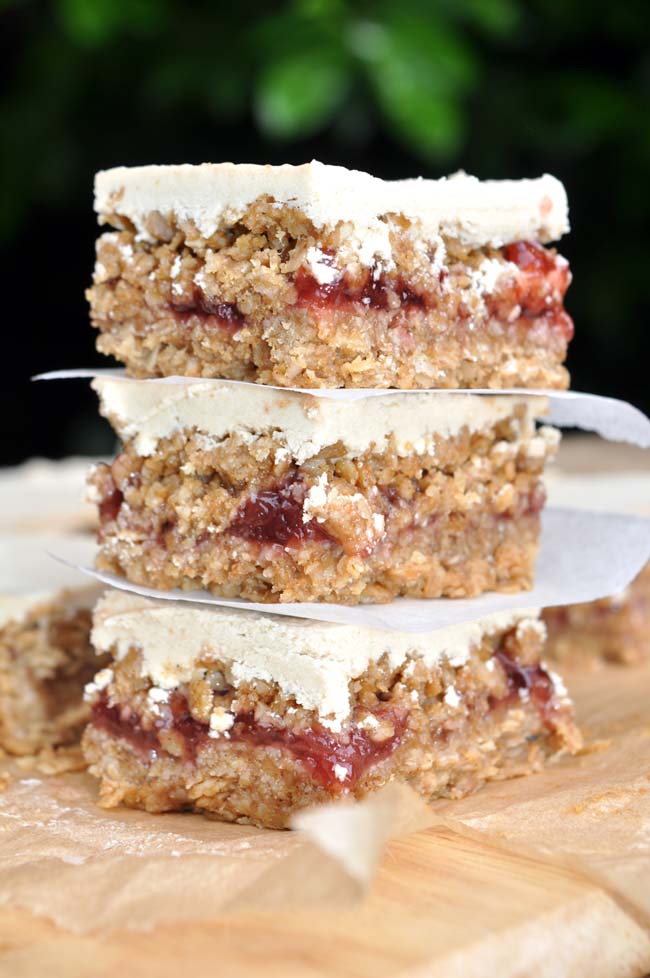 I hope you enjoy strawberry season this year – I'm sure there are more recipes from this perfect little fruit to come this summer!! :)
Strawberry and White Chocolate Flapjacks
Prep Time: 10 mins Bake Time: 10 mins Set Time: 2-4hrs
Makes: 18 Flapjacks
Ingredients:
Base:
½ Cup Cashew Nut Butter or you can make your own - recipe here
¼ Cup Coconut Oil (melted)
½ Cup Powdered Coconut Sugar
¼ Cup Maple Syrup
1 tsp. Powdered Vanilla
3 Cups GF Oats
1 tsp Baking Powder
1 Cup Dalfour Strawberry Jam
Topping:
4 tbsps. Cocoa Butter
½ Cup Condensed Coconut Milk
2 tbsps Maple Syrup
2 tbsps Cashew Nut Butter
Instructions:
1) Preheat the oven to 170˚C
2) Mix together cashew nut butter, coconut oil, coconut sugar, maple syrup and vanilla.
3) Fold in the oats and baking powder until fully combined.
4) Press half the mix into the base of a lined 7 x 11 inch baking pan. Spread the strawberry jam over the base and then cover with the remaining oat mix.
5) Bake in the oven for 10 mins until a light golden brown. Remove from the oven and set aside to cool.
6) Either in the microwave or on the hob melt the cocoa butter and stir in the condense coconut milk.
7) Allow to cool to room temperature – stirring periodically. The mix will gradually become lighter and denser and start to fluff up a bit – don't worry it if separates when you leave it the cashew nut butter will bind it together later.
8) Once cooled add the cocoa butter mix, maple syrup and cashew nut butter into your Kenwood Chef/Kitchen Aid/electric beater and beat until light and fluffy.
9) Spread over the cooled flapjacks place in the fridge to set for 2-4 hrs.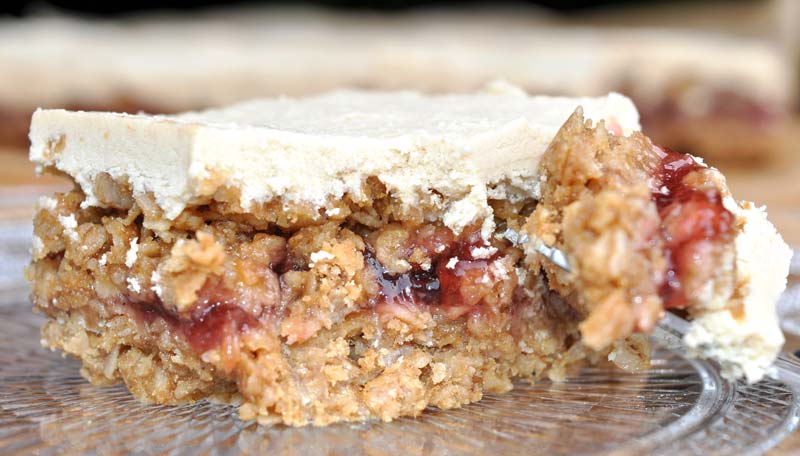 Liked this? Try these................................................