Laura's Naturally Sweet Blog
Psssst...............looking for naturally sweet, healthy, deliciously moreish cakes? You've come to the right place!
Juba's Cherry Chocolate Slice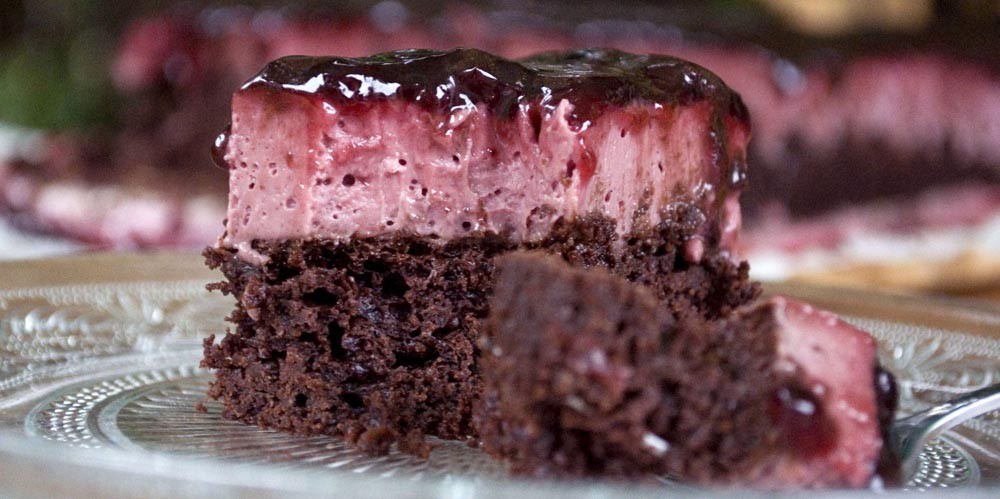 Rich, sweet and the perfect balance between fruit and chocolate – thank you Juba for the inspiration!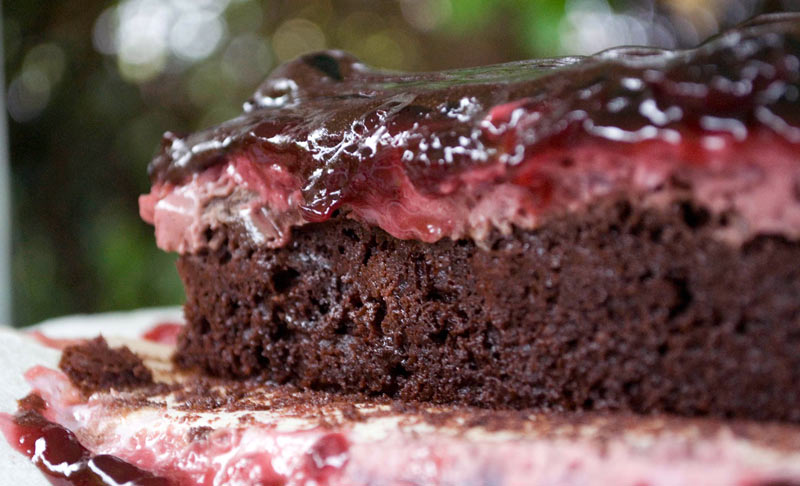 I love to make an extra special treat for a special friend who loves his Daflour jam – especially the cherry one!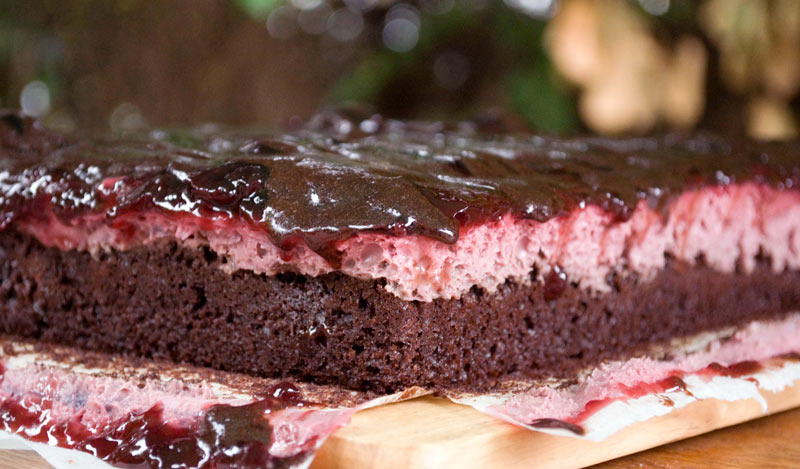 We've had many super-fun nights, and playing wink murder, singing karaoke until our voices were hoarse, and numerous other capers, leading to many laughs and copious consumption of free-from foods!!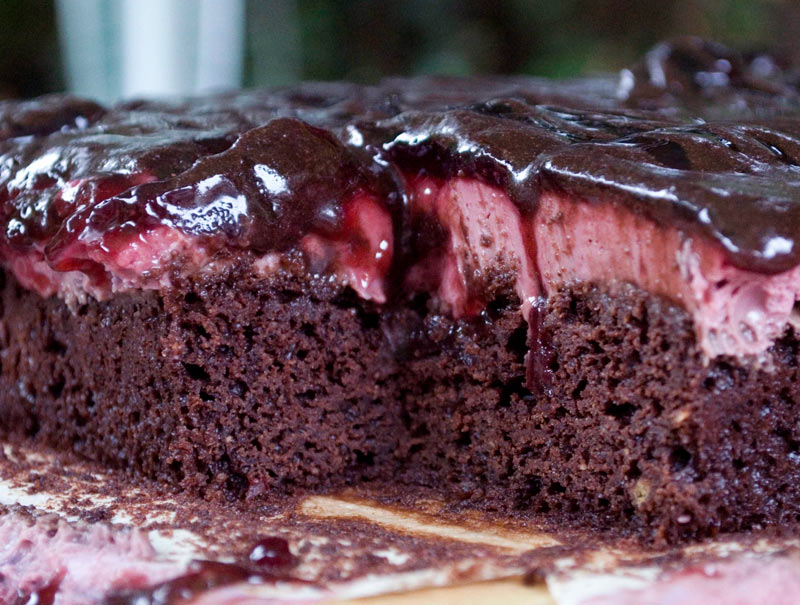 Last time was a cherry lemon mousse – whipped up last minute and inspired by my friend's, and my own, love of Dalfour's Cherry Jam. Sooooooooooo delectable- it makes anything just that bit more extravagant.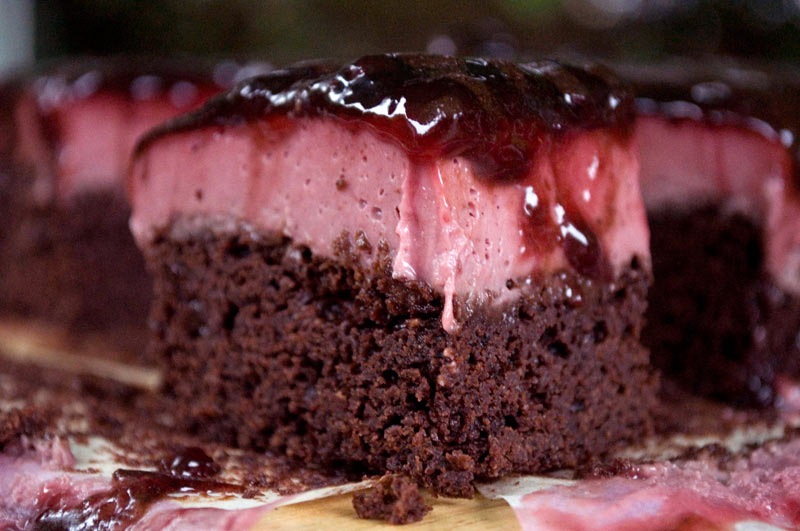 This friend recently moved and so, before he left, a new recipe – including Dalfour cherry jam was clearly required. Of course I used only the best ingredients and if there ever was a slice to be called an indulgent treat, this would be it.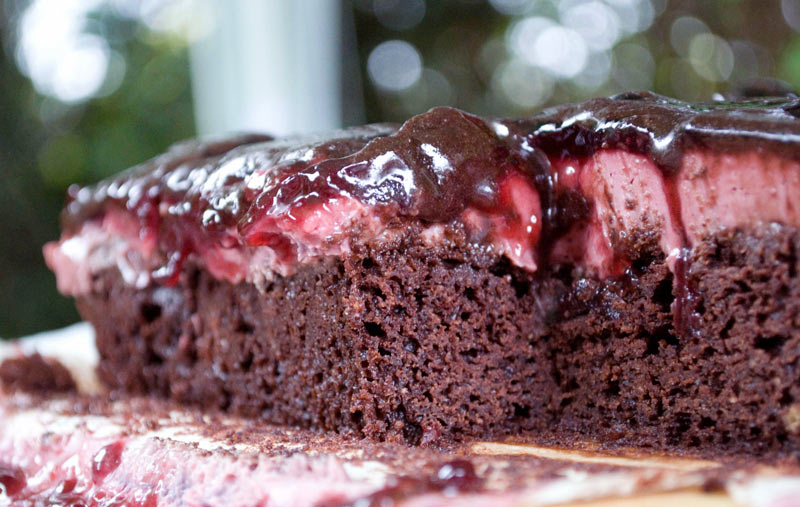 Layers of chocolate cake, cherry mousse, cherry jam and drizzled with chocolate, it is rich, decadent perfection! Every mouthful will transport you to heaven!
So let's get baking!
Juba's Cherry Chocolate Slice
Prep Time: 35 mins               Bake Time: 25 mins          Set Time:24 hrs

Makes: 18-24 Slices
Ingredients:
Base:
1/3 Cup Coconut Oil – melted
¾ Cup Powdered Coconut Sugar
¾ Cup Non-Dairy Milk
1½ tsps. Powdered Vanilla
½ Cup Almond Flour
¼ Cup Buckwheat Flour
¼ Cup Tapioca Flour
½ Cup Cocoa Powder
¼ Cup Non-Dairy Yoghurt
½ tsp. Baking Powder 
1 tsp. BiCarb
Filling:
½ Cup Coconut Milk
1 tsp. Agar Agar
¼ Cup Maple Syrup
1 tsps. Powdered Vanilla
1 tsps. Almond Extract
½ Cup Frozen Dark Sweet Cherries
1 pk. Non-dairy Cream Cheese
½ Cup Arrowroot Powder
Topping:
1 Jar Dalfour Cherry Jam
Instructions:
     1)      Preheat the oven to 170˚C  

     2)      Beat together the melted coconut oil, coconut sugar, non-dairy milk and powdered vanilla until fully combined.
     3)      Mix in the almond flour, buckwheat flour, tapioca flour and cocoa powder.
     4)      Finally add the yoghurt, baking powder and bicarb - beat until fully combined.
     5)      Spoon into a lined 7" x 11" baking pan and bake in the oven for 25 mins
    6)      Leave in the tin to cool. 
     7)      In a saucepan whisk together the coconut milk, agar agar, and agave nectar. Leave to stand for 10 mins.
     8)      In a bowl combine thoroughly all the ingredients for the base. Press into a 6" round pan and place in the refrigerator to set for 10 mins.
     9)      Place the coconut milk, agar agar and agave mix on a medium-high heat for 10 mins. Stir continuously.
     10)   Blend together all the ingredients for the cream cheese filling including the coconut mix until completely smooth.
     11)   Pour the cream cheese filling over the digestive base and place in the fridge to set overnight.
     12)   Once set spoon the cherry jam over the top.
     13)   Melt and drizzle the chocolate over the jam place in the fridge for 20 mins.
     14)    Slice and serve. :D