Laura's Naturally Sweet Blog
Psssst...............looking for naturally sweet, healthy, deliciously moreish cakes? You've come to the right place!
Coffee and Pecan Slice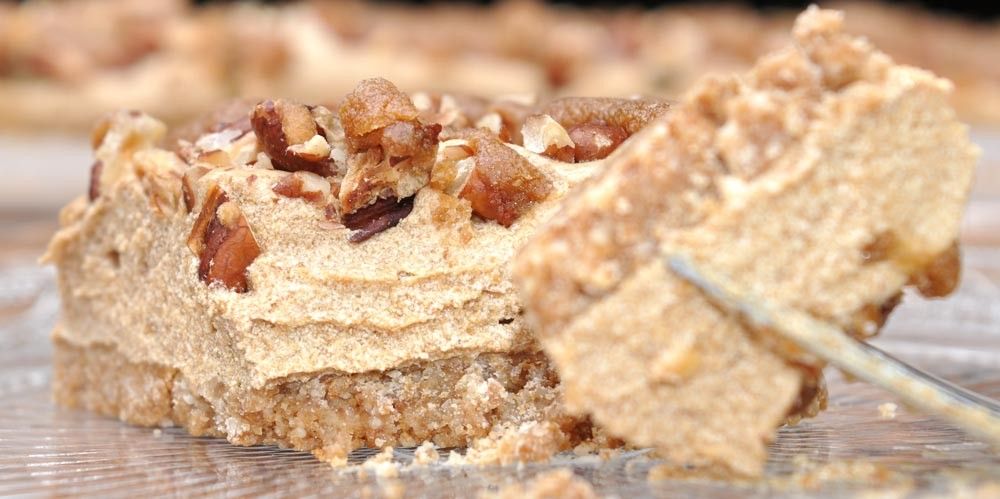 One of my favourite combinations, this amazing little treat is almost too good to be true – certainly too good to be healthier for you as well!!!
Back when I was studying for my A 'Level's I went to a college that was about a 25 min drive from my home – mostly I got the bus (which meant nearly an hour journey!!!) but on the odd occasion, if I was only in for a couple of hours my Mum would drop me and wait.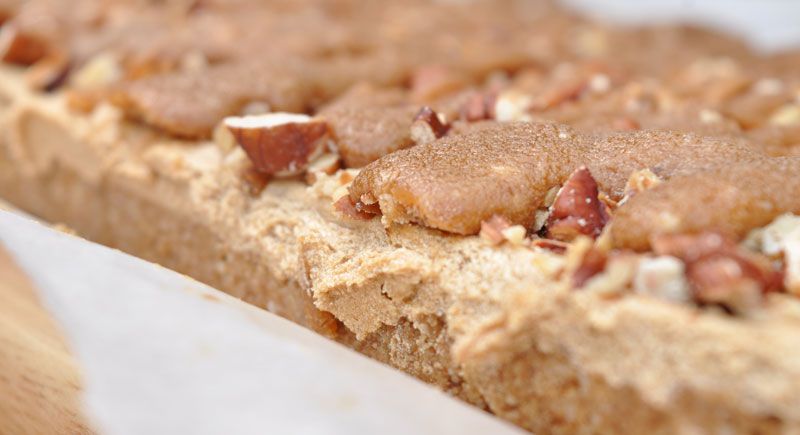 This meant having an hour or so to kill and so she would often pop round to the local supermarket. This particular town is definitely known for its Tescos and back then Tescos had in their range the most delicious Coffee and Pecan Slice.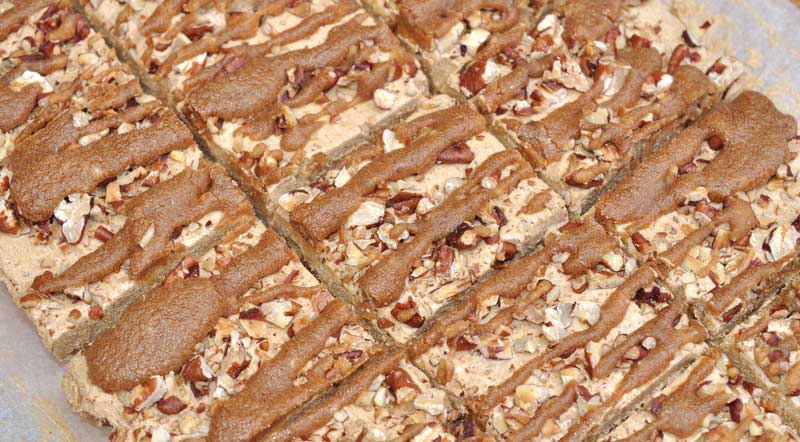 The entire household were huge fans so this would be the most likely treat that my Mum would pick up on these days.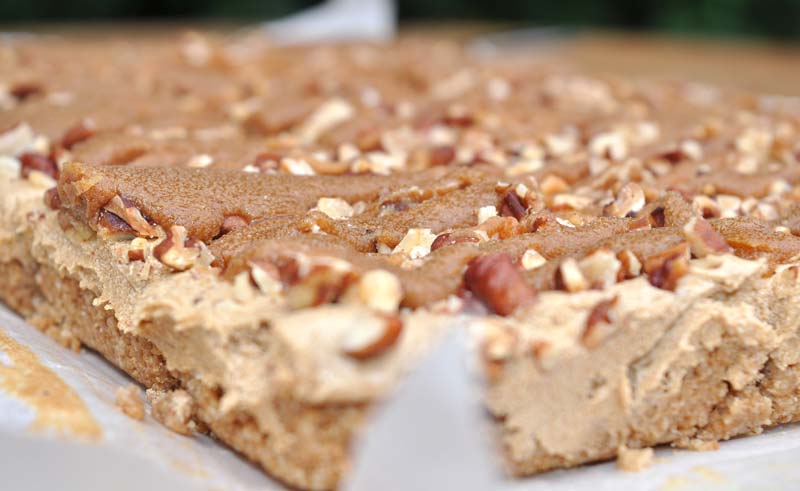 A little while back I made a coffee frosting for my cupcakes and when I tasted it this beloved slice came to mind and I knew that I had the groundwork for making it!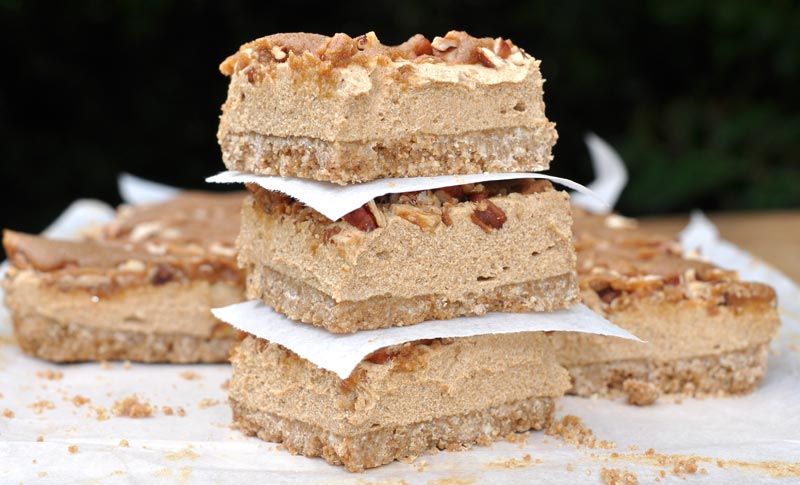 It truly is absolutely delectable.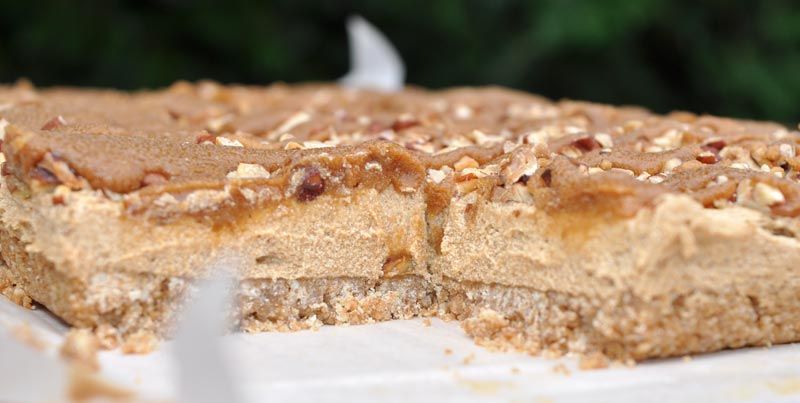 You'll notice that I blend together the topping, chill it in the freezer for 40 mins, and then beat it. If possible try not to miss out this step – it truly does make the topping so light and fluffy - it's heavenly!
You'll know when the air gets into it and it starts to fluff up because it will also become lighter in colour!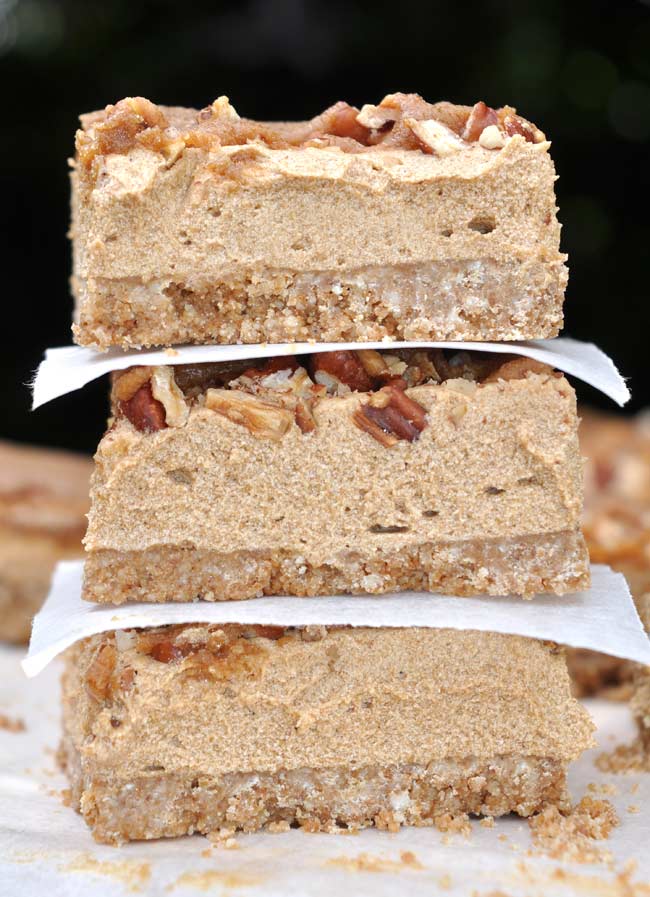 I topped mine with pecan nuts and salted caramel – as I said, the perfect combination! I can honestly say these taste every bit as delicious as I remember those slices (if not more so :D)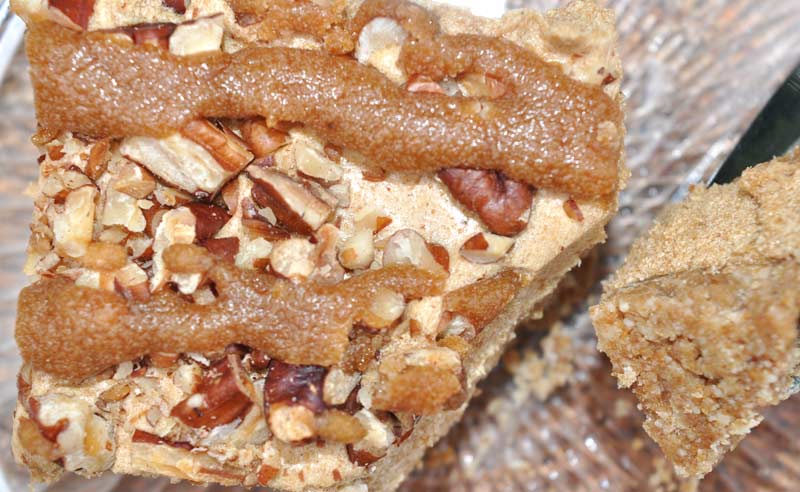 Hope you enjoy! :)
Coffee and Pecan Slice
Prep Time: 20 mins Topping Set Time: 40 mins Set Time: 2-4 hrs
Makes: 18 Squares
Ingredients:
Base:
2 Cups Shortbread Biscuit Crumbs
1 tbsps. Maple Syrup
1 tbsps. Coconut Oil (melted)
Coffee Topping:
1 Cup Cashew Nuts – (soaked overnight)
½ Cup Coconut Oil (melted)
½ Cup Powdered Coconut Sugar
¼ Cup Maple Syrup
1 tbsps Instant Coffee
1 tsp. Powdered Vanilla
½ Cup Chopped Roasted Pecan Nuts
Salted Caramel Drizzle:
2 tbsps. Powdered Coconut Sugar
¼ Cup Maple Syrup
2 tbsps Coconut Oil (melted)
Tiny Pinch of Himalayan Salt
Instructions:
1) In a bowl combine thoroughly all the ingredients for the base. Press the mix into the base of a 7" x 11" pan and place in the refrigerator to set for 10 mins.
2) Blend all the ingredients for the coffee topping together until completely smooth. Place in the freezer for about 40 mins. Remove from the freezer and beat to create a light creamy frosting style topping.
3) Spread the coffee topping over the base and sprinkle with the pecan nuts.
4) Stir the powdered coconut sugar, maple syrup, coconut oil and salt together until smooth. Drizzle over the top of the pecan nuts.
5) Place in the fridge for 2-4 hrs to set – slice and enjoy! :)