Laura's Naturally Sweet Blog
Psssst...............looking for naturally sweet, healthy, deliciously moreish cakes? You've come to the right place!
White Chocolate and Strawberry Slice
Sweet, unimaginably delectable, melt in the mouth perfection - this white chocolate and strawberry slice defies the weather and says summer with every bite!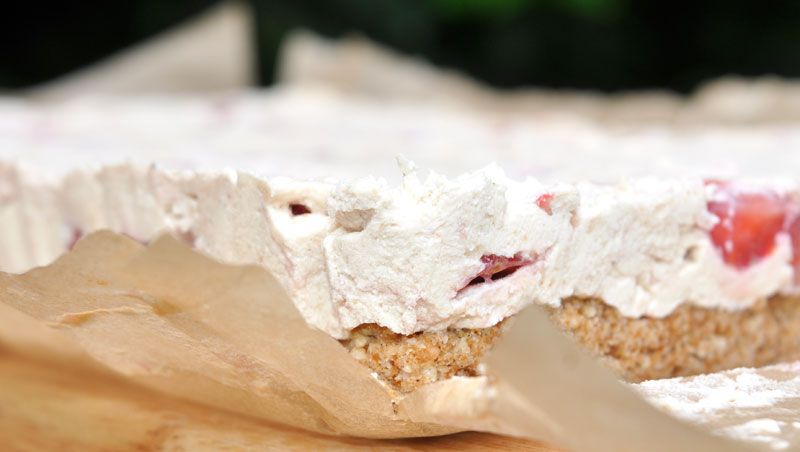 Once again we are in the run up to Wimbledon – how do I know this? The sky has opened, thunder is threatening and the store shelves are rich with strawberries.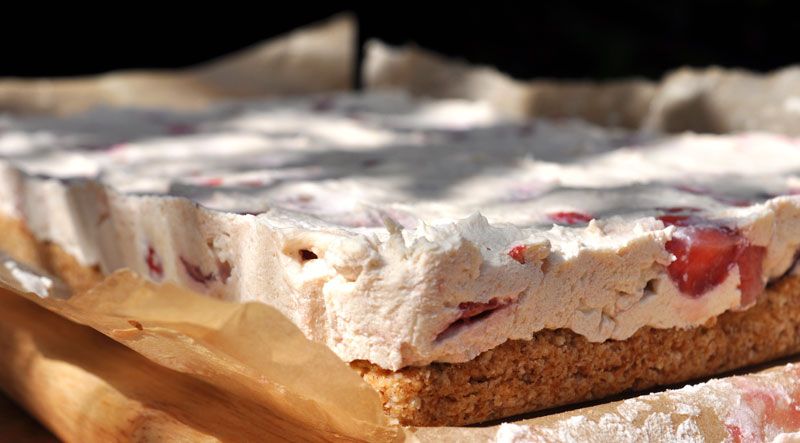 You know that I can't resist strawberries – I love them all year round but when it comes to the height of summer, albeit a wet, thundery summer, strawberries are a must. Finding a dry moment to photograph this was no mean feat but getting to finally sit down with a slice was well worth the wait!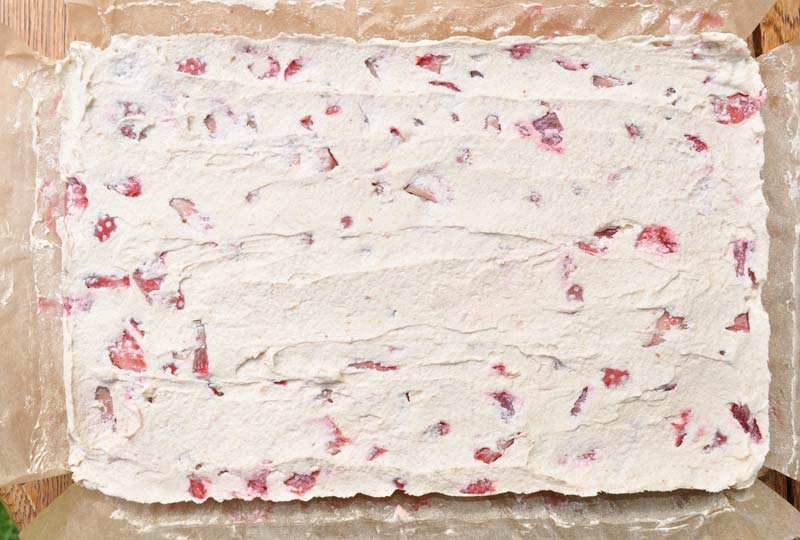 I have been searching for that perfect white chocolate recipe for a while now and the base for this slice of scrumptiousness, the white chocolate fluff, actually came from that. It's beyond delicious and I'm sure that I will be using it in more than one recipe in the future!!!
This slice is pretty easy to make but it will take a while for the white chocolate fluff to start to cool and change from its liquid state.
You will need to stir it periodically while you wait but you'll know when it's starting to come into being – it will change in colour becoming lighter and fluffier. Don't worry if it separates a little while it cools it will come together when you stir it and the cashew nut butter is the magic ingredient that you add at the end to smooth it together.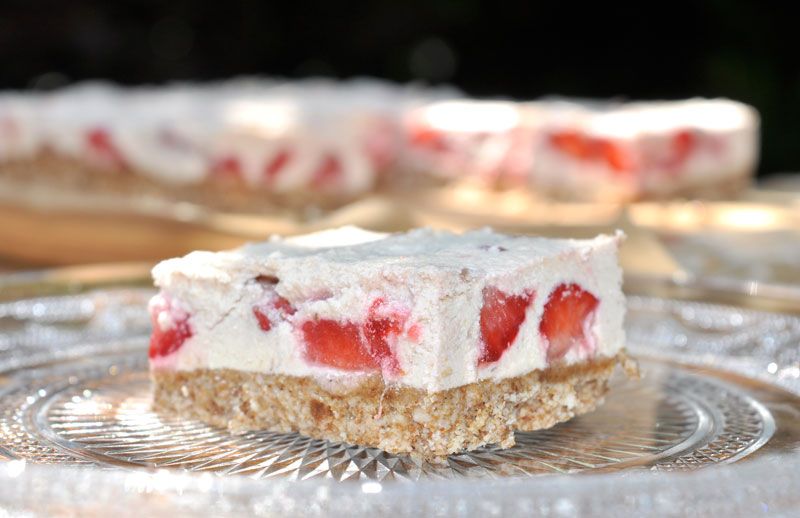 Once you beat the white chocolate it will be light fluffy and absolutely delicious! I would take a moment once you have chopped the strawberries and dry them a little on a piece of kitchen towel before stirring them in.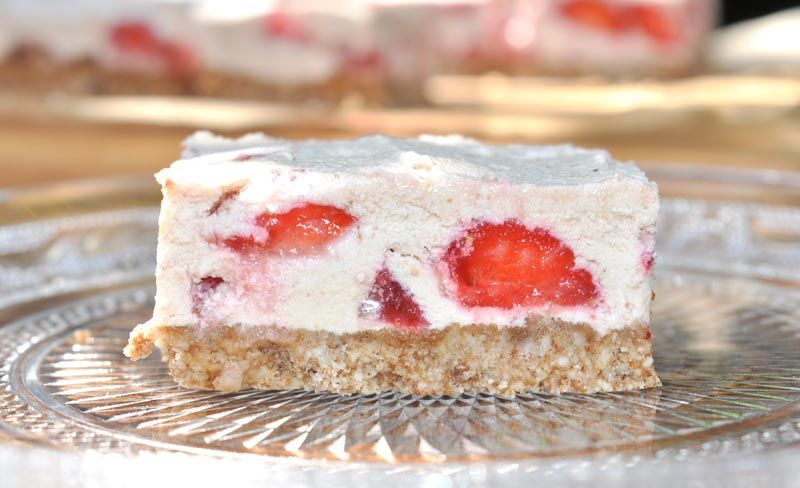 Once set you have the most incredibly delicious, light, sweet slice that just melts in the mouth. Heaven in every bite!
So whip up a round of these and devour in the comfort of your sitting room whilst enjoying the tennis – hmmmmm sound perfect for a tennis themed party to me! :)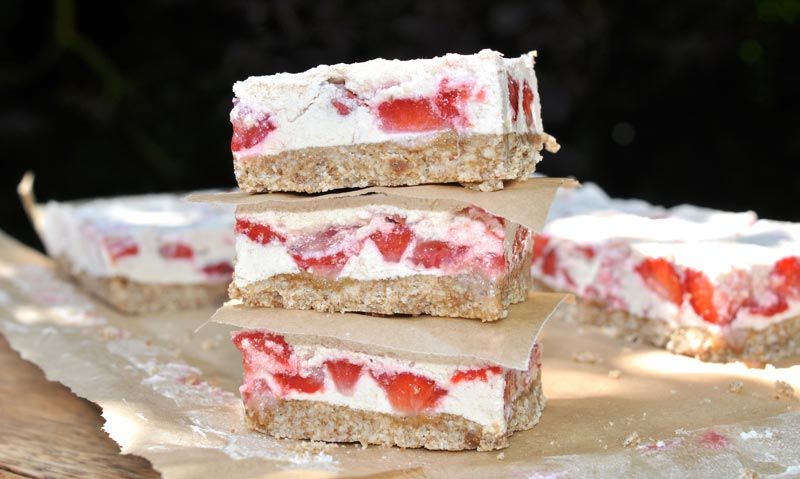 (I make my own condensed coconut milk and it's super yummy – here is the link to the instructions! :) )
White Chocolate and Strawberry Slice
Prep Time: 20 mins Topping Set Time: 40 mins Set Time: 2-4 hrs
Makes: 18 Squares
Ingredients:
Base:
½ Cup Coconut Oil (melted)
¼ Cup + 2 tbsps. Powdered Coconut Sugar
½ Cup Almond Flour
½ Cup Ground Almonds
2 tbsps. Arrowroot Powder
1 ½ tsp. Powdered Vanilla
1/8 tsp. Himalayan Salt
Topping:
4 tbsps. Cocoa Butter
½ Cup Condensed Coconut Milk
2 tbsps Maple Syrup
2 tbsps Cashew Nut Butter
2 Cups Chopped Strawberries
Instructions:
1) Mix together coconut sugar and coconut oil.
2) Gradually fold in the almond flour, ground almonds, arrowroot powder, powdered vanilla and Himalayan salt.
3) Press the mix into the base of a lined 7 x 11 inch baking pan and place in the fridge for 15 mins.
4) Whilst in the fridge preheat the oven to 170˚C
5) Bake in the oven for 6 mins until a light golden brown. Remove from the oven and set aside to cool.
6) Either in the microwave or on the hob melt the cocoa butter and stir in the condense coconut milk.
7) Allow to cool to room temperature – stirring periodically. The mix will gradually become lighter and denser and start to fluff up a bit – don't worry it if separates when you leave it the cashew nut butter will bind it together later.
8) Once cooled add the cocoa butter mix, maple syrup and cashew nut butter into your Kenwood Chef/Kitchen Aid/electric beater and beat until light and fluffy.
9) Dry the excess moisture off the strawberries with a piece of kitchen towel and stir in to the white chocolate fluff.
10) Spoon the mix over the base and place in the fridge to set for 2-4 hrs.
11) Slice and enjoy!! :)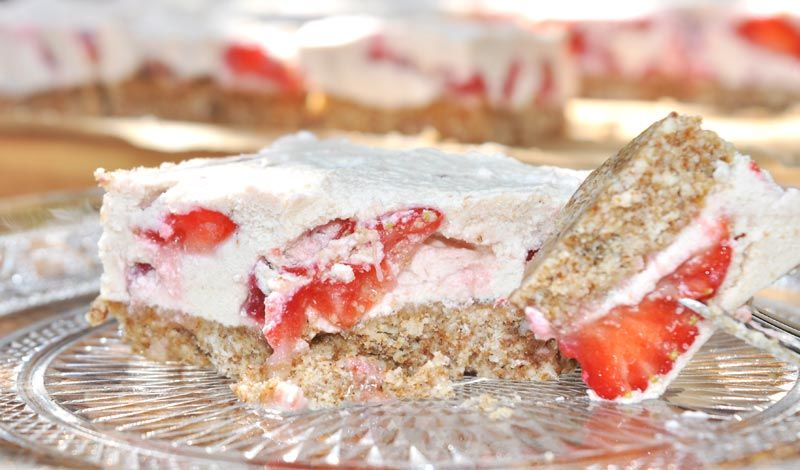 Liked this? Try these...................................