Laura's Naturally Sweet Blog
Psssst...............looking for naturally sweet, healthy, deliciously moreish cakes? You've come to the right place!
Summer Strawberry Cake with Strawberry Buttercream Frosting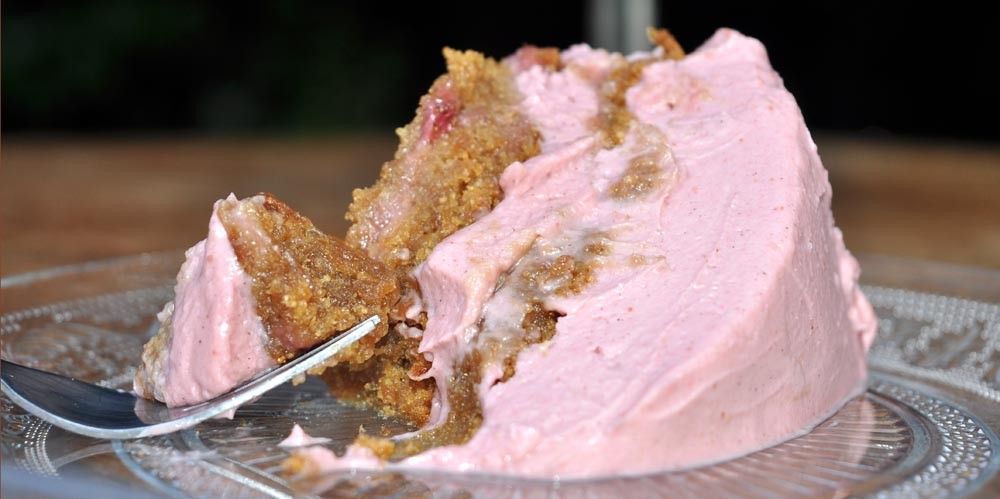 Oh so fruity and sweet and delicious – you'll be making this one all summer long! Serve with extra strawberries on the side for even more strawberry goodness!!!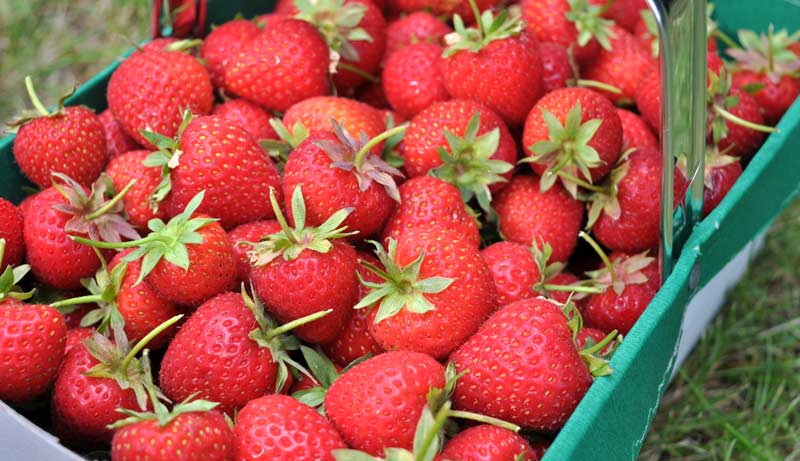 Guess what I have been doing? For all of those of you yelled – 'STRAWBERRY PICKING' at the top of your voices – you were right!!! Although technically these strawberries were picked by my Mum and my Grandmother – I know my Grandmother right – she's so awesome!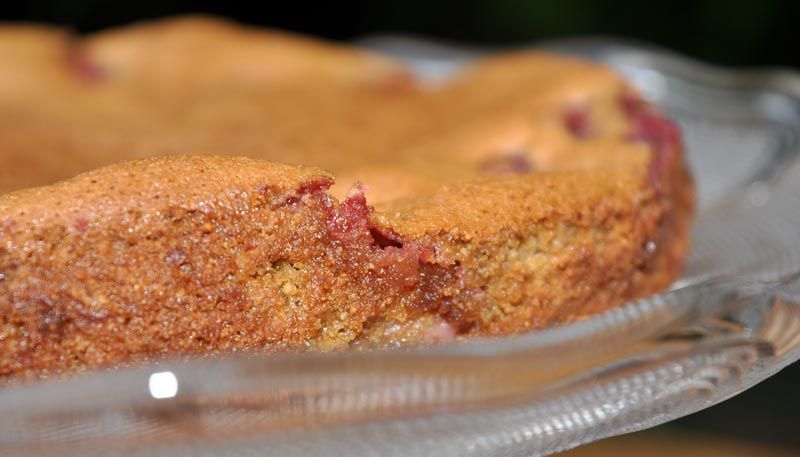 I came home for the weekend and my Mum showed me the basket – despite having eaten copious – especially me when I arrived home - and having made 4 litres of my simply scrumptious strawberry ice cream (if you haven't tried that recipe yet next time you have lots of strawberries it's a must!) she still had a nearly full basket left.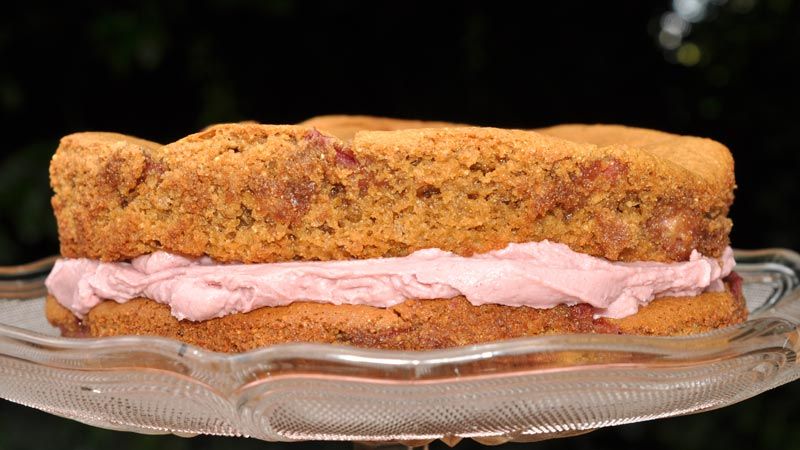 'Have no worries' I said – Wimbledon season is fast approaching and with it my favourite three weeks of super awesome strawberry recipes. Which means I can make good use of those strawberries – although I must admit that there were more than a fair few left for eating once I'd finished - but who minds left over strawberries right?!?!
And so I began with this strawberry cake with a strawberry buttercream frosting – and its soooooooooooooooooooooo good you will find yourself transported to summerland with every mouthful!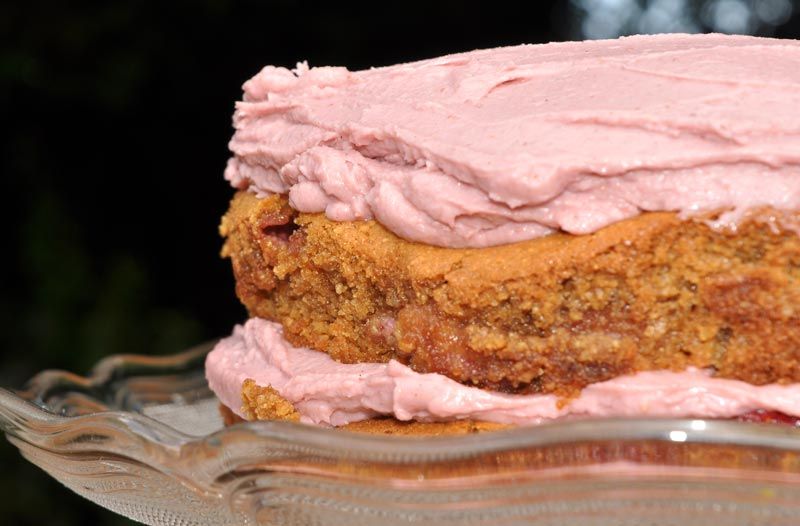 I must admit that I and an extra big pushover for the frosting – which is why it ended up so thick! But………………………………if you do have leftovers you can always put it into pots for a strawberry mousse dessert!
So let's get hulling……………………………………… ;)
Summer Strawberry Cake with Strawberry Buttercream Frosting
Prep Time: 20 mins                     Bake Time 30 mins               Frosting Set Time: 40 mins
Makes: 2 rounds or a 2 layer cake                      
Ingredients:
½ Cup  Coconut Oil – melted
¼ Cup  Coconut Sugar 
½ Cup Maple Syrup
¾ Cup Almond Flour
¼ Cup Ground Almonds
¼ Cup Buckwheat Flour
¼ Cup Tapioca Flour
2 tbsps. Arrowroot Powder
1 tsp. Powdered Vanilla
¼ Cup Non-Dairy Milk
2 tbsps. Non-Dairy Yoghurt
1 tsp. Baking Powder
½ tsps. BiCarb
1 Cup Strawberries – hulled and chopped
Strawberry Buttercream Frosting:
¼ Cup Cashew Nuts – soaked overnight
1/3 Cup Coconut Oil – melted 
½ Cup Dalfour Strawberry Jam
¼ Cup Non-Dairy Cream Cheese 
½ tsp. Powdered Vanilla
Instructions: 
     1)      Preheat the oven to 170˚C  

     2)      Whisk together the melted coconut oil, coconut sugar and maple syrup until fully combined.
     3)      Beat in the almond flour, ground almonds, buckwheat flour, tapioca flour, arrowroot powder and vanilla.
     4)      Whilst continuing to beat the mix slowly add the milk.
     5)      Finally add the yoghurt, baking powder and BiCarb and beat until fully combined.
     6)      Divide ½ the mix between two 7 inch round cake pans. (Basically coating the bottom of the pan.) Sprinkle the fruit over the top and cover with the remaining cake batter.
     7)      Place in the oven for 30 mins. After 15 mins cover with a piece of brown paper to prevent the top from over browning.
     8)      Remove from the oven and cool for 10 mins before removing from the tin and placing on a wire rack.
Strawberry Buttercream Frosting
     9)      Blend all the ingredients together until completely smooth. Place in the freezer for about 40 mins. Remove from the freezer and whisk to create a light creamy buttercream frosting.
     10)   Once the cake has cooled spread the frosting over the bottom layer. Place the second cake on top and spread the remaining frosting over the top.
     11)   Slice and enjoy! Keep refrigerated – especially in the summer! :)